Since August, Italy has required Digital Covid Certs to access indoor dining or cultural venues.
But the system has one key difference to Ireland's: people can also obtain a 48-hour Covid Cert with a negative antigen or PCR test, even if they have not been vaccinated.
Now that the Delta variant accounts for 99% of cases in Europe, a top advisor to Italy's health minister has warned that the policy should be reversed.
Professor Walter Ricciardi, the minister's scientific advisor on the Covid-19 pandemic, is one of two experts who spoke to Prime Time about the Covid-19 situation in Europe.
He said that antigen tests were the "Achilles heel of the Covid pass".
He gave strong backing to Chief Medical Officer Dr Tony Holohan's cautious stance on antigen tests and agreed that they give people false confidence.
"I couldn't agree more with your Chief Medical Officer. He's totally right, because he's perfectly aware of the dangerous kind of infections with this variant," said Prof Ricciardi, a Professor of Hygiene and Public Health at the Università Cattolica del Sacro Cuore in Rome.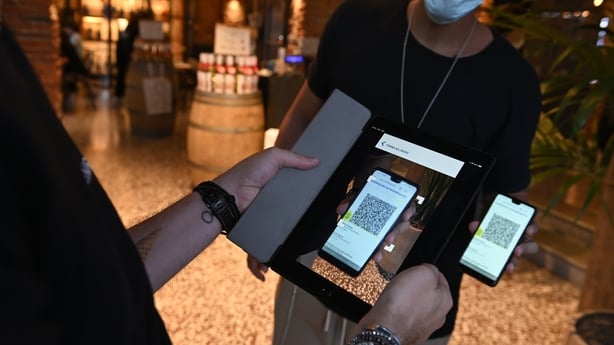 Prof Ricciardi regards antigen tests as somewhat useful in workplaces and venues as an initial tip-off test, particularly for asymptomatic people, that something is wrong and they must go and get a PCR test.
That kind of use is reasonable, he said. Also, when it is necessary to screen a high number of people in social places, rapid antigen tests can be a useful tool, he noted.
However, he warned that countries should be recommending "the appropriate test or the appropriate use at a certain time".
Prof Ricciardi said he is currently pressing the Italian government to revise the policy and remove antigen tests as a mechanism for obtaining Covid certs. "In my opinion, this has to be done as soon as possible", he said.
Italy, once the epicentre of the Covid-19 pandemic in Europe, is categorised as "low concern" by the European Centre for Disease Prevention and Control (ECDC). In its latest weekly update, just two countries remain in that category: Italy and Spain.
Italy's next-door neighbour Austria has now reimposed a lockdown due to a surge in the number of cases, which began to rise in October.
Austrian Chancellor Alexander Schallenberg announced on Friday that an initial 20-day lockdown will start on Monday, and that vaccination against Covid-19 will become mandatory from 1 February next year.
Austria is in the same ECDC category as Ireland – both are deemed of "high risk" concern for Covid-19.
The ECDC's latest update shows a worsening situation across Europe, typified by a "high and rapidly increasing" case notification rate and "a slowly increasing death rate".
Up to Sunday, the Covid-19 case notification rate for the EU/EEA area had increased to 473.8 per 100,000 population compared to 387.5 the previous week.
Prof Ricciardi said that the Delta variant has changed everything – and that it was always an illusion that Europe could keep its societies open given the threat it poses.
"If the R rate of the previous variant was 1.72, now, with Delta, it is 6.77," he told Prime Time, referring to the reproduction number, or how many people are infected as a result of a single Covid case.
"So this means that every person has the ability to infect six or seven other people. This means exponential growth if you don't take measures – and most of the countries haven't taken the appropriate measures yet," he said.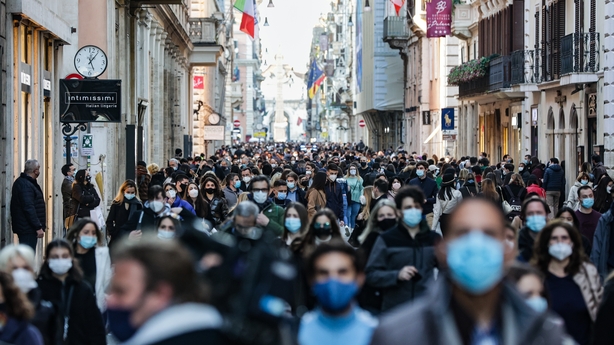 Professor Eva Schernhammer, the Chair of the Department of Epidemiology at the Medical University of Vienna, said that, in additional to the Delta variant, waning immunity meant that Europe now faces a double Covid-19 threat.
"We are now getting into this phase where immunity wanes and the two factors together – the high number of unvaccinated and the lessening of immunity among those who are vaccinated – I think that has accelerated the numbers now really quickly in Austria", she told Prime Time.
Because vaccines became available around the same time for most of the places in Europe, she believes the booster shot could be "a game changer".
How quickly countries administer the third shot is going to be critical to prevent an acceleration in new cases, she said.
In Austria, because of the high number of cases attributed to household infection – as much as 80% of cases – it is more and more difficult for public health doctors to determine exactly where those households got the infection from.
But while waning immunity six months after vaccination is an important risk factor, first, people have to be vaccinated. And, in Austria, one-third of the population are not.
"With this kind of variant, a very high level of vaccination 60%, 70% can look like high coverage. It's not," Prof Ricciardi said.
Across the EU, at least 65.4% of citizens are fully vaccinated, but there is a wide range hidden in that average – from as low as 23.9% in Bulgaria to highs like 81.4% in Portugal.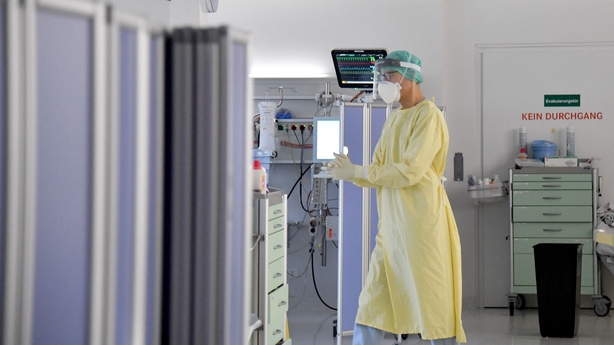 In Ireland, that figure is touching 76%. In Italy, it's almost 73%. And while Austria's 64.1% is close to the EU average, it's still not enough.
It includes, for example, over a quarter of Austrian adults.
But comparing it with Italy shows it's not just about vaccination.
"They didn't introduce the Covid pass. We did it. They didn't enforce measures of the universal masking. We did it", said Prof Ricciardi.
He said that Italy's strong public health service allowed it to keep a contact tracing system in place throughout the pandemic.
Both Austria and Italy are ahead of Ireland in antigen testing and in what happens in schools.
But there are regional differences and lessons still being learned there too.
On Thursday, the Irish Government announced rapid antigen tests will be sent to the parents of asymptomatic close contacts in schools.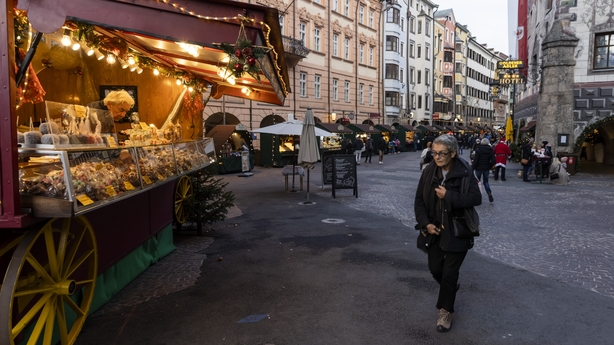 In Austria, schoolchildren have had regular antigen tests since January. But it found that, because infections with the Delta variant are so high, antigen tests are less reliable, so it has changed gear.
At least one of three weekly school tests must now be a PCR test, Prof Schernhammer said.
Austria has also made PCR tests "fairly noninvasive," she noted.
"You can gargle a little bit of fluid and kids can do that and, that way, you can test fairly noninvasively and conduct PCR tests."
In Italy between 20% and 30% of cases are schoolchildren. This is to be expected, Prof Ricciardi said, because they are as yet unvaccinated.
Italy uses contact tracing to keep the class open. Classes go virtual if infection spreads.
"The system tends to localize it to the class, so we are not closing the school. We are testing and tracking the specific class, and according to the result of test and tracking, we eventually close the class, but not the school," he told Prime Time.
Despite the erstwhile belief that the pandemic was coming to an end, Prof Ricciardi said that we must treat Covid-19 like a world war.
"If we compare this to World War II, we are not in 1945 at the end of the war – we are in 1941, 42, when this war still had to be fought," he said.
"If we don't work together and if we don't take decisions based on evidence worldwide, this means that this pandemic will last for years and years."