In 2001, Prime Time reporter Mark Little visited Afghanistan where he witnessed the devastating trail of destruction left in the wake of successive wars. Twenty years later, as Afghanistan is plunged into another humanitarian crisis, he reflects on his time in the country and what happened in the years that followed.
When you travelled to Afghanistan twenty years ago, the loudest sounds were the anguish of those forced to flee, and the silence of those forced to stay. I find it almost impossible to believe that distant memory is once again the reality.
Back in spring of 2001, when we made the documentary 'Hostage Nation', Afghanistan had been abandoned by the succession of foreign powers who had fought their proxy wars there. The world community had averted its gaze from the civil war, famine and medieval brand of repression that had filled the resulting void. Then came 9/11 and the world was forced to reckon with its neglect of Afghanistan.
RTÉ took a risk commissioning the programme, even if it made total sense in retrospect. We had no visas to enter the hostage nation, and no idea who would talk to us if we gained access. Above all, we had no certainty that anyone would care what we found.
Our first discovery was a flood of desperate refugees washed up in the squalor of a tent-city called Jalozai on the Pakistan-Afghan border. My vivid memory is of a starving family offering to share what food they had in a gesture of hospitality. I politely declined, saying "maybe next time". From the gathering crowd, I heard a young voice say firmly in English: "Next time we'll be dead".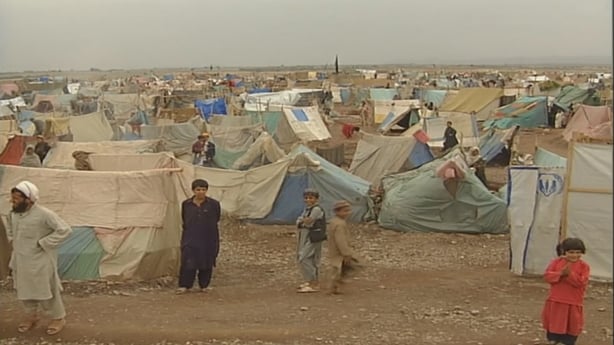 In Kabul, we found a city whose voice had been stolen. Cinemas were closed. Music silenced. Even the kite-flyers had been grounded by the Taliban. Human faces were torn from the pages of old books and magazines. When women moved through the streets, they were swift, invisible shapes beneath deep blue burkas.
The sole hive of industry in Kabul was the Red Cross orthopedic hospital, manufacturing prosthetic limbs for the victims of landmines, and providing work for many of them.
There I met Italian medic Alberto Cairo. He was irrepressible, both in his burning commitment to the Afghan people and his fierce disgust at the "terrorism" inflicted upon them. Among the terrorists, in his mind, were foreign governments who had supplied the weapons that fuelled decades of war in Afghanistan. "And to help them sleep at night," he said bitterly, "they send us aid".
Alberto Cairo's testimony rings loud in my ears these past two weeks. As does the face of Sher Mohammed Abbas Stenekzai, a deputy minister of the original Taliban government who featured in 'Hostage Nation'. He told us Osama Bin Laden, then a guest of the Taliban, was a threat to America not the world: "So why should the world care!" he said defiantly.
"The United States and its international allies had chosen the wrong voices to listen to in Afghanistan, throwing their weight behind any strongman or chieftain with an apparent will to resist the Taliban"
In recent days, I've been trying to catch up on the lives of the people we featured in 'Hostage Nation", and a subsequent Prime Time programme we made five years after the fall of the Taliban. In that second 2006 report, we found Afghanistan transformed almost beyond recognition by US intervention. But there was a surprisingly fragile quality to the peace and prosperity, even in the big cities.
We visited Kabul just as the post-Taliban generation discovered its voice. We met Saed Mohseni, the founder of Tolo TV, which had combined the energy of youth culture with the novelty of real, independent journalism. This past week, I've been awed by the bravery of the Tolo TV team, particularly its female journalists, as they struggle with the journey back to a Taliban future.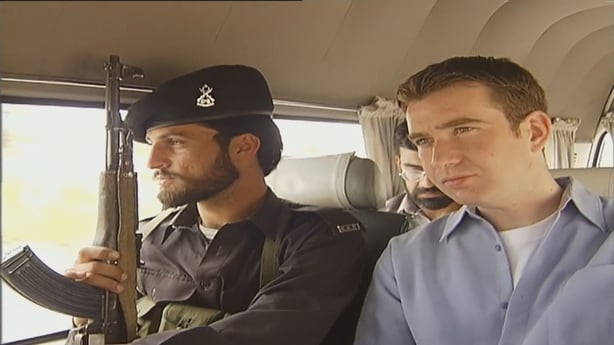 I've been following news of Rangina Hamidi, who was the founder of a women's cooperative in the Taliban heartland of Kandahar when I met her in 2006. Back then, it seemed fanciful that the US would ever abandon Afghanistan, but Rangina warned of complacency. She told me of a recent trip to the market where a vegetable seller warned her to enjoy her freedom while she could, because they (the Taliban) would be back.
"I will either be killed," Rangina told me at the end of our interview, "or I will be forced to leave".
Rangina did not leave. She became the Afghan Minister for Education, a post she held until the Taliban returned to Kabul last week.
As the Taliban prepared to take the Afghan capital, Rangina gave a radio interview in which she was asked why US intervention had failed. She repeated something she, and many others of her generation, had told me years before. The United States and its international allies had chosen the wrong voices to listen to in Afghanistan, throwing their weight behind any strongman or chieftain with an apparent will to resist the Taliban, no matter what their record.
"I was screaming to the international forces," she said, "as they align themselves with warlords and drug lords, that the results of this relationship are not going to be pretty."
This is a critical insight, ignored by too many partisans back in the US, but one that many American soldiers forced to fight the 'forever war' came to understand. I tracked a US patrol out of Jalalabad in 2006 on a 'hearts and minds' mission. Their payload included Beanie Babies donated by church groups back home, and much needed medical supplies. The kids got the Beanie Babies and a medical check-up from US army medics. But we were left in no doubt the local chieftains would turn a profit on the medical supplies left behind.
When we got back to base, I asked a senior US officer if he really believed the politicians back home had the stomach to stay the course in Afghanistan. After a long pause, he said "I hope so" and then laughed a hollow laugh.
For all the cynicism, there were truly inspirational stories to be found in Afghanistan in these years. I had the privilege of travelling through the streets of Kandahar in 2006 with Afghanistan's best known policewoman, Lieutenant Colonel Malalai Kakar. She was a supremely courageous defender of women who had previously suffered domestic violence in silence.
Two years after we met, Malalai Kakar was shot dead as she left for work. The Taliban proudly claimed responsibility for her murder.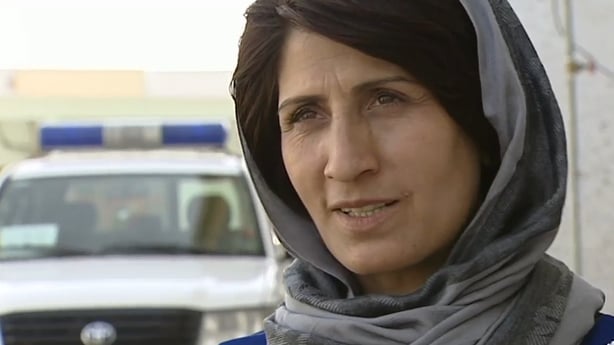 When we met, I had asked Lt-Col Kakar what she thought of the many death threats she had received. "I will fight my enemies to my last drop of blood" she had told me. But what struck me later was her more nuanced explanation of her bravery: "When the police get frightened, what message does that send to the people."
When the Taliban silenced the bravest voices in Afghan society, they eroded the faith of communities who couldn't speak so forcefully. They have also discovered the potential of new technology to overwhelm dissident voices, and capitalise on discontent with Afghan elites through content platforms like Twitter, WhatsApp and even chat app, Clubhouse.
In retrospect, the momentum was always on the side of the loudest voices. US policy makers gambled blindly on those who appeared strong enough to face down the military threat from the Taliban, which in turn weakened those who truly represented the aspirations of the post-Taliban generation. Eventually, they would engage (and empower) the Taliban in direct talks.
It did not need to be this way.
"If they try bring silence back to Afghanistan, the world must seek out and listen to the many voices of the Hostage Nation"
That's something that struck me forcefully when I was watching a recent interview with Dr Alberto Cairo, who continues his work in Kabul. When asked what he had learned from 30 years of rebuilding Afghanistan, it was to listen closer to the Afghans themselves.
When I look back on the people I was privileged to meet in that Hostage Nation in 2001, and in a loud, vibrant Afghanistan five years later, it is clear that foreign leaders couldn't or wouldn't listen to the Afghan voices with the biggest stake in a post-Taliban future.
Today, I hear the echo of a distant voice and it is the strident sound of Sher Mohammed Abbas Stenekzai. The former Taliban minister we met in 2001 is reportedly among the highest ranks of the new regime. Stenakzai and the Taliban may choose a different path this time. But if they try to bring silence back to Afghanistan, the world must seek out and listen to the many voices of the Hostage Nation.
The award-winning Hostage Nation documentary team were:
Mark Little, Reporter
Eddie Doyle, Producer
Cedric Culliton, Lighting Cameraman
Cormac Duffy, Sound Recordist