Like thousands of other students currently sitting the Leaving Cert, Cain Hopkins, a 17-year-old from Dublin, spent a large portion of his final year at his desk, in front of a screen.
"This room is the only place I would be. My world shrunk," he told Prime Time in a video diary.
His friends, his teachers – even his football team, Shamrock Rovers – were rendered pixelated objects on a desktop screen, his connection to the outside world.
Cain is one of three students who have been documenting their Leaving Cert on camera for Prime Time.
In one of his video diaries, Cain explained that he had to share a room with his brother, which made studying for his Leaving Cert a challenge at times.
"We were on top of each other. He works night shifts, so whenever I had online classes to do and he was sleeping, I would have to find a different room," he said.
"With everyone at home it was hard to find a room that was free."
18-year-old Orla Coffey from Cork regularly vlogs about her Leaving Cert year on social media.
Working from a converted office/bedroom in her home, she details on camera her study routine and builds in breaks for fitness & chats with friends.
She feels that the first lockdown prepared her better for the second one in 2021. She had developed a routine from last year and also said that student innovation around Zoom calls was a major help.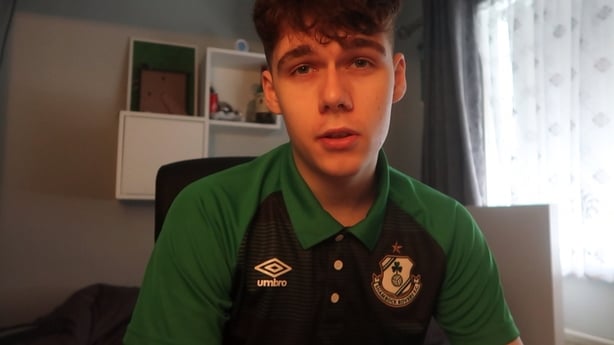 Orla and her friends would join Zoom calls so that they would feel less alone when they were studying.
"Basically, one of my friends or me would send a link to a Zoom call. And whoever wanted to could just log in, put on the camera, go on mute and shove a laptop in the corner and work away," she said.
"It really just took away the sense of loneliness and isolation at home."
But when it comes to online teaching, Cain is less positive about how well remote learning worked for sixth years.
"A lot of people didn't have access to a laptop, so people were trying to do online classes on their phones, which is difficult with the small screens," he said.
"A lot of students just lost motivation. The online attendances at classes just began to drop. Everyone was losing motivation, because we didn't know whether the Leaving Cert would go ahead."
A new report entitled "2020 Childhood Paused" has made it clear how tough lockdowns have been on the younger generations.
100% of the children who contacted the Ombudsman for Children's Office for its annual report mentioned the impact of the pandemic on their mental health.
The majority of the education complaints in the report related to the Leaving Cert and the impact it was having on the daily lives of students.
Some school children felt there was a lack of clarity about State examinations and others had concerns about accredited grades. Lack of guidance for online learning was also raised.
Other complaints related to children in high-risk households who feared bringing Covid-19 home.
Some children wrote directly to the Ombudsman for Children expressing their fears of causing the death of a sibling or parent.
The report includes a sample of letters that were sent directly to the Ombudsman, Niall Muldoon.
One student wrote that he feared his brother and mother would die if they contracted Covid.
Another letter detailed a student's fears of putting their unwell family member at risk: "How can you ask me to put him at further risk by me mixing five days per week with 1250+ children in school and nearly 100 teachers/SNAs/Staff?"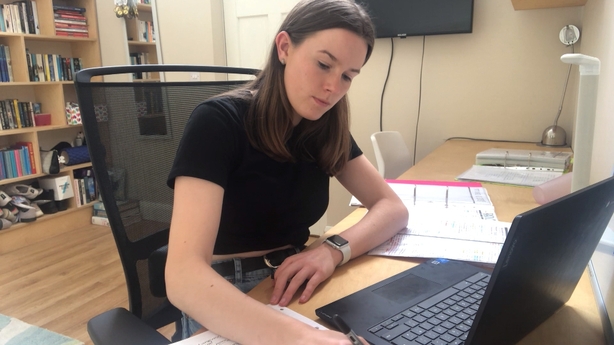 The three students who spoke to Prime Time were glad that pupils returned to school in March, mainly for the interaction with peers inside the classroom.
But Orla Coffey saw merit in the annual report's finding that catching Covid in school was a real concern for pupils.
"I'm fit and healthy and my family are in the same boat but I saw students with that sort of worry," she said.
"Where they had a grandparent living at home or someone with underlying health conditions, they were afraid for their relatives – not necessarily themselves."
The Leaving Cert students of 2021 have the option of choosing to sit the exams or instead rely on so-called accredited grades. They will be automatically awarded the higher result of the two.
Accredited grades see students receive a grade from their subject teacher based on their performance during the school year, taking "cognisance of performance in all aspects of an examination including, where relevant, oral, practical and coursework components and tasks", according to the Dept of Education.
Cain is keen to make clear that both options are tough.
"Assessments were almost like a second Leaving Cert," he said.
"I studied eight subjects and we were getting tests every two days and that carried on for the last month of school. So we were really just flat-out studying. It was stressful at the time."
But he does feel it gives him the flexibility of focusing on certain subjects for the state exams where he needs more study and preparation – and then relying on accredited grades in subjects where he has scored well throughout the year.
Molly O'Brien from Navan has also been recording her experience of the Leaving Cert for Prime Time. One issue that has come up among her friends is increased points for courses.
"My friends are worried, because the points have gone really high and they have to work so much more to get those points," she said.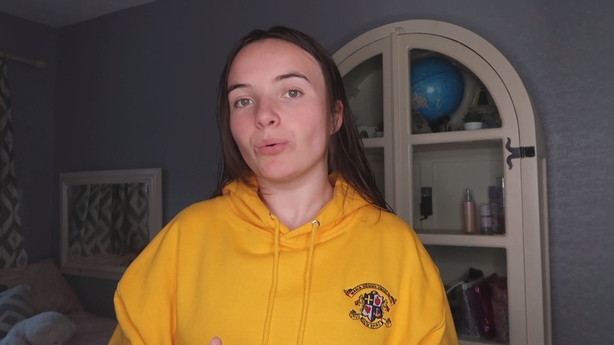 "But, in my case, I can see that the points are achievable for me. I'm just worried about getting a place because I really want to go to IADT."
It is predicted that grade inflation could become a bigger issue this year due to students having more choice between written exams and accredited grades.
With Leaving Cert results due on Friday 3 September and first-round CAO offers the following week, it is expected that many third-level colleges will delay admission of first-year undergraduates.
The Government announced a plan this week for students to return to college campuses in September, and Cain Hopkins is feeling optimistic about the news.
He's hoping to study a PLC course in film at Ballyfermot next year, followed by a four-year course at IADT.
"I don't want to spend the first year of college online. It would be a waste of time and money. I wouldn't get the full experience," he said.
"One of the reasons I was considering a PLC was I didn't want to go into a four-year course where I spent the first year doing everything online. But now that we'll be back on campus I'm looking forward to it now."
Orla Coffey is planning to study medicine next year. Similarly, she wants the full college experience.
"We don't want that year of lockdown that the 2020 cohort did have in their first year of college. The college experience is something we look forward to and would hope to get," she said.
"It's just so much more than the learning. We're hoping to be on campus and there will be a sense of normality."