Among the many hardships of the Covid-19 pandemic is how it has diminished the traditions and rituals that we use to say goodbye to our loved ones when they pass away.
No matter the cause of death, current government restrictions mean that funerals must be private and limited to a maximum of 10 people - taking away the opportunities for collective mourning that are a central part of our culture.
"It's an awful, awful thing when you know in your heart and soul there are 20 close relatives and you have to tell people to exclude 10," James Harnett, an undertaker in Abbeyfeale, Co Limerick, told Prime Time.
The restrictions, Mr Harnett believes, will leave a lasting imprint on families. 
"You were excluded from your sister's funeral and your brother was not? Those are the kind of issues that are going to haunt people," he said.
Despite the stringent limitation on the number of mourners, there are some grey areas surrounding the restrictions.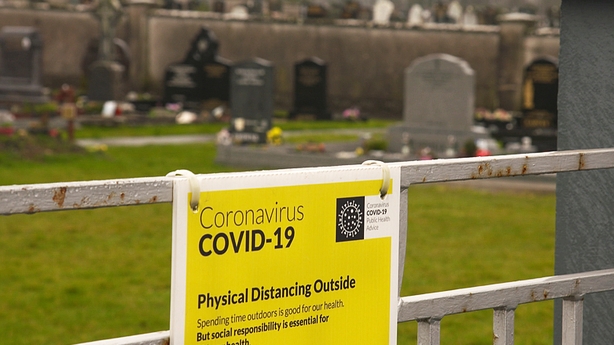 It is generally accepted that extended family and local people can show their respect for the deceased by standing, socially distanced, outside their homes or along the roads leading to the cemetery. 
This has led to the hearse often taking a slow detour around the deceased's community before going to the cemetery. 
But many funerals see people attend in larger numbers once the deceased's remains are removed from the church, despite frequent reminders from NPHET that there should be no outdoor gatherings of any kind.
For obvious reasons, people are reluctant to involve gardaí unless there are public order issues or situations involving a flagrant disregard for the guidelines. 
At a recent funeral in the Mid-West, around 60 people gathered at a graveside. Mourners were masked and, for the most part, stood at a social distance from one another.
However, many mourners queued, without socially distancing, to give their condolences and to shake the hand of the chief mourner. Others leaned in to hug the chief mourner.   
Undertakers told Prime Time that this is indicative of what is happening at funerals in many parts of the country.
Mary Mulvihill, from Kellys Undertakers in Athea, Co Limerick, said that the tightening of restrictions has prompted mourners who would have attended the church to go to the graveside.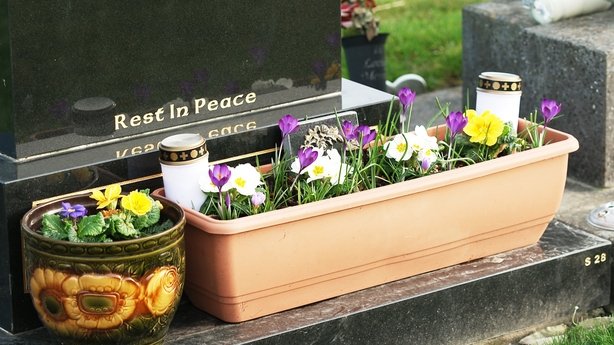 "You'll see anything from 60 to 100 people outside of the 10 mourners because it wouldn't take much - especially in our area with such big families and connections - to have 50 family members or more," she said. 
"As long as everybody is wearing the mask it is fine. But they are not all doing it."
Philip Ryan, from JJ Ryan Undertakers in Nenagh, said that the numbers turning up at the graveside can often be excessive. 
"The pull of compassion is very strong – and while they don't mean to do anything wrong, too many might come," he told Prime Time. People do adhere to social distancing and he seldom sees hand-shaking.
For Mr Harnett, the lapses are understandable: where there is high emotion, people will forget themselves.
"There will be a spontaneous handshake and hug from time to time," he said. "What can you do to prevent that? It's a minor infringement." 
Undertakers are not alone in helping families across Ireland come to terms with the diminished rituals. The clergy now have to offer solace to the bereaved at a remove.  
"I know priests who spend sleepless nights worrying about families who are part of the community, and caring for them pastorally, and now negotiating with them around who are the 10 mourners who can be present," said Fr Eamonn Fitzgibbon. "It is very, very difficult."
Because no priest wants to have to turn mourners away, it is generally decided beforehand who can attend.
But there have been recent difficulties in his diocese. Last week, for example, gardaí issued a significant number of fines in relation to Covid-19 breaches at a funeral in Newcastle West.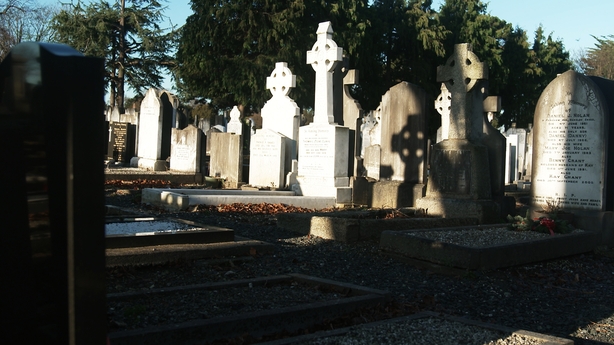 To underline the dangers involved, Wexford coroner Dr Seán Nixon told Prime Time it has now been verified that three people had died as a direct result of a Covid-19 outbreak at a funeral in Ramsgrange in early December.
The Health Protection and Surveillance centre told Prime Time that there were 14 Covid-19 outbreaks at funerals, with 103 confirmed linked cases, from 1 January to 24 February.
In January, the Bishop of Limerick, Bishop Leahy, sent out a reminder to his diocese, asking mourners to avoid congregating immediately outside the church building or around the hearse. 
"For the sake of the great majority trying to keep to the public health guidelines, we ask people, difficult as it is, not to approach the bereaved in the church grounds or cemetery to sympathise," he wrote.
"There should be no wakes or large gatherings for prayers in the house of the deceased, nor gatherings in cemeteries."
Traveller representative organisations similarly asked the Travelling community to follow the restrictions. But gardaí issued a significant number of fines after two recent funerals in Limerick involving the deaths of well-known members of the Travelling community.
Limerick Councillor Emmett O'Brien, who serves the Adare-Rathkeale area, said that while there had been a number of funerals that appeared to breach restrictions locally, he believed most mourners had acted safely, even when larger groups assembled.
He told Prime Time that the guidelines should be clarified to allow more to attend within the church.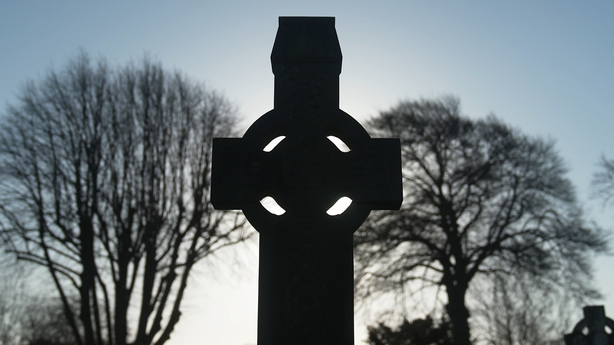 "Churches are now a controlled setting. They are generally very large in this constituency and can take more than 10 people or 25," he said.
"Even if they were to increase it up to 30 or 40 people that would extend it to the larger family unit."
He believes that breaches around funerals are a natural symptom of the fraying resolve caused by the extended lockdown. 
Local TD and Minister for State Niall Collins acknowledged that current guidelines for funerals are a "big ask", particularly in rural communities where in normal times thousands might attend. 
"We've always done funerals big in this country. Funerals are a huge part of our culture and our heritage."
But easing restrictions on funerals, he said, could cause others to argue for a more general relaxation of lockdown measures. 
He nevertheless believes that there is a strong case for easing funeral restrictions. 
"I think there should be a review carried out [by NPHET] in relation to it," he said.
For Fr Fitzgibbon, his fear is that one of our strongest traditions – how we say goodbye to those we love most dearly – has been damaged irreparably.
"Perhaps they won't come back, but they were wonderful traditions in this country," he said. 
"And I feel some of those may be lost forever now."