By Yvonne Murray in Shanghai
In February 2019, at his home in Dublin, Richard O'Halloran packed a small carry-on suitcase. After all, he was just going to Shanghai for a few days to try and sort out a commercial dispute, involving the Chinese chairman of his company.
Nearly two years later, he's still stuck there – living in a hotel on his own, thousands of miles away from his wife and four young children, despite never having been personally accused of any wrongdoing.
Holding back tears, he looks through the handmade cards his son and daughters have sent to him.
"Come home soon" reads one, coloured in bright felt-tip pens. "I miss you!" reads another.
The children have given up asking when their father will return to them, because he doesn't know the answer.
O'Halloran was a director at CALS Ireland, (China International Aviation Leasing Service) an aircraft leasing firm based in Dublin. The chairman and main shareholder of the company was a Chinese national, Min Jiedong.
Min had made investments in multiple entities around the world, including in CALS Ireland to purchase an aircraft that was already on lease to a European airline. 
But Min's capital had been raised in crowdfunding and peer-to-peer lending schemes which suddenly became the target of a wider government crackdown on lenders in China.
Min was arrested in Shanghai and the authorities launched an investigation into his finances.
The schemes pre-dated Richard O'Halloran's arrival at CALS Ireland in 2017, but as a director of a company which had received some of Min's funds, he "felt dutybound" to travel to China to assure investors that CALS Ireland would continue to honour the terms of the agreement and return the profits from the aircraft lease to China.
"I came here to protect the investment of the (Chinese) investors," he told RTÉ in the first television interview he has given since his detention. "Many investors had been stung, not just in China but all over the place and I wanted to do the right thing," he added.
But after his meetings with investors in Shanghai, O'Halloran tried to board a plane on March 1st 2019 to go home, when he was stopped at immigration and told there was an exit ban on his passport.
Confused and frustrated, O'Halloran returned to his hotel. From that moment, he has been locked in a legal quagmire from which he is still unable to escape. "I'm innocent. I've done nothing wrong," he said.
O'Halloran believes he's being kept in China because the investors may not believe the company will honour the agreement if he leaves.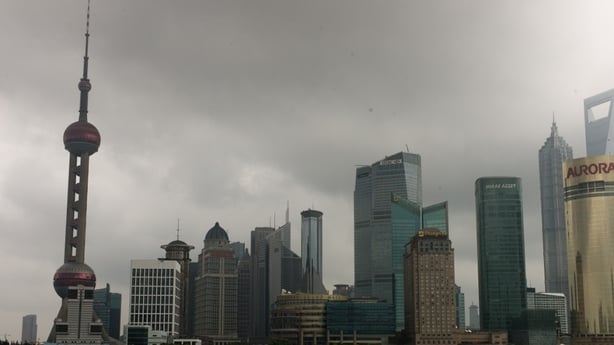 His burgundy Irish passport sits on the glass table in the hotel meeting room – once a ticket to international travel, now a reminder of the limits on his freedom.
Min Jiedong was tried and convicted of illegally raising funds from the public in China and O'Halloran was compelled to give evidence in the case. He was questioned extensively by police and summoned to one-on-one private sessions in the district court.
"I was only allowed to have a lawyer present to translate - no legal official to represent me," he said.
"It's fundamentally flawed to expect someone to sign documents in Chinese or to conduct an entire interview in Chinese without legal representation," he said.
In response to queries submitted by Prime Time, the Chinese Embassy in Ireland described O'Halloran as the "actual operator" of the aviation leasing company, CALS. It said the company owes around €50m in "illegally collected funds" to investors.
"Mr O'Halloran has not yet returned the illegally collected funds to the victims," an embassy spokesperson said in a written statement. "Mr O'Halloran's legal rights are fully guaranteed."
"In any country, company representatives have the legal obligation to return the proceeds of crime flowing into the company and related yields to the victims. Shanghai judicial authorities restrict Mr O'Halloran from leaving China by law to get back the related proceeds of crime and its yields."
"We fully understand Mr O'Halloran's family's anxiety and hope they will advise Mr O'Halloran to cooperate in a meaningful way with judicial authorities in Shanghai to ensure an early solution to the case."
Richard O'Halloran is living with the fear of not knowing what could happen to him in China.
"I didn't know if they were going to put me in jail," he said, "were they going to charge me even though I was innocent, would they fabricate something against me," he said, "so this was always running through my mind - were they going to create something that they could use to arrest me and put me in a detention centre," he said.
"Often when I come back to the hotel or go for a walk I would see police cars and often wonder, were they there for me," he said, "I'd be saying to myself 'is my bag packed, where is my passport, am I ready to be taken at a moment's notice?'"
Several countries including Canada, the UK, the US, Australia and Ireland have issued travel advisories on China, highlighting the risk of "arbitrary detention," "arbitrary enforcement of local laws" and the use of exit bans over commercial disputes.
In recent years a number of overseas nationals have been detained in high-profile cases that have strained China's relations with other countries. A Swedish citizen, the bookseller Gui Minhai disappeared in 2015. The arrest of Two Canadians, former diplomat Michael Kovrig and businessman Michael Spavor, in December 2018 were considered to be in retaliation for Canada's detention of Huawei's top executive, Meng Wanzhou, on a US extradition request. 
Several US citizens have also been barred from leaving China, including Victor and Cynthia Liu, who have been trapped in China since 2018 over an investigation into their estranged father's finances.
Richard O'Halloran's detention has taken its toll on his physical and mental health. In August 2020, he collapsed in his hotel room and slipped into unconsciousness. He was found by a member of the hotel staff and rushed to hospital where he remained unresponsive for three days.
"Acute anxiety and stress," he said, "sleep deprivation and mental stress - just a culmination of everything."
In October, he sank into dark despair and couldn't answer the phone for a week. "I just didn't want to talk to anyone…. Just wanted to shut myself away," he said. "Trauma," he added.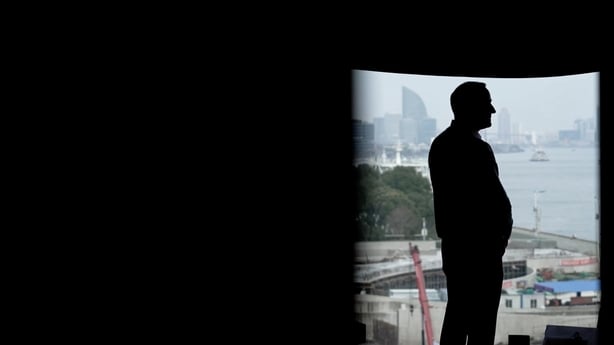 CALS Ireland put forward a potential commercial solution, which O'Halloran hopes will secure his freedom. 
And he hopes Irish and European politicians will continue to raise his case with their Chinese counterparts. "I do believe we need one big push and I hope this can be a light at the end of the tunnel - two years of hell coming to an end," he said.
As the light fades over the Huangpu river outside the hotel window, Richard O'Halloran reflects on the time he has lost with his family, while his children grow up without him.
"I'm very hands on father and literally within the blink of an eye that's all gone," he said. "It's very difficult to explain to a 5 year old- now 7 - that Daddy's not coming home for your birthday, your communion, your confirmation or Christmas," he added.
But one of the most difficult aspects for O'Halloran is not knowing when this will end. "It's not like I have been sentenced to a finite period of time," he said. "This is open ended this could go on and on and on," he said, "to the point I asked one of the judges last month do you expect that I tell my wife to get on with her life and for my kids to try and forget about me……is that what you are trying to do?...."
For Richard O'Halloran, the exit ban is tantamount to incarceration.
"I might as well be in prison," he said.