I realised the moment Tony Lunney started to talk about his brother, Kevin, just how close they are.
"We are the two youngest in a family of ten children, two boys at the end," Tony told me as we sat on our own outside the boardroom of Quinn Industrial Holdings in Derrylin, where both of the Lunney brothers work.
As we chatted, I was really struck by the close bond these two men have and how deeply the attack on his brother must have affected him.
Like everyone else in the country, I was very aware of the story. It had dominated the headlines for weeks. I knew lots about the brutality of the attack and, like everyone else, I was deeply shocked at the savagery of the details that had emerged so far.
I was aware that his brother, Tony, and his family had also been targeted, as had other members of the senior management team in the company.
The CEO of the company, Liam McCaffrey, had also agreed to give us his first broadcast interview that day. But I really knew very little about the Lunney family, where they came from, or, most importantly, how close they are.
"Tell me about your family," I said, as we waited for my Prime Time colleagues to get everything ready for the interview.
"We grew up in a place called Molly Mountain, not far from here," Tony explained.
I'd never heard of Molly Mountain but as we chatted I could see how much Tony loved this home place and then, with great consideration, he talked about his mother and father. He went through each of his nine brothers and sisters in detail.
We need your consent to load this rte-player contentWe use rte-player to manage extra content that can set cookies on your device and collect data about your activity. Please review their details and accept them to load the content.Manage Preferences
'There is a loving family, rooted in a happy childhood', I thought. But when he got to Kevin, he found it difficult to talk about him without getting upset.
I decided to leave it there, to give him a break, and changed the subject to the never-ending Brexit saga, about which we had a spirited conversation. Having regained his composure, and with our crew ready for us, we headed into the room and sat down for the interview.
As we waited to start, getting our microphones fitted and engaging in chit-chat with the team, I felt a little nervous. No matter how long I do this job, I am always anxious that I do interviews like this well. I wanted to do right by this man, his brother, and his wider family, since Tony was trusting me with this deeply personal story.
I was also thinking of Fr Oliver O'Reilly, or 'Fr Ollie' as he told me to call him, since that's how everyone knows the parish priest of nearby Ballyconnell in Co Cavan where the Lunneys go to Mass.
Fr Ollie delivered a devastating homily at the end of last month about the attack on Kevin. It was largely through this wonderful man that I had made contact with Tony, as he is very close to the family.
The morning he was about to deliver that homily, I interviewed Fr Ollie on 'Sunday with Miriam'. He was superb – powerful, direct, but measured. I thanked him afterwards and mentioned that I would love to interview the Lunney family. A few weeks later, I was sitting in Derrylin about to do this interview with Tony.
When the interview started, Tony was also a little nervous, but that nervousness soon disappeared as he began to talk about what happened to them all in the previous weeks, months and indeed, years.
It was a devastatingly powerful interview, totally down to his incredible honesty and searing emotion. As he spoke, my instinct was to abandon the planned interview structure and just let him speak.
He explained how for years there had been low-level intimidation against all the senior executives at Quinn Industrial Holdings (QIH), including himself and his family. That escalated after time into 'Wanted' posters all over lampposts in the local Derrylin area and posts on Facebook accusing them of betrayal, calling them traitors and, bizarrely, even comparing them to the Shankill Butchers.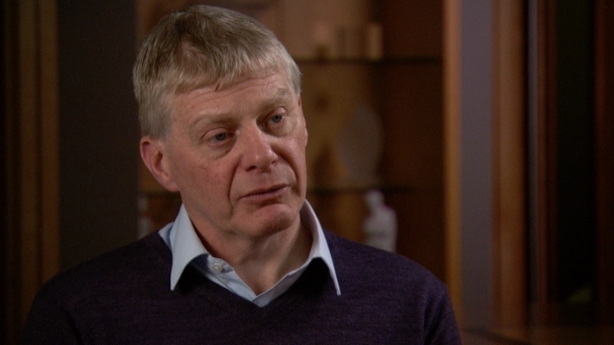 Many incredibly difficult years followed. Acts of harassment, criminal damage, including arson, industrial sabotage and damage to expensive equipment followed, before the campaign escalated to include serious violence, including personal assaults.
Kevin Lunney had his nose broken in a service station café in Co Cavan and another senior member of the team, Dara O'Reilly, had boiling water thrown in his face and his car was burned out.
The litany of horrendous events kept on going, Tony explained, with what seemed like very little reaction or help at that time from either the gardaí or the PSNI.
"Tony's voice cracks when he recalls how Kevin, despite all he had been through, asked them not worry about him and to go home to their families"
Tony first became upset during our interview when recalling a rare weekend away in Edinburgh late last year with his wife and children to celebrate their wedding anniversary. While there he took a call explaining that his daughter's car had been set on fire in the front of their home.
Following all the previous violence and threats, they had cameras installed and he recalled for us the devastation as they watched from afar on their phones the burning wreck back home.
But nothing could have prepared them for what happened next in the ongoing campaign of violence and intimidation.
I took a deep breath before asking Tony to take me back to the day of his brother's abduction and attack last month, on Tuesday 17 September. He paused and began to recall, in vivid and heartbreaking detail, what he described as the worst moment in his life.
I and the whole team listened in silence as this decent man, still obviously deeply traumatised by what had happened to his little brother, began to tell us the story in chilling detail.
"I was at home very late and the phone rang ... I knew the person calling would only call if there was a real problem ...'Kevin's car is on fire in his driveway', he said ... 'we don't know where he is'."
Tony ran out the door and headed to Kevin's house. At that moment he had no idea what had happened. Tony explained that when he arrived, Kevin's car was a fireball and he feared the nightmare scenario, that his brother was in the burning car.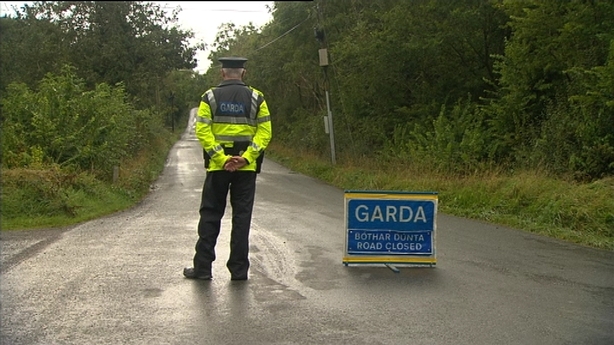 You could feel the relief he felt as Tony recalled how, after the fire died down sufficiently, firefighters told him that there was no one in the car. That relief rapidly turned to terror as the Lunney brothers tried to figure out where their brother Kevin actually was.
They drove around the lonely dark roads, but it was nighttime and pitch black. It was like looking for a needle in a haystack. They went back to Kevin's house to wait. Suddenly, Tony overheard one of the PSNI officers talking on the radio. He was saying that Kevin had been found across the border.
At that moment the PSNI were not giving much away, so Tony called the gardaí in Cavan to ask if Kevin had been found. Officers there were not yet aware that he had been found.
Minutes later, Tony's brother Frank, who had been talking to Kevin's wife, Bronagh, at the family home said that Kevin had just called her to tell her he was alive and not to worry about him. Given the horrendous injuries we now know he had suffered, it says a lot about the kind of men the Lunney brothers are.
A young farmer had found Kevin on the road near Cornafean, Co Cavan, where he had been dumped in his underwear on a cold night by his attackers. Despite a badly broken leg and his other horrendous injuries, Kevin had managed to drag himself along the road, desperate for someone to spot him and save his life. And someone did spot him.
At first the young man thought it was a prank but then quickly realised the gravity of the situation. He went to get his mother who returned with her phone. She called an ambulance and Kevin, despite being in a dreadful state, asked then if he could call his wife. Then Tony got the woman's number, called her and found out that Kevin was on his way to Cavan Hospital so the two brothers headed straight there.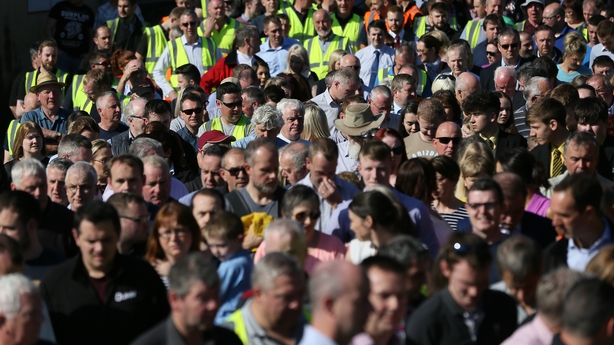 They were actually waiting in the hospital for Kevin when he arrived. It was an emotional reunion for the three brothers. Tony's voice cracks when he recalls how, when they were still there hours later, Kevin, despite all he had been through, asked them not worry about him and to go home to their families.
Much has already been written about the depravity and savagery of the attack on Kevin Lunney. As Tony sets out in our interview what they did to his brother, it is still difficult to understand how any human being could do that to another person.
Yet I was struck by the total absence of bitterness or anger from Tony. Most importantly, he says Kevin is doing really well and remarkably strong. He seems in awe of his little brother's courage and strength. That obviously gives him strength too.
Tony just hopes that what happened to Kevin will change everything, that this will finally bring an end to all the violence and the intimidation. That is why he agreed to do our interview.
As Liam McCaffrey, the CEO, said to us, there can be no going back. This has to change everything. Arrests have to follow and whoever is behind all this has to stop or be stopped.
Tony Lunney says "some good has to come from Kevin's terrible suffering". Two little brothers who grew up together, are still looking out for each other, after all these years.
It was a privilege to interview Tony and I hope everyone will be delighted and relieved to hear that his brother is doing so well. We also hope that Kevin's wife, Bronagh, and their children are doing well too and that one day they will be able to put this nightmare behind them.
Let us hope that this really does mark the end of all they have been through.
Miriam's Prime Time interview with Tony Lunney was broadcast on RTÉ One tonight and can be viewed here on the RTÉ Player