America Decides
Tuesday 06 November 2012 19.22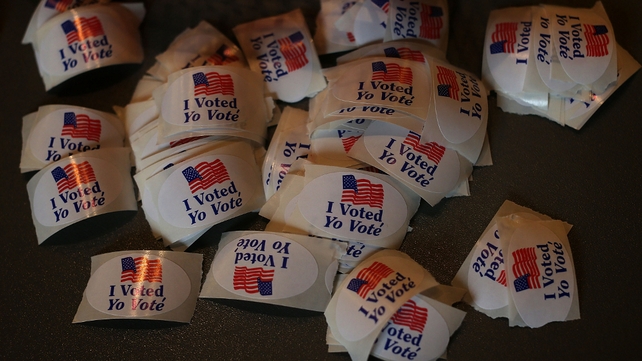 Robert Shortt blogs ahead of tonight's coverage of the US Presidential Election:
It's quiet, cold and the sun is shining. Washington DC is eerily calm. It's a professional city, full of ambitious people caught up in the cut and thrust of politics and all of its attendant courtiers in the lobbying and policy worlds.
But the two tribes of American politics have migrated to the seven or so battleground states where this closest of elections has been fought. Some think they may even stay there for a while longer, if a close vote leads to challenges over the validity of certain ballots.
And it is that close.
Going into polling day, there's less than a percentage point between the two candidates in the national vote across polls tracked by the Real Clear Politics website. When it comes to the battleground states, the arithmetic of the electoral college system favours Obama. But even that lead is close.
Nowhere is the race closer than in the state of Virginia. Just south of the Potomac river from Washington DC, it was one of the major surprises in the 2008 elections. Before that, it hadn't voted Democratic since Lyndon 'Landslide' Johnson's victory in 1964.
Republicans want it back and Mitt Romney needs it to secure his path to the White House.
Venturing onto the campaign trail can lead to some interesting encounters.
On a cold morning in Virginia's northern suburbs, a crowd of around one hundred Romney supporters wait for the arrival of Tagg and Ben Romney, sons of the Republican candidate.
When they arrive, the Romney sons fire up the volunteers to get out the vote.
Their grandfather, George, was the governor of Michigan in the 1960's and lost out to Richard Nixon for the Republican nomination in 1968. Tagg –who looks remarkably like his father Mitt- is not about to mark a third generation in his family's political dynasty. He stays diligently on message extolling the merits of his Dad and what he stands for.
Just before he climbs back into a waiting black SUV (complete with secret service detail) he tells me about his life in Dublin. Yes, I realise it's not quite a Moneygall moment, but Tagg Romney and his wife lived in Darthmouth Square in Ranelagh for two years while he worked for Elan in the late 1990's. He has fond memories. One of their daughters considers it home.
I'm not sure if this will secure Virginia's Irish American voters.
But perhaps it showed the natural instincts of a politician to make a connection just waiting to emerge.
Robert Shortt
Robert Shortt will be reporting for Prime Time from Virginia on Tuesday. He will be co-presenting RTÉ's election night coverage and morning results programme from Washington DC