Prime Time - 30th October 2012
Tuesday 30 October 2012 19.17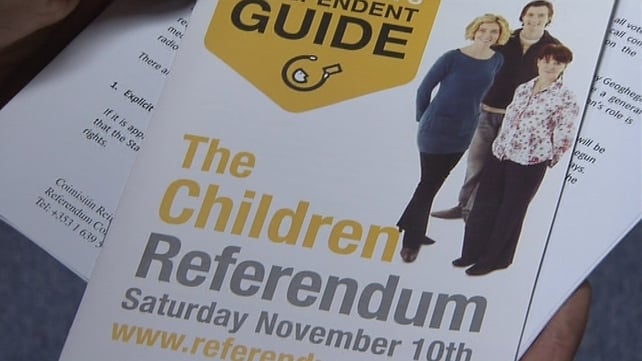 On tonight's programme:

With just over a week to go until the Children Referendum, Rita O'Reilly examines the arguments from both the Yes and No campaigns, speaking to both advocates and legal experts, as well as hearing from abuse victims who have strong reason for taking their respective positions. In studio, Richard Crowley will chair the debate, with solicitor Catherine Ghent making the case for the Yes campaign and former MEP Kathy Sinnott putting representing the No side.
Recent high-profile and tragic teen suicides have again brought the issue of online bullying, and bullying in general, back into sharp focus. Much of the discussion has focused the various social networking sites used by bullies to torment their victims, with the element of anonymity providing another shield to the abusers. Tonight on Prime Time, we ask why bullying is still so prevalent in Irish schools, despite attempts being made to tackle the issue for several decades. Our reporter Oonagh Smyth revisits her 2008 Teen Bullying investigation and Miriam O'Callaghan will be joined in studio by Dr. Barbara Dooley, senior lecturer at the School of Psychology UCD and research director for Headstrong, and Betty McLoughlin of the Institute of Guidance Counsellors.
If you feel you've been affected by any of the issues raised in the discussion on bullying and would like to talk to somebody or would like more information on how to prevent online bullying, you can contact the following:

Samaritans: 1850 60 90 90 (24 hour helpline)
Console - 1800 201 890 (24 hour helpline)