A senior Fine Gael minister has said it is "entirely appropriate for a political party to make political points" after a week-long row between Fine Gael and Fianna Fáil over Budget tax plans.
Speaking to RTÉ News, Minister for Justice Simon Harris said "you don't give up your right to be a political party when you enter Government".
He added that coalition members Fine Gael, Fianna Fáil and the Green Party are "separate and distinct parties".
Fine Gael and Fianna Fáil have been the subject of a public row in recent days after a number of Fine Gael ministers wrote an opinion piece in the Irish Independent calling for a €1,000 tax break for people in autumn's Budget.
The issue has not yet been discussed in detail or agreed with coalition colleagues, including Minister for Finance and Fianna Fáil TD Michael McGrath.
However, while downplaying the disagreement today, Minister Harris insisted Fine Gael ministers have every right to make "political points" if they wish to do so.
We need your consent to load this rte-player contentWe use rte-player to manage extra content that can set cookies on your device and collect data about your activity. Please review their details and accept them to load the content.Manage Preferences
He said: "I don't think there is much of a row here quite frankly and I'm a little perplexed at how it's gotten to this point.
"The Government is working very well together, there are three parties in the coalition Government, but we are separate and distinct parties and it is entirely appropriate for a political party to make political points.
"You don't give up your right to be a political party when you enter government.
"I don't think it is shocking news or major news to anybody who votes Fine Gael or anybody who knows anything about Fine Gael to know that we want to put money back in people's pockets, that we do want to see a reduction in the burden of tax. And I'm also quite sure that the Government does because it's a commitment in the Programme for Government.
"So, of course, from time to time parties will put forward their views, but we will also come together when it comes to delivering a budget, and putting together a good budget that helps people in terms of putting money back in their pockets, helps them with the cost of living, just like we did last year."
Asked about whether the row indicates any disharmony within the coalition, Minister Harris added: "No, the Government is very stable."
Meanwhile, Fianna Fáil's Barry Cowen told This Week that he was not surprised by comments made by the Taoiseach in relation to a tax break and about housing.
He said that there is a recognised process in deciding the budget.
"The Taoiseach and his office should be above party politics and he should call a halt to the posturing rather than adding to it.
"It's pure electioneering and playing to a base, and it's seeking to create a divide, firmly positioning Fine Gael on a side in that divide".
He said that other parties in Government need to make sure the public are not persuaded into thinking there is a power struggle within the Coalition.
In a separate interview with RTÉ News, Sinn Féin leader Mary Lou McDonald said the recent tax row is "political play-acting".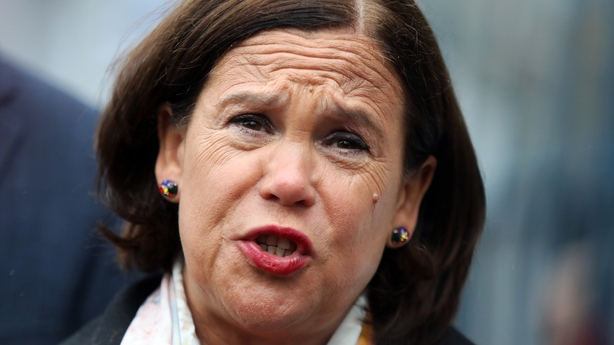 "We have had 12 years now of Fine Gael in Government, assisted by Fianna Fáil, the Greens and others, and I think the reality is now we have a Government that is more interested in having one over on each other than actually focusing on the real problems that people confront in their everyday lives.
"I think this is political play-acting. I think this is one-upmanship, and I think this is devised to distract from the fact that we have a housing crisis, that they clearly have not managed a very challenging situation around the refugee crisis, that we have a crisis in healthcare provision.
Asked if the row could accelerate the timing of the next general election, which has to be called by February 2025, Ms McDonald said: "Who's to say, I have no special insight into Government or when they may have an election.
"What I do know is that people expect at the minimum competence, planning and some order from Government and they don't have that. And the reality is the longer this Government stays in office the more damage they will do, all the evidence points to that."
Communication needed over refugees centres
Minister Harris was also asked about the refugee issue after a Sunday newspaper poll suggested three out of four people surveyed believe Ireland is taking in too many refugees.
The minister said "people want Government to continue to communicate with them" when new asylum seeker accommodation centres are opened in their area.
Speaking to RTÉ News after the finding in the latest Red C/Business Post poll, Minister Harris said "of course there will be a level of concern in communities" when there is "such a large increase in the number of people coming to our country".
However, he said that "people are also saying they very much want refugees when they come here to our country to be treated well", adding that in his view the message from the poll is that Government needs to communicate with communities about new arrivals and ensure the migration system is working efficiently.
Ms McDonald said her view of the poll finding is that the public is "concerned Government cannot and has not managed this situation correctly".
She said "people are alarmed" at the lack of communication when accommodation centres are opened, and that more planning and resources are needed as soon as possible.