Changes to income limits for cost rental schemes are among a number of measures being considered by the Government to address the shortage of rental accommodation.
Minister of State at the Department of Housing, Kieran O'Donnell, said that such schemes are being kept under constant review.
The rent paid on 'cost rental' housing is based on the cost of the building rather than the market price.
Speaking to RTÉ News, Mr O'Donnell said "recently we did a review in terms of social housing income limits. And obviously, we would look across a range of areas including cost rental as well".
Mr O'Donnell said that the intention was to make various forms of accommodation available to people.
However, Opposition parties have sharply criticised the Government for what has been described as a failure to properly prepare for lifting the eviction ban.
Sinn Féin's justice spokesperson, Martin Kenny, said emergency action should have been taken last October when the ban was first put in place.
His party has called for the Cabinet to reverse its decision to lift the temporary ban.
Separately, the Minister for Housing Darragh O'Brien, has issued a circular to Local Authorities, allowing them to suspend the 'Part 8' planning process for a temporary period, in order to speed up the delivery of social housing.
Mr O'Donnell, who has responsibility for planning in the Department of Housing, expressed hope that it could improve social housing delivery.
"We're looking at a large number of sites around the country. This Part 8 suspension only applies until the 31st of December 2024. It's a temporary measure in the current circumstances to get social and affordable output at local authority level expedited," he said.
Opposition parties have criticised the move, arguing that the Part 8 planning process was not the main obstacle to delivery, and that other checks and balances around procurement were causing greater delays.
No facilities at garda stations to help homeless people - AGSI
Meanwhile, the General Secretary of the Association of Garda Sergeants and Inspectors has said that garda stations do not have any facilities to deal with people who are homeless.
Antoinette Cunningham said gardaí have a duty to keep people safe and anyone who presents at a garda station will be treated empathetically, but "quite simply" there are no facilities in garda stations to deal with people who may be the subject of an eviction order.
"If the Government feel that this is something that might happen, they should take immediate steps to ensure that it doesn't in the knowledge that garda stations have no facilities," Ms Cunningham said on RTÉ's Saturday with Colm Ó Mongáín.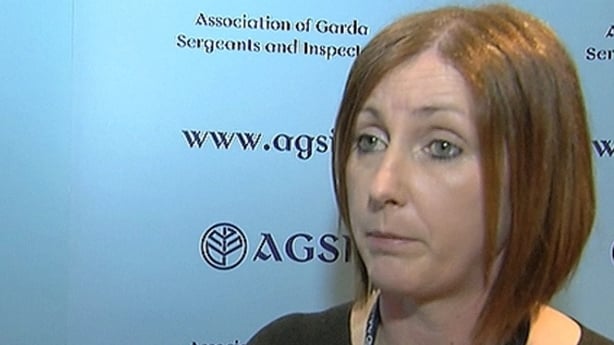 She said the only things that are in garda stations are public offices and cells.
Speaking on the same programme, the Labour Party leader Ivana Bacik said that one woman in her constituency went through 300 landlords before she could find a place for her and her children to stay.
"We are seeing a hands off, arm's length approach by Government," she said. "And the scheme is not operating and simply not good enough.
"Thousands of families are living in fear that they will be evicted from the first of April and have nowhere to go."
Mr Kenny said that at least half the people who will be evicted when the current ban ends will not be eligible because they are above the threshold to be on a local authority housing list.
Mr Kenny said the State should not be dependent on whether landlords will sell or keep their homes.
"The vast majority of people want a secure home and the security of a local authority house," he said.
Mr O'Donnell said local authorities were being told to "get on with it" and purchase properties to keep tenants in their homes.
Mr O'Donnell said the tenant-in-situ scheme has been in place since last June, but it has not been operating properly.
The scheme allows local authorities to purchase homes where a tenant, in receipt of Housing Assistance Payments or the Rental Accommodation Scheme, has been issued with a notice of termination.
Dublin City Council has told councillors that it acquired 25 properties through the programme since January of last year.
The junior minister said he is disappointed that the scheme has been inconsistent.
Mr O'Donnell said the end of the eviction ban is not a popular decision, but that it was only meant to be a temporary scheme.
He added that the Government is making efforts to retain landlords in the market and ensure more enter the market, while also giving local authorities power to purchase properties and protect tenants.
Mr O'Donnell told the programme of people entering homelessness because many people will not get a termination notice until June.
He said 2,000 emergency beds are being made available around the country and 1,000 additional rentals.
Mr O'Donnell added that more than 10,000 social housing units have been put in place since the ban began last year.
He said the view was taken that extending the ban would only make the situation worse.
---
Your Politics Podcast: Eviction ban axed - at what cost?
---