Solidarity TD Mick Barry has said that failures in the delivery of housing have fuelled far-right anti-refugee rhetoric.
However, Taoiseach Leo Varadkar said that "racists and the far-right will blame whatever problem the country is facing on migrants. That's the way it works, that's the way they think".
During Leaders Questions, he reiterated that "there is absolutely no excuse for racism of any form".
Mr Varadkar said that whether it was high unemployment levels, violence against women or high crime levels, racists would always find a reason to blame those from other countries, particularly those with a different skin colour.
Mr Varadkar accused Deputy Barry of potentially "inadvertently" assisting them with that tactic.
However, Mr Barry insisted that he was careful with his language and reiterated that "refugees are welcome here".
Mr Varadkar said that during a meeting this morning with trade union and business leaders he was informed of an anti-migrant protest outside a Dublin hospital aimed at staff working there.
"While there is no excuse for any form of racism in my view, under any circumstances, it really is a low-blow and a new low if healthcare workers who we are so grateful [to] for the fact that they have come here, are now facing protests and racism", he said.
Mr Varadkar added that it was really appalling.
He said that the National Action Plan Against Racism will be published in early March by Minister Roderic O'Gorman.
Mr Barry encouraged people to take part in anti-racism rallies which his party has helped organise.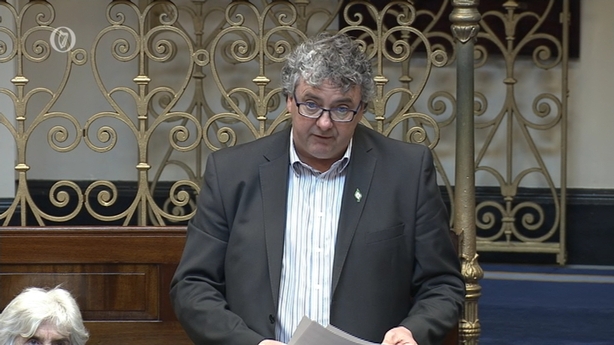 Independent TD for Donegal Thomas Pringle also told the Dáil that far-right groups are exploiting people's "real and legitimate fears".
Mr Pringle said Ireland had a history of emigration and yet when history is repeated in other countries "we turn our back".
He said that if all refugees were to leave Ireland tomorrow the same problems in health, housing and cost of living would persist.
The Taoiseach said that there were many reasons behind the crises in health and housing, but that no politician should "inadvertently make excuses" for the far-right.
Mr Varadkar said that he agreed that Irish people understand migration better than most due to the country's history.
He added that migration had been good for Ireland in terms of healthcare, the economy and culture.
Mr Varadkar told members that countries that are open to migration tend to be wealthier, more successful and stable.
However, he said that there is a difference between legal and illegal migration "and we shouldn't be afraid to say that".
Mr Varadkar said that there are many legal migration paths to Ireland.
Mr Pringle said that anyone who comes to Ireland claims asylum is a "legal immigrant".
He accused the Taoiseach of using the "same trope" as the far-right by using the term "illegal".
Mr Varadkar said he was referring to those whose applications for international protection were refused.