The Minister for Social Protection has said that she cannot see what could be achieved by bringing Damien English before an Oireachtas Committee.
Deputy English resigned as Minister of State at the Department of Enterprise, Trade and Employment following revelations on The Ditch website about a planning application he made in 2008.
Speaking in Co Cork today, Heather Humphreys (below) said that the former Minister of State had paid a "very high price" and at this stage she could not see "what purpose another committee would achieve but it's a matter for the Oireachtas".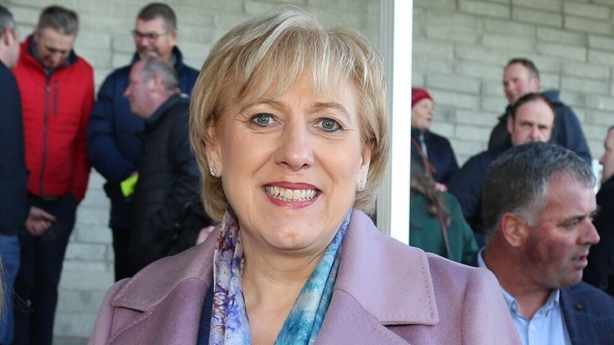 Earlier today, the Sinn Féin party whip, Pádraig Mac Lochlainn wrote to the Ceann Comhairle, requesting that Mr English be asked to give a statement to the Dáil regarding issues that led to his resignation as a Minister of State at the Department of Enterprise.
Meanwhile, Sinn Féin's spokesperson on enterprise Louise O'Reilly also wrote to the Dáil Committee on Members interests, seeking a meeting on issues related to Mr English's resignation. She said that she would also be calling on Mr English to appear before the committee to discuss the matter.
Ms O'Reilly, a member of the committee, has asked Committee Chair Joe McHugh to convene a meeting of members that would also discuss the powers of the Standards in Public Office [SIPO].
Labour's Justice spokesperson has also called on Damien English to make a statement before the Dáil when it returns.
Aodhán Ó Ríordáin said there needs to be Dáil scrutiny on the matter.
There have been calls, from across the Government and Opposition, for SIPO to be given increased powers.
Today Minister Humphreys described Mr English as a "good friend", a "very hard-working minister" and a "good colleague".
"He made an error, held his hands up, apologised and resigned," she said.
Minister of State for European Affairs and Defence Peter Burke said today that Mr English paid a heavy price but the "right price".
Earlier this week, the Taoiseach said that Mr English had paid a "big political price", after he resigned.