Minister for the Environment Eamon Ryan has called for the car park used by TDs and Senators at Leinster House to be converted into a garden.
He said the politicians should use the commercial multi-storey car park nearby instead of parking on the grounds of the building which is home to the Dáil and the Seanad.
The Green Party would make the proposal to the Houses of the Oireachtas Commission - the body which oversees the running of Leinster House.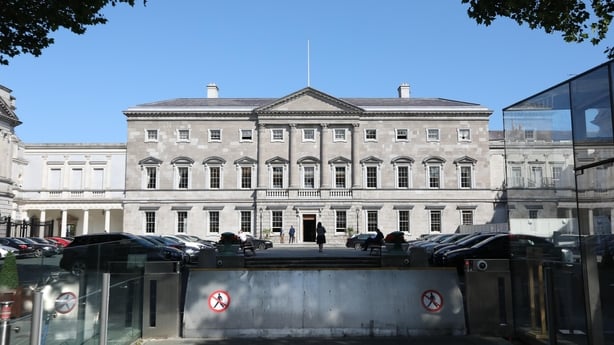 Speaking to journalists, the minister said the garden could be a "beautiful space" in the centre of the city.
"It would be symbolic of a wider change... If we are going to make that change in the country we have to lead by example."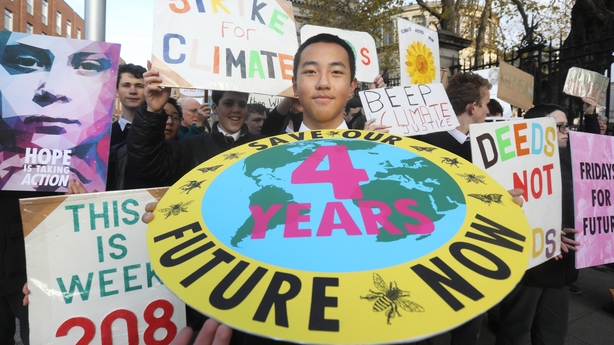 Today, he was joined by students gathered outside Leinster House for the fourth anniversary of the Fridays for Future climate protests which have been running every week.
As the #FridaysForFuture climate protest continues at the Dail, Environment Minister @EamonRyan says he is hopeful the revised Climate Action Plan will be published this month. It had been due to go to Cabinet next Tuesday @rtenews pic.twitter.com/TP5AOeS1uT

— Paul Cunningham (@RTENewsPaulC) December 2, 2022
Separately, the minister said he hoped the latest version of Ireland's Climate Action Plan could be agreed and brought to the Dáil by the end of the year.
Ireland would have to live within a five-year Carbon Budget until 2025, he said.
He added that if Ireland was not on target in each sector, then it would have to adjust and "that law will help us get on the right path".
Mr Ryan said he expects talks on the Cabinet reshuffle to commence next week.
"I think we are right to leave it to the latter stages because our focus should be on the immediate issues at hand," he said.