The Government will use money generated by an EU cap on energy company profits to assist households and to protect jobs, the Minister for Public Expenditure has said.
Michael McGrath promised that every household would get a "gain" on Budget day in two weeks' time to alleviate the impact of rising energy costs.
At that point, the Government hopes it will have figures on how much the EU measures will generate for this country.
That money will then give the coalition greater "firepower" to assist homes and businesses, Mr McGrath said.
He pledged a targeted intervention to help companies struggling to pay energy bills but he said this move will not be on scale of the pandemic payments.
Mr McGrath added that Government would soon finalise plans to keep the State Pension age at 66.
This would ultimately require people to pay more PRSI but this will not happen in the short-term, he said.
Varadkar: Risk of winter blackouts as likely as last winter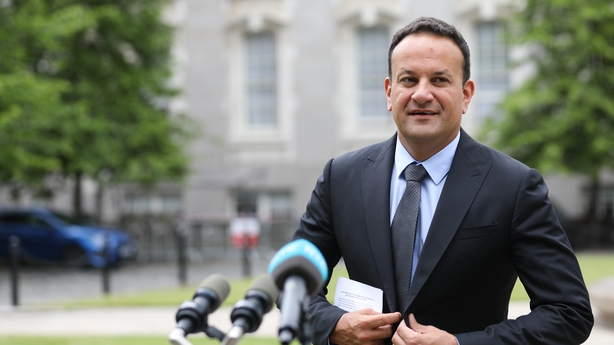 The Tánaiste said he is concerned about energy security, but that he was not unduly concerned, since he claims the risk of blackouts is "as likely this winter as it was last winter".
Leo Varadkar added that a series of interventions are expected to help families and businesses with rising energy costs within this calendar year and next year.
The fact that Ireland needs more energy generation did not come as a surprise since it was "in public documents in 2017 and 2019", he said.
"It's important that we act soon but also that we keep something in the tank so that we can continue to help next year," he said.
He said before any decision was made around Budget 2023, the Government had to know what was going to happen at European level.
His comments come after the Taoiseach said that Budget 2023 will include cost-of-living measures, but there is no final figure currently set on what that amount will be.
Micheál Martin said the response of the Government will be aimed at helping families to offset the rising costs that "are going so high, at an unprecedented level, the likes of which we have never seen, not even in the late 1970s, when we had faced real experiences of oil crisis".
Speaking on RTÉ's Morning Ireland, Mr Martin said that the crisis "demands a response" that alleviates pressures on households and families with children in particular.
We need your consent to load this rte-player contentWe use rte-player to manage extra content that can set cookies on your device and collect data about your activity. Please review their details and accept them to load the content.Manage Preferences
He said the specifics are being worked out, but the principle of saving jobs - as was done during the Covid-19 pandemic - will also apply in this crisis.
The Taoiseach added that he discovered last September that there were question marks over whether Ireland's electricity supply could meet demand over the coming winter.
He said that sanction for emergency procurement was given last year and that there are no guarantees over supply this winter but the country is in a "good position".
"We need to continue to protect jobs because we rebounded very quickly. We have full employment almost and that will be an objective," the Taoiseach said.
"The principle, the idea of helping and intervening to protect jobs, is one that clearly has merit," Mr Martin said.
The Government will 'have to intervene' on energy prices, Taoiseach Micheál Martin has said. He said that he favours energy credits rather than a price cap to do this | Read more political coverage: https://t.co/jZge7My7C8 pic.twitter.com/Xwho92NIfb

— RTÉ News (@rtenews) September 13, 2022
"It did work during Covid, albeit the interventions were unprecedented and at a very high scale, which we borrowed largely, and we have to be conscious of that."
He said the Government will have "to intervene to protect as best we can" and Ireland has to be "resilient in face of Putin's war on Ukraine".
"It's a vicious war that's taking life and limb, but it's also weaponising energy, weaponising food and weaponising migration."
Mr Martin said he favours the credit approach, along with other methods to help people in dealing with the rising costs of energy bills, adding that he is not in favour of a cap on charges.
Meanwhile, Minister of State Niall Collins has described the Sinn Féin proposals on rising electricity bills as "all over the place".
Speaking on RTÉ's Prime Time, he argued an energy cap would be a regressive approach disproportionally benefiting larger households.
Deputy Collins said the European Commission is working on a windfall tax which would be used to help bill-payers.
"That money will be used to fund our response by virtue of electricity credits and targeted measures to vulnerable households."
Sinn Féin leader Mary Lou McDonald said her party would spend €3.8 billion on once-off measures in the forthcoming Budget.
Sinn Féin says it would cap energy bills until the end of February by subventing energy companies at a cost of €1.6bn.
The party's spokesperson on Public Expenditure and Reform, Mairéad Farrell, said the Government's approach favouring energy credits would "push uncertainty back on households."
"Sinn Féin wants to give certainty to households because every single time people have to spend money, they are worried about paying for these bills."

Deputy Farrell said she was "glad to hear" Government confirm a need for targeted measures.
"The Irish Fiscal Advisory Council said recently that 90% of the measures that Government has brought in to date have not been targeted," she said.

"The poorest households were not given that extra support that they needed."
Cabinet positions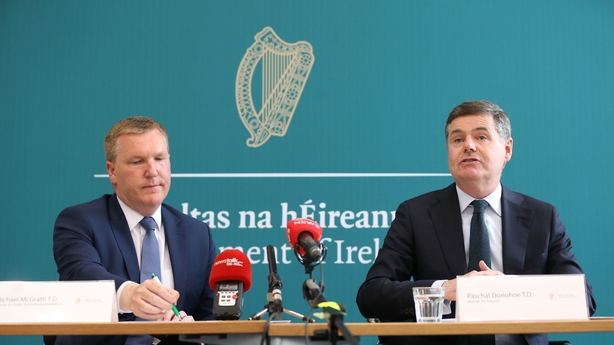 Mr Martin said he has not agreed a ministry for himself when Leo Varadkar becomes Taoiseach in December.
The cost of living is the biggest issue facing the Government and the country, he said, and the focus should be on that for now.
However, he said it is his expectation that Fianna Fáil will hold the finance portfolio.
Mr Varadkar said there have been no discussions between the three coalition leaders regarding the shape of the new Government.
"Not only is there no row, there hasn't even been a discussion on it," he said.
"I'm sure we'll have that discuss sometime in November or December."
Additional reporting Joan O'Sullivan, Louise Byrne