"Ominous" signs from Russia on gas supplies, and the "huge challenge" of closed Black Sea ports are among the threats to European food security, an Oireachtas committee has heard.
But the European Union's deputy food chief said that Ireland, and the bloc more broadly, is in a good position overall.
There is "no need to panic in Europe", Michael Scannell, the Deputy Director General for Agriculture and Rural Development at the European Commission, said.
But he revealed that next week the commission will make a statement on the prospect of energy shortages this winter.
Mr Scannell was addressing the Joint Committee on European Union Affairs which is examining food security in the EU.
Over the last 60 years, the Common Agriculture Policy has delivered "a very resilient agri-food system", he said.
But he warned that there are significant challenges arising from the war in Ukraine, the pandemic and rising inflation.
These include importing "huge quantities" of fertilisers, especially gas for nitrogen-based fertilisers.
And while Ireland is in "a good position" in relation to domestic wheat supplies, and there are alternatives to maize, he said that we are "heavily dependent" on Ukrainian sunflower oil, particularly for canned fish.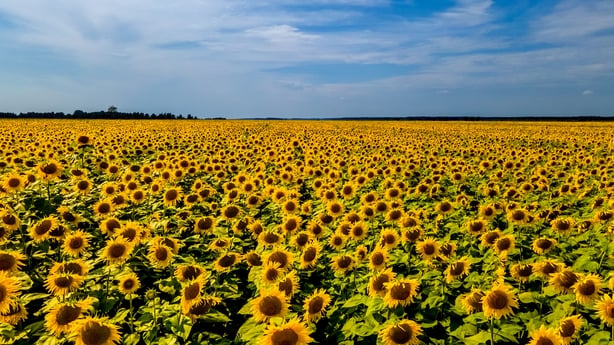 The European wheat harvest is expected to be 125 million tonnes, with 38 million tonnes of this being a surplus for export.
This is "really huge", "significantly more than last year", Mr Scannell said, noting that it would account for 30% of tradeable wheat worldwide.
But some of this hoped-for surplus may be needed to feed Europe, he cautioned, as "the risks are on the downside, especially with the heatwave".
---
Turkey, Russia, Ukraine, UN meet on grain exports
---
Farmers are checking the forecast "ten times a day", which was not the case in the past, he said.
Mr Scannell cautioned that we "can't afford to lose sight" of climate change which poses "massive risks", including to water availability, and pointed to the "major drought in Italy".
This is "literally happening every second or every third year" as opposed to "once in a generation", he said.
Canada is expecting a large wheat harvest, as is Russia, which stands to profit from the current crisis.
And so globally, he said, the size of the harvest is "relatively stable" at 775 million tonnes, which has "little changed" on last year.
But while prices are "softening", he warned that markets "will remain relatively fragile".
Turkey is today hosting Russian and Ukrainian delegations, along with UN diplomats, to discuss the resumption of stalled grain deliveries across the Black Sea.
"There's talk already of a pilot shipment from the port of Odessa," Mr Scannell noted.
Five million tonnes of grains a month are usually shipped from the Black Sea, and this fell to between two and two and half million tonnes in June.
And while he welcomed this as "an extraordinary achievement", it is still "less than half" usual levels.
If we could "get it to three million" that would "be very respectable, and would take a lot of the pressure off," he said.
He warned that it would be "reckless" to rely on these routes reopening, and quickly returning to pre-war levels of trade.
We "can't afford to reduce our efforts to provide alternatives", he said. But we "simply cannot replace these Black Sea ports," with their huge grain ships, "not even in a matter of months".
He is "more concerned about the global situation," and particularly the impact on Africa.
The number of people in a "precarious food security position" has increased significantly.
On average, people in Europe spend a "relatively small share" of overall income on food.
However, in developing countries, the proportion of income spent on food "is extremely high", often more than half.
A rise in food prices means people "literally don't have the money to buy food".