Taoiseach Micheál Martin has said he is confident that the Government will defeat Sinn Féin's motion of no confidence in the Dáil tomorrow.
Mr Martin said the move was a "cynical play by a party that plays to destructive politics" and added that people do not want an election.
He said the Government was however working to secure as much support as possible and would not take anything for granted.
Asked about negotiations with independent TDs, Mr Martin said the Government was not doing "side deals" but he said it would engage with issues raised by Independents.
He also accused Sinn Féin of being weak on climate action and said the party did not have the backbone for tough decisions in that area.
Earlier, Independent TD Michael Lowry said he will support the Government.
The Tipperary TD said he had separate discussions with Mr Martin and Tánaiste Leo Varadkar today before reaching his decision.
He said the country needs a constructive Budget so that people can heat their homes, feed their families and pay mortgages.
"To vote against the Government at this crucial juncture would risk collapsing the Government," Mr Lowry said.
"In the event of a general election being called this would postpone the possibility of a Budget by an indefinite period of time."
Minister of State for Local Government and Planning Peter Burke has said that the vote of no confidence is wasting time in the Dáil.
Speaking to RTÉ's Drivetime, he said: "We've a number of Bills that will be going through this current week, very important Bills, some from my own Department that we need time to get full debate on.
The TD for Longford - Westmeath said that Sinn Féin trying to trigger a general election would create the situation whereby there would be no Government for a number of months and that this would in effect "delay interventions to the most vulnerable in society".
He insisted that the Government is acting swiftly to deliver support quickly, including the increase in the Back to School Clothing and Footwear Allowance and changes to higher education supports.
We need your consent to load this rte-player contentWe use rte-player to manage extra content that can set cookies on your device and collect data about your activity. Please review their details and accept them to load the content.Manage Preferences
The no-confidence motion was lodged by Sinn Féin last week, after the Government lost its majority in the Dáil when Donegal TD Joe McHugh refused to support legislation on mica redress.
Mr McHugh has committed to voting against the motion, as has Independent TD Marc MacSharry.
Sinn Féin leader Mary Lou McDonald has said opposition TDs must decide if they are "willing to allow people to suffer or stand up and be counted".
Galway East TD Sean Canney criticised Ms McDonald's comments, describing them as an attempt to goad independent TDs to support the party's motion.
He said Sinn Féin had not contacted him to set out what the alternative would be if the Government were to lose the confidence motion.
It is understood Galway West TD Noel Grealish is also unlikely to support the Sinn Féin motion.
On @morningireland - Independent TD @MarianHarkin says she will vote no confidence in the Govt tomorrow - supporting the @sinnfeinireland motion. She tells @EnglishRachael that the coalition has not delivered on key issues like regional development. @rtenews

— Paul Cunningham (@RTENewsPaulC) July 11, 2022
Independent TD Marian Harkin has said she will support the motion.
Speaking on RTÉ's Morning Ireland, the Sligo-Leitrim TD said the Government has had some success on an "overarching level" regarding Covid-19, Brexit and the Northern Ireland Protocol.
However, she said that while the overall economic situation is reasonably stable, she does not see the benefits of this reaching a large section of Irish people.
"Housing and health are two benchmarks set down by which we could measure the success of this Government, and they're not delivered," she added.
Ms Harkin said the Government has not delivered on issues that personally matter to her, such as carers, disability and, crucially, a balance of distribution through the regions.
She said she did not believe that all independents would vote against the Government, adding that some are waiting to see what will happen to certain policy issues that are important to them.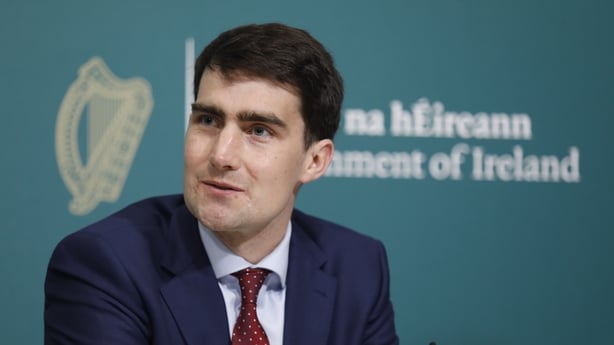 Galway East TD Sean Canney has said that he has not yet decided on how he will vote.
He told RTÉ's Drivetime that he is "weighing up the options" and will make up his mind in the morning.
He said that he would not be "goaded into anything" by Sinn Féin.
He said that as an Independent TD he has to look at what a vote of no confidence would mean in terms of having a delay in the delivery of a Budget.
He added that he is also looking at the "performance of the Government" over the past two years.
Government Chief Whip Jack Chambers has said he is confident the Government has the votes to defeat Sinn Féin's motion, describing it as a "stunt".
Speaking on the same programme, he said the motion is not about solutions, but Sinn Féin's pursuit of the path to power.
"This week there's no proposals from Sinn Féin on housing, no proposals from Sinn Féin on the cost of living, no proposals from Sinn Féin on reforming our health system," he said.
"I think this is just a cynical attempt to try and pursue their path to power. It's not about solutions. It's not about following through."
Mr Chambers said there has been contact in recent weeks between the Green Party and TDs Neasa Hourigan and Patrick Costello.
He said that while they have not yet declared how they will vote tomorrow, neither of them have voted against the Government since they lost the party whip two months ago, and he expects they will support their party colleagues.
Labour, the Social Democrats, the Rural Independent Group, People Before Profit-Solidary, Aontú and some independents have signalled that they will support the no confidence motion.
Additional reporting: Micheál Lehane, Sandra Hurley