Sinn Féin has tabled a Dáil motion demanding that the Government immediately introduce an emergency budget to tackle the cost-of-living crisis.
Finance spokesperson Pearse Doherty advised against waiting four months to help "lower and medium income households".
"Workers and families cannot afford to wait," he said during Private Members' Business.
They urgently need help "to weather the storm", he added.
And he insisted that fuel prices must be cut by "the maximum amount" possible to "give something back to these households now".
Deputy Doherty also said childcare costs must be cut by a third, as he appealed to the Government "to get their head out of the sand".
Earlier, Sinn Féin leader Mary Lou McDonald told the House that even those who have jobs are not guaranteed protection against the sharp edge of the crisis.
Taoiseach Micheál Martin told her the Government was enormously concerned and insisted that it would be dealt with comprehensively.
But, on a recent visit to Brussels, he ruled out introducing an early budget.
Speaking in support of Deputy Doherty's bill, party colleague Mairéad Farrell warned that the Oireachtas cannot be "some ivory tower", failing to help those in need.
They include the elderly woman who heats "only one room", and goes to bed early, in order to save money, she said.
"We get that there are external factors" in this crisis, Deputy Farrell said, but insisted that "we need to do something".
Dismissing Government criticism of her party's approach, she said, "I think what you call populist is what I call living in the real world".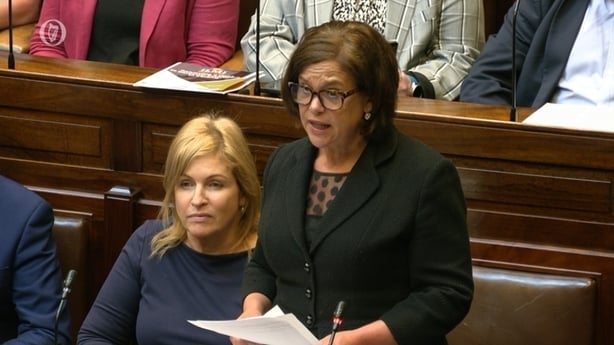 Sinn Féin's Rose Conway Walsh accused the Government of telling people: "We know you're hungry today, but you'll be hungrier next week."
"Working people can't afford to house and clothe their families," Imelda Munster said. "There's plenty that can be done if the political will is there," the Sinn Féin TD insisted.
Claire Kerrane dismissed the Government's amendment to the Sinn Féin bill as containing nothing new.
Responding, Minister of State Seán Fleming accused Sinn Féin of taking the easy and popular approach in tabling a motion calling for more expenditure.
"We will not act in a reckless manner," he insisted, as it would amount to "chasing our tails" and risk exacerbating the problem.
Labour finance spokesperson Ged Nash said that he enthusiastically supported the Sinn Féin motion.
He said his party is prepared to sit for "as long as it takes" in the coming weeks to address the crisis.
Social Democrats co-leader Róisín Shortall also agreed that an emergency budget is immediately needed.
Richard Boyd Barrett, Solidarity-PBP TD, told the Dáil that "it has never been this bad".
He said "for the first time ever", he is seeing families to whom "local authorities cannot even offer an emergency place".
Ivana Bacik, Labour Party leader, agreed that an emergency debate was needed.
Cian O'Callaghan, Social Democrats TD, said that he too was aware of people being turned away from emergency accommodation.