The Government has been criticised for allowing more than 350 homes to be bought by investment funds despite the State introducing a 10% stamp duty rate to discourage the practice.
Minister for Housing Darragh O'Brien insisted to the Dáil that "we have levelled the playing pitch for first-time buyers".
Speaking during Leaders Questions, Mr O'Brien said that first-time mortgages are at their "highest level since 2007".
He said that planning permissions for 16,000 homes that "cannot be sold on a bulk basis" have been granted in the past year.
Minister @DarraghOBrienTD says Government has "levelled the playing pitch" for first-time buyers and adds that first-time buyers are up to the highest level on new mortgages since 2007 | More: https://t.co/JXkEAkG74k pic.twitter.com/R83jvMsiqd

— RTÉ News (@rtenews) June 22, 2022
Of the 47,000 house sales over the 12 months, only 351 were to investment funds, he said, which equals 0.7%.
Mr O'Brien was responding to Social Democrats TD Cian O'Callaghan, who called on the Government to ban investment funds from bulk-buying homes, including apartments.
The Social Democrats housing spokesman said that under this Government "more and more people are being locked out of homeownership."
"The rental market is so lucrative that funds know they are guaranteed profits regardless of what they pay," he said.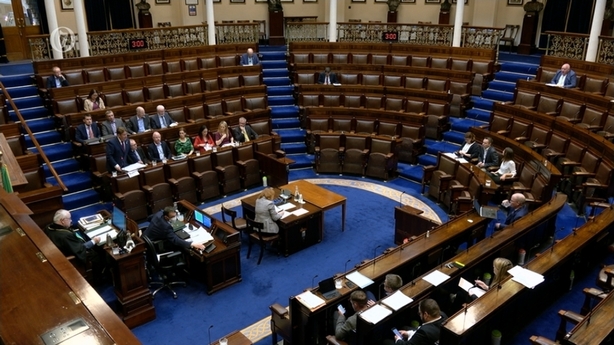 He noted the Business Post newspaper revealed that property investors and institutional funds "snapped up" more than 350 houses in the past year.
He read from a letter he received from a 36-year old, full-time IT professional, who is "forced to share a house with five other full-time working professionals" and who "will be close to 50" before he can afford a mortgage. The house is owned by a fund, he said.
Social Democrat TD @OCallaghanCian raises the issue of housing. He asked for a ban on investment funds buying bulk homes, "how are first-time buyers and families supposed to compete with funds with bottomless pockets?" | More: https://t.co/JXkEAkG74k pic.twitter.com/DrP75dTlkH

— RTÉ News (@rtenews) June 22, 2022
"People don't want to hear attacks back and forth here", Mr Callaghan said, echoing a similar sentiment from Sinn Féin's Eoin Ó Broin, who accused the minister of political point scoring.
Mr Ó Broin also told the Dáil that the Government's mica redress scheme was defective like the blocks in more than 7,000 homes around the country.
He said affected families have lived in "appalling and stressful conditions for a decade", but the Government's latest plans to deal with the problem are "deeply flawed" and "not fit for purpose."
Mr Ó Broin said it was "deeply concerning" that Mr O'Brien was planning to bring complicated legislation through the Oireachtas within three weeks, before the Summer recess.
The Dublin West TD called on the Minister to take on board the genuine concerns of householders during tomorrow's pre-legislative scrutiny in Committee, and ensure that they receive 100% redress.
In reply, Mr O'Brien said the legislation was both complex and detailed but he had not delayed in bringing it forward. Instead, he contended, he had consistently endeavoured to engage with people who have been affected.
Sin Féin TD @EOBroin raises the issue of the Mica redress scheme and asks Minister @DarraghOBrienTD to commit to working with the Oireachtas Housing Committee to address all of the issues. | More: https://t.co/JXkEAkG74k pic.twitter.com/Z2MmbJExeF

— RTÉ News (@rtenews) June 22, 2022
He said his legislation, which was passed by Cabinet yesterday, was a significant advance on a previous mica redress scheme in which a cap on total payment had been increased from 247,000 to 420,000 and significant additional costs were being covered including storage and rental.
He said the "greatly improved scheme" also included extending entitlement beyond principal private residences and a guarantee of 40 years.
The Minister said he would "of course" work with all Opposition parties in Committee as a sensible approach was being adopted in which there would be hearings tomorrow involving both homeowners and experts.
Mr O'Brien added: "I want them to get their homes and lives back on track."
Mr Ó Broin stated that the bill as currently stands "will not work" and he appealed to the Minister to show a willingness to engage with the affected people when they illustrate legitimate concerns.
The Minister replied that he "certainly" would work through all issues and consider any amendment.
Minister accuses TD of wanting cap on migration
Meanwhile, Mr O'Brien also accused an independent TD of posing "a risk to social cohesion" by raising the issue of inward migration.
Independent TD Carol Nolan said his remarks were "absolutely outrageous" and "disgraceful", and accused him of "arrogance", and overseeing a "reckless" migration policy.
"You've a problem with every speaker this morning, it seems", she added, during a protracted and heated exchange where the Ceann Comhairle threatened to suspend the House.
Minister Daragh O'Brien has accused independent TD Carol Nolan of posing "a risk to social cohesion" by raising the issue of inward migration.
TD Carol Nolan said his remarks were "outrageous" and "disgraceful", and accused him of overseeing a "reckless" migration policy. pic.twitter.com/TTl0EnXt0W

— RTÉ News (@rtenews) June 22, 2022
Ms Nolan told the minister to come down off his "high horse", which she said he'd been on all morning.
"You are failing miserably," she said.
She pointed to "an enormous rise" in inward migration, prompting Mr O'Brien to accuse her of wanting to introduce a cap on migration, and of drawing "a distinction" between Irish people and immigrants.
He said that Irish people who had emigrated overseas had been treated badly, and insisted that "we won't allow that to happen here", but will grant "safe harbour" to those who seek it.
"How dare you misconstrue what I have said to you", Ms Nolan responded. "Are you saying that we welcome everybody in, only to sleep for years on hotel floors?"
Ms Nolan said that she understands that "1,500 migrants" are entering the State "every month", and asked if the Government has examined how this will affect its capacity to meet the housing needs of citizens.
The State's capacity "is being severely undermined", she warned, and the "barely functioning immigration system" needs to be brought under control.
Ms Nolan said that it "is a sensitive issue", and agreed that we "must tread carefully" to prevent "blame being targeted at those who those who least deserve it".
But she said it needed to be addressed in an adult manner.