Minister for Agriculture Charlie McConalogue has confirmed he will be calling farming bodies to a meeting on Tuesday to discuss food and animal feed security in the light of the ongoing war in Ukraine.
The minister has set up an emergency team in his department to monitor the supply chain situation. He confirmed that getting farmers to plant some grain crops this year is on the agenda.
Speaking on RTÉ's This Week, Mr McConalogue said the war in Ukraine and consequent sanctions on Russia have created much uncertainty around supply and the Government wants to improve self-sufficiency.
He confirmed that he has called farming organisations to a meeting to discuss food security and among agenda items will be having all farmers to plant crops this year.
Ireland is heavily reliant on imported grain, with around 60% of the 5.5 million tonnes used in this country every year sourced from overseas.
It is used both in products for human consumption and for animal feed.
Ukraine and Russia are both key international exporters of grain. Russian also supplies more than 20% of fertiliser used in Ireland.
Proposals at Tuesday's meeting will include asking all Irish farmers to commit to growing some crops this year.
Such a plan would mirror measures introduced in Ireland in "The Emergency" during World War II.
Seeds will need to be sown in the coming weeks ahead of growing season.
Minister McConalogue said it is fortunate that Ireland is still early in the planting season here grain can still be planted domestically.
Among the faming bodies due to attend Tuesday's meeting is the IFA .
President Tim Cullinan said earlier that "we are in very challenging times and farmers will certainly play our part in any national or European effort," he said.
"However, it is far from certain that asking all farmers to plant crops is the best use of the resources that are likely to be available to us," he said.
"The biggest issue facing farmers is the rocketing cost and availability of inputs. This is where the Government needs to focus their efforts, as well as looking at some of their own regulations," he said.
"It would be very unwise of the Government to make any decisions on this before engaging fully with farmers," he said.
"Irish farming is very different than it was in the 1940s. What was done then may not be the solution today," he said.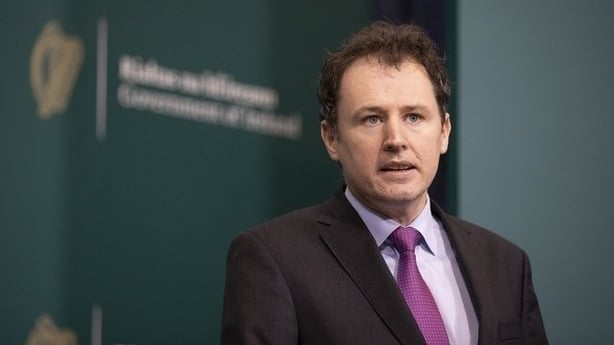 President of the Irish Creamery Milk Suppliers Association Pat McCormack said food security is a concern and he questioned whether it is an issue that the EU has lost sight of.
Also speaking on This Week, he said there will have to be "scope for farmers" if they are to grow tillage crop as it requires huge use of fertilisers and farmers would need "leniency".
Mr McCormack said there is a lot of legislation regarding fertiliser usage for these crops to be grown.
He said farmers will enter talks with the Government on how to address the challenge with the "best form of faith".
He said in recent decades farms have become very specialised and the availability of labour will also be an issue.
However, he said, he hopes the infrastructure will be put in place to make it attainable but ultimately the responsibility lies with the minister and his colleagues.
"We can't send out the message of fear at this time. I would encourage farmers, irrespective of their sector, to liaise with suitably qualified Ag advisers to be as efficient as they can, and proficient as they can, with the usage of fertiliser and feed during the growing season."
'Era of cheap food is over'
A beef farmer in Co Cork has said the era of cheap food is over and he will have to be able to make a living if he is made switch over to growing cereals
Maurice Walsh an ICMSA Dairy Committee member from Mitchelstown says "it is not practical" for him to switch saying "I've never grown grain in my life time, it would be all new to me, it would be like asking a mechanic to hang a door, if he's not a carpenter".
Mr Walsh said he would not refuse to start growing grain if required but he would have to be able to make ends meet.
He said he does not have any machinery, such as harvesters, for tillage farming as he operates a beef farm
Mr Walsh said he is already having problems getting enough diesel and plastic silage wrapping for his farm.
He said he ordered diesel last week and his supplier told him he could deliver only 500 litres.
Mr Walsh said: "It's a no-go, it is not possible. 500 litres is a probably a day's work, where do we go the day after for our diesel? We have to have diesel to work our tractors."
He said it will be a challenging to buy enough nitrogen fertiliser to produce the "luscious green grass" required to finish his cattle.