Facebook whistleblower Frances Haugen has called for an independent review of the Irish Data Protection Commission.
Ms Haugen appeared virtually before the Joint Oireachtas Committee on Tourism, Culture, Arts, Sport and Media, and said that tech companies based in Ireland had "got away with it" when it comes to the enforcement of data protection regulations.
She said the Government should learn from these criticisms when establishing a new online safety regime.
"The tech companies on your shores have, once again, got away with it," she said.
"As you create an independent, robust and effective online safety regulator, you must launch an independent review into the DPC so that it too can start to enforce the law thoroughly and boldly."
The Data Protection Commission has rejected the criticisms and has invited Ms Haugen to a meeting to discuss the commission's work.
At today's Oireachtas committee hearing, Ms Haugen said Ireland had a unique role to play in holding social media companies to account because some of the biggest tech firms have their European headquarters here.
"I am urging the Irish Government to reflect deeply on its own role - and on the responsibilities which come with housing these social media manipulation machines," she said.
Ms Haugen also claimed that Facebook had fueled ethnic violence in certain parts of the world.
"Some of the most egregious harms caused by the decisions made in the shiny, glass headquarters of Facebook in Dublin have been in faraway places like Myanmar and Ethiopia," she said.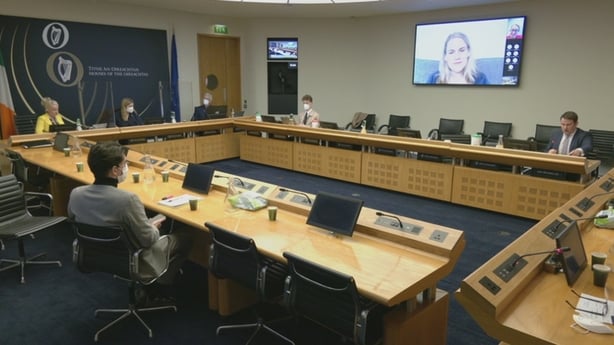 Frances Haugen left her job at Facebook last year claiming the company was guilty of harming children, stoking division and weakening democracies.
She also accused the social media giant of putting profit ahead of public safety.
Facebook's parent company Meta has denied the accusations and says that it has invested billions of dollars in safety and security.
"Contrary to claims about our company, we've always had the commercial incentive to remove harmful content from our platform," a Meta spokesperson said.
"While we have rules against harmful content and publish regular transparency reports, we don't believe that businesses such as ours should be making these decisions on our own. We're pleased that Ireland is progressing with the appointment of an Online Safety Commissioner, " the spokesperson added.
WATCH: Facebook whistleblower Frances Haugen appears before the Oireachtas Committee on Tourism, Culture, Arts, Sport and Media | https://t.co/QKgXS6YWZz https://t.co/cXeyndzqIp

— RTÉ News (@rtenews) February 23, 2022