DUP leader Jeffrey Donaldson has repeated his threat to collapse the Stormont Assembly unless the dispute over the Northern Ireland Protocol is resolved soon.
He added that a meeting with the UK's Brexit negotiator next week could determine his next steps.
Speaking after opening a new party office in Co Fermanagh, he again warned that his party will "act to bring the issue to a head."
The Lagan Valley MP revealed that he will have talks with Liz Truss, who met Minister for Foreign Affairs Simon Coveney in London last night.
The DUP leader warned back in September that he would withdraw his ministers from the Stormont Executive if the protocol issue was not resolved within weeks. He later said he would wait to see if talks between the UK and EU could result in an agreement.
"I'm meeting Liz Truss early next week, and that meeting will be very important for me because it will help to determine the direction in which the government is travelling," he said.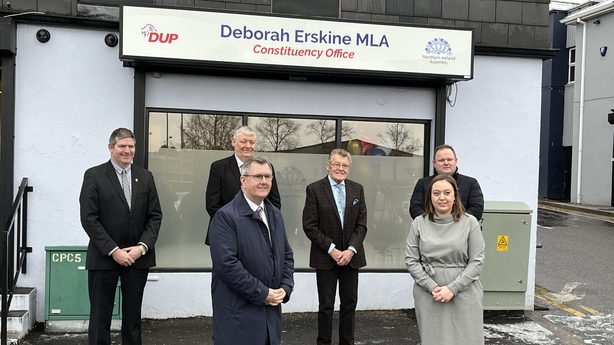 "Is there, as Liz Truss says, still a commitment to trigger Article 16 if agreement can't be reached with the EU? That's what she's saying publicly and I want to test that, I want to explore with her what that means and particularly what is the timescale for triggering Article 16 if these talks, as it appears at the moment, are not going to be successful," he said.
"I recognise that the negotiations are continuing, but I'm very clear. We need to know how For how much longer and I think what I hear from Liz trust will have a major bearing on the next steps that the DUP take."
Mr Donaldson said he needed to see a satisfactory outcome to talks between the UK and EU "within a very short space of time."
He added: "I've tried to be reasonable, I've given time and space for these negotiations. I will talk to Liz Truss and see what she has to say, and then we will make a judgement as to whether we believe the UK government is going to deliver on the commitment they made to safeguard Northern Ireland's place within the UK internal market or not.
"And if they're not, the they've dishonoured the agreement which formed the basis on which Stormont was restored, and that is not a sustainable position."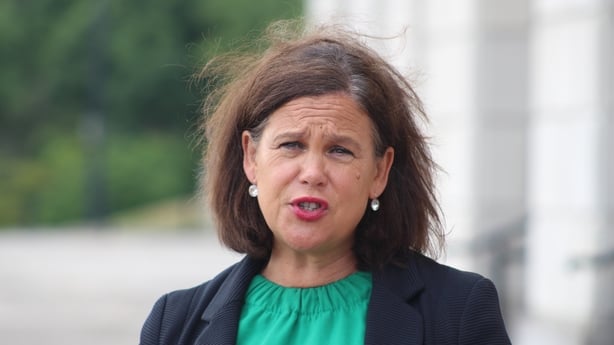 Sinn Féin president Mary Lou McDonald, who took part in a virtual meeting with Mr Donaldson and leaders of the other parties in the Stormont Executive this morning, said she had told him that any move to remove DUP ministers from the Executive as part of a protest against the protocol would be "irresponsible".
She added: "To do so during a public health crisis is reckless. The Protocol is working for business and the economy in the North. The focus needs to be on making it work better.
"The onus is firmly on the British government and the EU to conclude talks which achieve this outcome urgently," added Ms McDonald.