British Foreign Secretary Liz Truss is to take over responsibility for the UK's future relationship with the EU, Downing Street has said, following the resignation of Brexit minister David Frost.
Mr Frost resigned with "immediate effect" last night, having previously agreed with the Prime Minister Boris Johnson he would leave his job in January.
Citing "the current direction of travel" of the government, as well as fears over "coercive" Covid measures and the wish for the UK to become a "lightly regulated, low-tax" economy, Mr Frost's departure was described as a "watershed moment" in what had been an extremely damaging week for Mr Johnson.
Downing Street said Ms Truss would take over ministerial responsibility for the UK-EU relationship, and would lead negotiations to resolve issues with the Northern Ireland Protocol.
Ms Truss, a former trade minister who took over as foreign minister in September, is popular among the Conservative Party grassroots.
An avid user of social media who is tipped as a potential future leader of the party, she backed 'Remain' at the 2016 referendum on Britain's EU membership but is now a supporter of Brexit.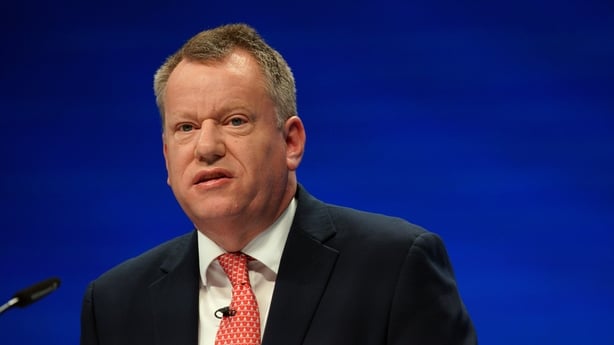 Mr Frost had been leading negotiations with the EU over the Northern Ireland Protocol, the part of the Brexit divorce deal that ensures a free flowing border on the island of Ireland but which has created a series of new checks and processes on Irish Sea trade between Britain and Northern Ireland.
London and Brussels are trying to reach agreement that would reduce customs paperwork and the numbers of checks and inspections required on goods.
---
Frost's resignation ends a bad week for Boris Johnson
---
Minister for Foreign Affairs Simon Coveney welcomed the appointment of Ms Truss saying "progress is achievable in the new year".
I welcome the appointment of @trussliz as UKG Brexit negotiator. I've worked well with Liz previously in Agriculture & more recently in Foreign Affairs.
I look forward to working with her now on #Brexit. Much work ahead but progress is achievable in the new year. #Brexit

— Simon Coveney (@simoncoveney) December 19, 2021
Earlier today EU Commissioner Mairead McGuinness called on the British Prime Minister not to appoint a hardline Brexiteer to replace Mr Frost and said a refusal by the British to compromise was untenable.
"If the priority is simply to appease hardliners in [Boris Johnson's] Conservative Party, I think we are in a very bad place," Ms McGuinness told RTÉ's This Week programme, when asked if Mr Frost's replacement was likely to be a hardliner.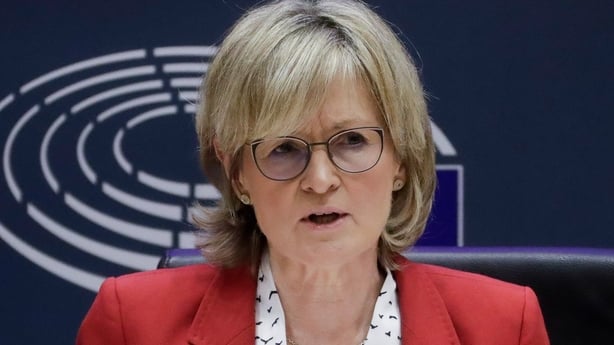 "If people [in London] are of the view that there will be no compromise, then there will be no progress and that's untenable," she said.
The commissioner told the programme that there is a need to focus on problem-solving and "not Conservative Party politics".
She said: "I would hope that the mood would be towards compromise and problem-solving, not Conservative Party politics, which I am afraid takes the eye off the real issues which will drag out this into next year, which is not good for Northern Ireland.
"It's not good for relationships between countries in the European Union and the UK."
Earlier, Stormont's Deputy First Minister said that Mr Frost's replacement will "need to find solutions" to make the Northern Ireland Protocol work.
Michelle O'Neill said businesses have been left "high and dry" by Brexit uncertainty and stability is required.
Ms O'Neill told the BBC Sunday Politics programme: "This is the same David Frost who negotiated Brexit and he has worked to undermine it every day since.
"I am less concerned about what is going on in the Tory Party and the dismay and the disruption.
"What I am more concerned about is that the protocol is made to work, that pragmatic solutions are found, that certainty and stability is achieved for all of our business community here who have been left high and dry in terms of uncertainty because of the Brexit mess.
"David Frost will be replaced by another minister and whoever that minister is, they need to find solutions, work with the EU, make the protocol work and provide that certainty and stability that is desperately required."
DUP leader Jeffrey Donaldson, who has repeatedly threatened to pull down the Stormont power-sharing institutions over the protocol, said the resignation of Mr Frost was a bad sign for the prime minister's commitment to removing the Irish Sea border.
Additional reporting PA