Green Party leader Eamon Ryan has told his national convention that the transition to a green economy is inevitable and the commitment to halve greenhouse gas emissions by the year 2030 is non-negotiable.
He told his party conference: "That is what the science says we must do, if we are to avoid runaway climate change. It is the ambition at the centre of our programme for Government."
Mr Ryan said the transition to a green economy is "inevitable" adding: "The risk isn't from taking action – the real risk is from standing back and doing nothing at all."
He added: "It is an inevitable transition because under business as usual, the world will simply burn. The only question is do we want to change now, or do we want to wait to try and catch up later when it will cost us much, much more."
However, Mr Ryan contended that fairness would be at the heart of the economic change.
He told the online convention: "We must make sure no community is left behind. Our security will only be assured when our neighbours also feel safe and warm in their own home."
The Green Party deputy leader, Catherine Martin, also spoke during the televised portion of the national conference.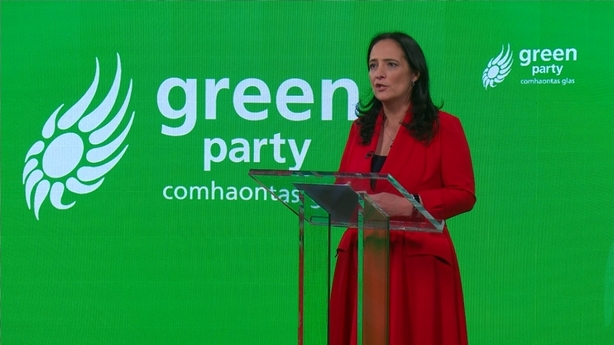 She defended going into Coalition with Fianna Fáil and Fine Gael.
She said: "Together we are a Green team that understands the hard graft and activism it takes to make change happen - not to just talk about what might or could be some time in the future, nor to stay politically safer on opposition benches."
Ms Martin concluded her speech by saying: "We are exactly where we need to be in this Green decade of change. Our time is now."
Regarding Covid-19, Mr Ryan said: "The situation has grown more serious in recent days, with the emergence of a new variant of concern. Though worrying, I want to assure you that we will do everything necessary to stop the spread of this new strain."
Saying people will have to get used to living with Covid-19, he added: "The only way to stop this disease in its tracks it to have a coordinated global approach."
Minister to meet hauliers over fuel price concerns
Elsewhere, Mr Ryan said has said he will meet the haulage association next week to address their concerns about fuel prices.
It comes after a group of Irish truckers and hauliers held a protest in Dublin during the week calling for lower fuel costs at the pump and at home.
Speaking at the party's annual conference, he said he fully recognises that while every sector has to play its part, the haulage sector is in one of "the most difficult" positions when it comes to going green.
"In truth, in the next decade there isn't an immediate solution," Mr Ryan said. "There won't be the same electric trucks the same way we'll see electric cars almost immediately."
He added: "We will work with everyone to ensure we can work through this transition."
On the multi-billion euro plan to retrofit hundreds of thousands of homes, the Green Party leader said a new national retrofit scheme will be introduced in January "which will increase the grants, will lower the cost of the loans - will make it easier."
"It's really going to take off, and one of the ways it will is because the economics make sense," he said.
The Minister added that he is "very confident" that while it will take time, the scheme is about to "ramp-up and accelerate."