Fianna Fáil TD Cathal Crowe said he was "appalled" to see many people not wearing masks when he was on the train recently.
"It's a 'two fingers' to society! It's an affront to our frontline health workers!", he told the Dáil during a debate on Covid-19 and the latest measures to address the crisis.
The Clare TD called on more people to wear masks.
The Dáil also heard an appeal from Minister of State at the Department of Health Mary Butler.
She urged those who have not been vaccinated "to come forward" and "speak to a health professional" about their concerns.
Sinn Féin's David Cullinane said his party will not support Covid emergency powers where there is "no involvement of the opposition".
He said there was a need for "debate and scrutiny", rather than devolving power to the Health Minister.
Mr Cullinane criticised the Government for what he called "a lack of planning, a lack of engagement and a lack of leadership".
He told the Dáil that "Paul Cunningham of RTÉ" just tweeted that 21 PCR testing centres are not taking bookings.
"What is happening at the moment is really causing tension," the TD added.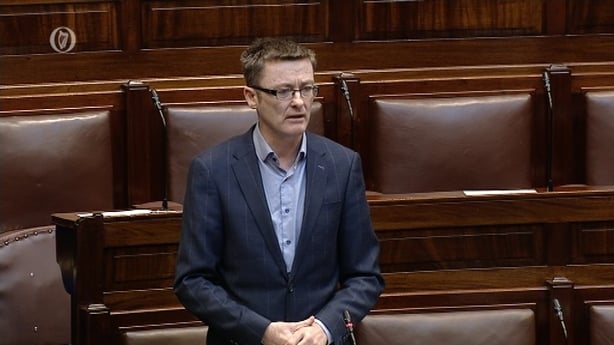 Party colleague Aengus Ó Snodaigh said those working in the entertainment sector feel like "guinea pigs being slapped in the face", and that they were "blind-sided" by restrictions introduced last week.
Labour's Health Spokesperson Duncan Smith said "we are operating as if this wave is going to be our last", but warned that "we have to plan for the virus being with us until at least 2023", as the WHO advises.
Speaking of PCR tests, he said: "It can be two days to get a test. It can be two days to get a result. This four-day delay - we have to minimise it."
He also said "a hames" has been made of antigen testing.
Fellow Labour TD Brendan Howlin said the 60-69 age cohort, and who received the AstraZeneca vaccine, have been "shortchanged" and feel aggrieved.
"Don't delay a second," he said. "Open the vaccination centres, get this group vaccinated before Christmas."
Louth Labour TD Ged Nash called for a testing centre in Drogheda, which is in his constituency, insisting it was not a parochial move on his part.
Róisín Shortall, of the Social Democrats, said the impact of Covid on the migrant community has not received the attention it deserves.
She read into the record figures uncovered by Mark Coughlan of RTÉ's Prime Time, saying they deserve attention.
"50% of all unvaccinated people in ICU were actually born abroad," she said.
"You have to speak to representative of the communities you are targeting", she added, noting that this was not being done.
Ms Shortall called for the impact of any messaging to be measured. "The current approach isn't working particularly well", she warned.
She suggested that influencers could be used, as literacy may be in issue in some groups.
Closing the debate on the Government's Covid measures, Health Minister Stephen Donnelly paid tribute to health workers and the wider population, saying he is proud to be a citizen of this nation.
He said that 97% of referrals were getting a PCR test within 24 hours. "The system is still moving very, very fast", he said.
The minister said a lot of work has been done on antigen testing. One in five people are using an antigen test every week, he said. "I want to go further, I want to subsidise the price", he added.
"We started the pandemic with 255 ICU beds", which was not enough, and have now asked the HSE how many beds they can add.
"We are at 297 today", and plan to get to 340 by the end of next year.
The biggest constraint is getting staff, particularly nurses, he said.
Minister Donnelly thanked members of the Oireachtas for their ongoing support in getting the message out for people to get their boosters.