Sinn Féin Leader Mary Lou McDonald has said the Government's position on not re-examining cuts to the Pandemic Unemployment Payment is "not a runner".
Speaking during Leaders' Questions in the Dáil Ms McDonald suggested it was "deeply insulting" for people who lost their jobs to be told to find another job.
She claimed that the Government was "only good at shutting things down" and that the Government had "effectively shut down the late-night industry with just 48 hours notice and no consultation".
"This shutdown stops thousands of workers earning money, the money they need to pay their bills. They and their families must be protected," she said.
'The only thing Government seems capable of doing quickly is shutting things down,' says Sinn Féin leader Mary Lou McDonald. She says it is important that the skills of workers in entertainment are maintained so the sector can flourish when it reopens. | https://t.co/cBQxDwNmsb pic.twitter.com/Ecte6OprQm

— RTÉ News (@rtenews) November 17, 2021
In reply, Taoiseach Micheál Martin said it was "a source of regret" that Sinn Féin had taken a "divisive approach" and "exploit the pandemic for political ends".
He said far from closing things down, the Government had ensured that airline connectivity has reopened, along with sectors like hospitality, personal services, sports and construction - even though there were 4,500 cases a day.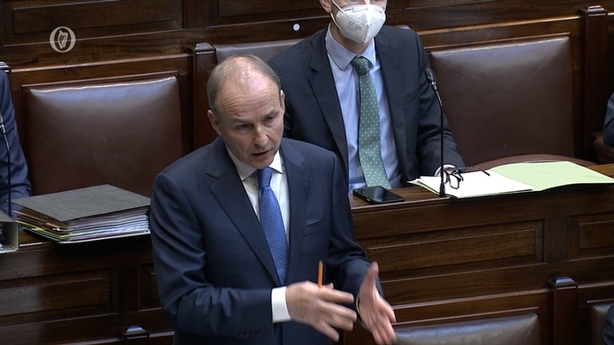 The Taoiseach added that up to 400,000 people have already received the booster vaccine and he asked if the Sinn Féin leader was suggesting that the medical advisory process should be "set to one side".
The Sinn Fein leader pressed the Taoiseach on the PUP issue, claiming the Government should not "throw thousands of workers under the bus" because of his "poor management and lack of leadership".
Taoiseach Micheál Martin accuses Sinn Féin of being behind the curve on Covid, saying the party opposed the health legislation powers and vaccination certs. | Read more: https://t.co/cBQxDwNmsb pic.twitter.com/4YuDpkLNIE

— RTÉ News (@rtenews) November 17, 2021
Mr Martin said the Government had supported industry and business on an "unprecedented scale" and continues to provide extraordinary support the "length and breath of the country".
He said the Government would "continue" to offer support by "engaging with the sector" but noted that wider parts of the economy still can't get people to work.
Ms McDonald accused the Government of "dithering, delay and indecision" when it comes to rolling-out booster vaccines and antigen testing as well as the re-organising the health system.
When it comes to antigen testing, she said, "other countries are streets ahead" while the "failure" to increase hospital capacity was "demonstrated in your Winter plan."
He said the Government will "drive it forward, just like we did the primary vaccination process" but added that what was "crucial now" was to reduce socialisation.
He also said antigen testing has been expanded to meat plants, nursing homes, close contacts - adding: "You know that only too well."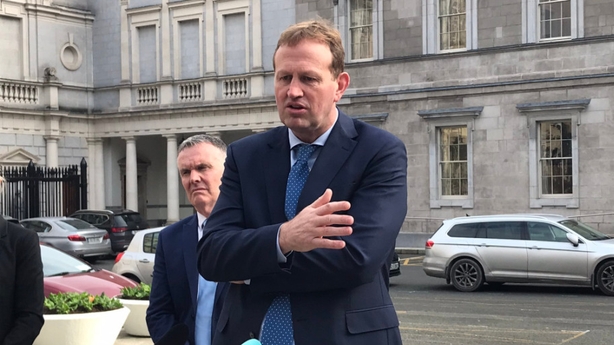 Meanwhile, Fianna Fáil TD Jim O'Callaghan has called for the reintroduction of the Pandemic Unemployment Payment, if it is found that people affected by restrictions cannot find work elsewhere.
"I think it is the case that if we are introducing measures that are going to affect the ability of people to earn employment, the state has to step in," he said.
Mr O'Callaghan said that Government should assess whether other jobs are available in the hospitality sector.
"If the state is intervening and people are being put out of their employment as a result of state intervention, there obviously is a requirement for the state to provide sufficient support," he said.
However, he said that if there are other jobs available in hospitality, then people should take those jobs, adding that Government has decided not to re-examine PUP as it believes there are jobs available in the hospitality sector.
Elsewhere, Labour leader Alan Kelly has accused the Taoiseach of telling "porkies" during Leaders Questions.
Mr Kelly said that Micheál Martin had told him that teachers would be exempt from the stay-at-home rule, something Government has since said is not the case.