The Government Climate Action plan will set out the aim of having one million electric vehicles on Irish roads by 2030 when it is published tomorrow.
The plan that will go to Cabinet in the morning is seeking to chart a course for a reduction in greenhouse gas emissions of 51% by the end of the decade.
It will identify the public service as a driver of change and all new vehicles purchased by the State from the end of next year will have to be electric where possible.
And it envisages that there will be half a million more daily journeys completed by either walking, cycling or on public transport by 2030.
The final document will set a greenhouse gas emission reduction target for agriculture within a range of 22% to 30%.
Emissions from energy must reduce by 62% to 81% while a fall in greenhouse gas emissions from businesses has been set within a band of 29% to 41%.
A large grant aided retrofitting scheme for homes will be central to reducing emissions from housing by between 44% and 56% over the period.
It is likely that people will be able to apply for retrofitting grants from next January and a large apprenticeship scheme to train people to do this work is likely to be announced soon.
The transport sector is aiming to cut emission by between 42% and 51%.
The plan is also likely to have a strong focus on public dialogue and a Just Transition Commission is likely to be established.
The Taoiseach has told a Fianna Fáil party meeting tonight that the planet is in trouble and science is telling us that we must act now.
He said there would be key focus on areas such as micro generation, offshore renewables and sustainable transport.
He said that Government must incentivise farmers and partner with them in the area of climate action.
He added that enabling communities to bid for funding on community climate action has to be part of the response.
Taoiseach faces Dáil grilling on emissions commitments
Earlier, Social Democrats co-leader Róisín Shortall accused the Taoiseach of "dodging" questions about whether or not Ireland's cattle herd will be reduced, or stabilised, in order to achieve emissions reduction targets.
Referencing Ireland signing-up to a global commitment to reduce methane emissions by 30% by the year 2030, Ms Shortall claimed the Taoiseach was signing "commitments at COP which you cop-out of" before the ink has dried on the paper.
She said a statement from Tánaiste Leo Varadkar yesterday in the Dáil, that Ireland would reduce its methane emissions by only 10%, suggested that Ireland has "no intention" of trying to achieve the goal.
Ms Shortall said Mr Martin needed to be "honest and straight" with the Irish people on the Government's climate goals, arguing there was an absence of either "clarity or credibility" in the Government's plans.
In reply, the Taoiseach accused Ms Shortall of continually making Dáil contributions with an "abundance of negativity", which fail to recognise the "step-change" that has been made by the Government through its recent climate change legislation and the creation of the Climate Change Advisory Council.
Regarding the COP26 methane pledge, he said the Social Democrat co-leader was being "somewhat disingenuous" because the global commitment of a 30% reduction did not compel individual countries to reach that target.
Soc-Dems co-leader @RoisinShortall asks why the Taoiseach is making commitments at COP26 that "you cop-out of as soon as the ink is dry". @MichealMartinTD says the methane deal is a global one and says it is positive so many countries signed up. | More: https://t.co/p15fkyzcz3 pic.twitter.com/wzTo24oIdQ

— RTÉ News (@rtenews) November 3, 2021
The Taoiseach said different countries would assist reaching the global target in "different ways" with "different mechanisms". He said methane did not just come from cattle, but also landfill and fossil fuel extraction.
He said the "positive news" coming from Glasgow was that "so many countries signed up to the pledge" because they recognised the role of methane in "exacerbating" the climate crisis.
---
---
The Taoiseach said that Ireland was "behind as a country" and that "we have to move very fast as a country to catch up".
Martin rejects 'best boys in class' criticism
Mr Martin also rejected criticism from Solidarity/People Before Profit that the Government regarded itself as "the best boys in the class".
During Leaders' Questions, TD Mick Barry asked why the Government would not commit to a 30% methane cut.
He accused Government of kowtowing to big agri business and said that the young generation should not place faith in politicians.
Mr Barry said that COP26 was attended by individuals like Jeff Bezos of Amazon, who he said had contributed significantly to global emissions.
The Cork North-Central will travel to COP26 tomorrow to protest outside.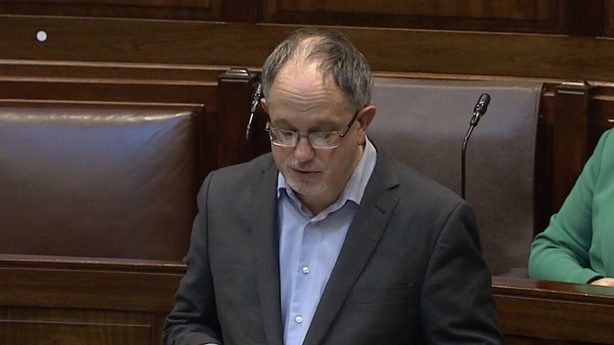 "You told the conference Ireland will end deforestation by 2030, didn't tell the conference that your Government currently oversees the cutting down of five hectares of trees for every one hectare planted," Mr Barry said.
In response, the Taoiseach said that serial objections to "every kind of forest" over the past few years was a significant issue.
Mr Martin told the Dáíl that he did not meet the Jeff Bezos's of the world at COP26, but rather met a farmer from Dingle.
He said that the farmer told him that a group from Dingle were creating an approach across the Dingle peninsula to combat climate change.
Sinn Féin must get off the fence on climate change - Taoiseach
Meanwhile, the Sinn Féin Leader told the Dáil that households have been hammered by increasing fuel and energy bills.
Mary Lou McDonald said that the cost of living was now out of control and she accused the Government of making it harder for people with the recent increase in carbon tax.
She called on Government to cut VAT on energy bills this winter.
The Taoiseach said prices were increasing because of global factors particularly around the supply of gas.
Mr Martin said that Sinn Féin must get off the fence on climate change and he said the party was seeking to exploit measures Government took address the global emergency.
Additional reporting Paul Cunningham and Tommy Meskill