Extending the interval between Covid-19 vaccine doses could favour the emergence of mutations, the chair of the National Immunisation Advisory Committee (NIAC) has told an Oireachtas Committee.
Prof Karina Butler said NIAC is still examining whether the intervals should be extended and in doing so "is trying to balance the competing benefits and risks, to see what the best schedule is".
Speaking at a meeting of the Oireachtas Health Committee this afternoon, she said the potential benefit is that "you get some vaccine in to more people".
In the UK, she said, this has contributed significantly to the reduction of hospitalisations and the overall effectiveness rate has been 70%.
She said the downside is that people are not getting maximum protection, saying: "There is a possibility that you would have a situation where you would have a level of partial immunity that might favour the emergence of resistant mutants."
Prof Butler said any decision will be made in the context of the overall supply of Pfizer.
"Because any stretching out of those intervals will necessarily lengthen the time to get everyone fully vaccinated. But there may be a point that is reasonable that is a benefit without compromise," she added.
Earlier today, Minister for the Environment Eamon Ryan said "it would probably be next week" before a decision is made on whether to extend the period between the first and second Pfizer and Moderna vaccine shots.
Speaking on his way into the Cabinet meeting in Dublin Castle, Mr Ryan said if the period was to be extended, it would not be "a long extension", and would be in the order of two or four weeks, rather than eight or 12 weeks.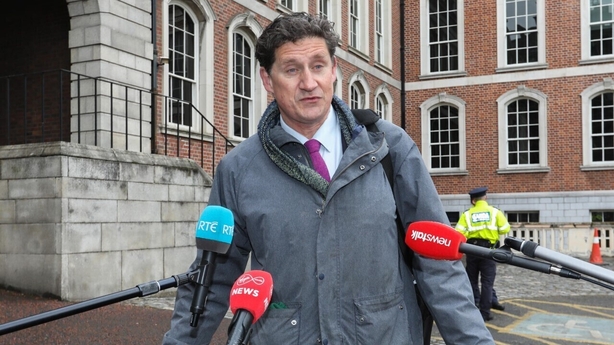 Mr Ryan said that it was a "balancing act"; on one hand extending the period may deliver herd immunity more quickly he said, and the other hand, a longer wait before people are fully immunised.
---
Read more:
'Significant supply challenges' in reaching June vaccine target - HSE
EMA: Benefits of J&J Covid-19 vaccine outweigh risks
---
Speaking last night, Deputy Chief Medical Officer Dr Ronan Glynn said there may not be a need to widen the gap between doses as doing so could prolong the vaccination programme.
Dr Glynn said that he wanted to hear from the European Medicines Agency about the Johnson & Johnson vaccine before making a recommendation about dosage intervals.
Dr Margaret Harris from the World Health Organization said the WHO's advice in relation to vaccine intervals is to "stay with the interval that has been tested" at scientific trials, but they understand that different countries are looking at vaccinating as many people as possible.
She said some of the information coming back from countries that have extended the interval period indicates that it "may well be an appropriate strategy, but we still stick with what we know from the science".