Minister for Housing Darragh O'Brien has accused Sinn Féin of an "obsession with Trump-style hysteria" and described the party's motion to scrap the shared equity scheme as "deeply cynical".
Sinn Féin has warned that the scheme, which is part of the Affordable Housing Bill, risks pushing property prices up further.
The scheme aims to bridge the affordability gap for buyers, with the State paying up to 30% of the purchase price of a newly built house. This would be paid back over time, after a few years interest free.
Speaking during a Dáil debate on the motion, Sinn Féin's housing spokesperson Eoin Ó Broin said the shared equity scheme would at best, "lock in unsustainably high house prices, at worst and more likely it will push those prices further up".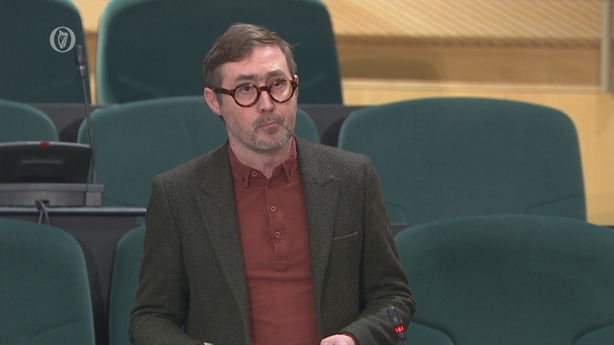 He said that a similar scheme in England, established in 2013, was supposed to be short term.
However, he said, recent research from the London School of Economics showed that it has led to an increase in houses prices and an increase in supply "in the wrong place, where houses aren't needed".
Mr Ó Broin referenced warnings from the Central Bank, the ESRI, the Institute of Professional Auctioneers and Valuers and the former Secretary General of the Department of Public Expenditure and Reform, Robert Watt, who said "the property industry want an equity scheme because it will increase prices".
Deputy Ó Broin called for the €75 million due to be spent on the scheme, to be transferred into the serviced sites fund, which he believes would deliver "1,500 genuinely affordable homes in the coming years".
He added that "then we should go further and increase that and the cost rental fund so that we're able to deliver 4,000 to 5,000 genuinely affordable homes at prices working people can afford".
Minister O'Brien said Sinn Féin offered no constructive proposals for the housing sector and that "silver bullet fantasies and cynical hysteria politics do a generation locked in a rent trap a great disservice".
The minister added that "to refuse to use the private sector would be fighting with one hand tied behind our back".
He told the Dáil that home ownership levels have fallen from 82% in 1991 to below the European Union average today. The last census shows home ownership levels of 67.6%.
"We need to use short-term measures to boost supply while other supports such as direct State building of affordable homes comes on stream," Minister O'Brien said.
He said the scheme aimed to bridge the affordability gap and create jobs as the economy recovers.
It would involve Government taking a 20% stake in a new build home, subject to regional price caps.
Mr O'Brien said: "The equity stake is free for the first five years with modest fees applying after that".
Labour TD Duncan Smith said the shared equity scheme, as it is being presented, is a cause for concern and called for change in the tone of the debate around housing, saying "the issue is too important".