The Government has clarified that adoptees and survivors of mother and baby homes are legally entitled to access their personal data.
A Government statement this evening said the cabinet had had a "detailed reflection" on issues raised in recent days, and said it "acknowledges and regrets the genuine hurt felt by many people".
The Minister for Children, Roderic O'Gorman, said he consulted with the office of the Attorney General who confirmed that GDPR laws do apply to the archive from the Mother-and-Baby Homes Commission of Investigation.
"That is an important clarification that we have now. It is not the solution to all the issues as regards access to information, but it is a significant development and I welcome that clarification," he told RTÉ News.
However, this will not be an absolute right, and anyone seeking to get information from the archive through GDPR will have to prove that their application does not infringe on the rights of others.
They will also have to prove that their application does not undermine the processes of the Commission of Investigation or the co-operation of witnesses with other Commissions of investigation in the future.
The Government also outlined plans to engage with the Data Protection Commissioner and the child and family agency, Tusla, to ensure the rights of citizens are fully respected when it comes to accessing data relating to mother-and-baby homes.
The Cabinet has agreed that additional resources will be made available where necessary to ensure those rights are fully implemented.
It said it would work to establish on a formal, national basis an archive of records related to institutional trauma during the 20th century.
This is to include archiving relevant records and witness testimony by victims and survivors.
??Dept with @Tusla will engage with @DPCIreland to ensure rights to access personal info, under data protection leg & GDPR are fully respected & implemented
?? Health & well-being supports to survivors from @HSE (??this was first suggested in 2018 no sign until now).

— Ailbhe Conneely (@AilbheConneely) October 28, 2020
Minister Roderic O'Gorman, said a report by the Commission of Investigation in to Mother and Baby Homes will be published as "quickly as possible".
The report - which examines 18 mother and baby homes and four county homes - will be submitted to his Department on Friday before being referred to the office of the Attorney General for review.
"There is universal agreement across all Ministers that we want to see this report published as quickly as possible," Minister O'Gorman told RTÉ News.
Asked if it will be this year, he said it depends on the work of the Attorney General: "We owe it to survivors to get the information contained in the report out as quickly as possible," he said.
We need your consent to load this rte-player contentWe use rte-player to manage extra content that can set cookies on your device and collect data about your activity. Please review their details and accept them to load the content.Manage Preferences
---
Read More:
Calls for transparency over Mother and Baby home files
President signs Mother and Baby Homes Bill into law
Mother and Baby Home legislation passes through Dáil
---
Social Democrats TD Holly Cairns said: "Thankfully, after two weeks of public pressure the Government have responded to two of key requests from survivors and activists with the Minister retaining a copy of the archive and allowing access to personal information.
"This is the first step, a lot more is needed to provide justice to survivors."
The Government was taken by surprise by the strength of the backlash against the decision to pass a new law relating to the records gathered by the inquiry, and TDs have received a huge volume of complaints.
Campaigners said the legislation was rushed through the Oireachtas and that the minister missed an opportunity to ensure wider access to records secured by the commission.
Most of the material will go to the National Archives where it will be sealed for 30 years.
The bill, which has now been signed into law by President Michael D Higgins, provided for the transfer of some of the records to Tusla.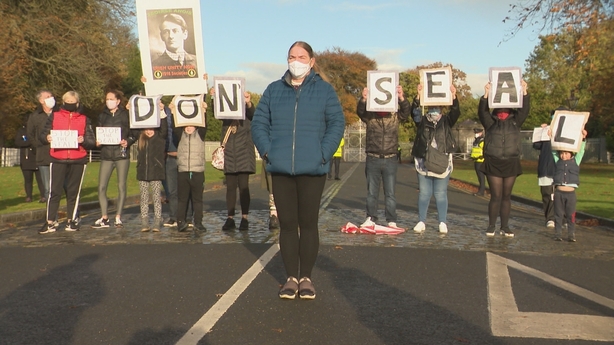 Mr O'Gorman will also set out plans for the previously announced legislation to allow further excavations at the former mother-and-baby home in Tuam, Co Galway.
The Certain Institutions Burials Bill was announced by previous minister for children Katherine Zappone, but it did not undergo pre-legislative scrutiny in January because the election was called.
Reporting Sandra Hurley