"I have been very struck by the willingness of colleagues across all political parties to play their role in this time of need and I'm confident that across the coming weeks and months we can sustain that, and I'll play my part."
These were the words of Finance Minister Paschal Donohoe on the Late Late Show last Friday night as he commended the broadly consistent sense of collectiveness in the political system up to that point.
There is deep confusion just beneath the surface however about what is going to happen next amid the undeniable reality that the Covid-19 crisis will intensify in the weeks ahead.
There had been an expectation in Fianna Fáil this week that the Fine Gael parliamentary party would elevate the talks between the parties to official discussions on government formation.
Instead, the statement that followed the teleconference meeting on Thursday evening stuck to the more vague line that talks with other parties would continue.
But it did contain some unambiguous language too.
It said Fine Gael would lead the rebuilding of the Irish economy again as the country "enters an extremely hard time."
That's a stark contrast from the position of just a fortnight ago when Fine Gael was gearing up to lead the opposition in the Dáil.
Those words coupled with Paschal Donohoe's on Friday night suggest the party is intent of remaining in government.
But just how exactly is far from clear.
Is Fine Gael saying the current government can handle this crisis until it abates, which might possibly happen by mid to late summer?
Constitutionally this is workable, however, there is somewhat of a problem developing in the Seanad.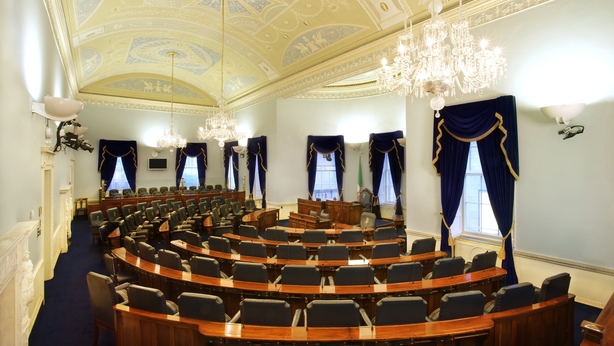 This is because after next Friday the composition of the upper house of the Oireachtas will change.
But its new line-up cannot be completed without the appointment of 11 senators by a new rather than an outgoing Taoiseach.
There are mixed legal views as to just how great an obstacle this would present if further emergency legislation was required in the weeks ahead.
One of the leading texts on the Constitution states that "there is essentially a vacuum of legislative power...and a new Seanad cannot meet and legislate until a Taoiseach is appointed and makes his or her nominations."
However, senior figures in Fine Gael believe there would be a way of working around this in these exceptional circumstances.
That view is shared in legal advice provided to the Labour Party.
If this is the case it would provide another reason to proceed cautiously with any efforts to form a government in such uncertain times.
This is all generating some angst in Fianna Fáil with one figure commenting privately that "it's like 8 February (the date of the general election) never happened."
There is also some public criticism with two of the party's frontbench spokespeople, Michael McGrath and Robert Troy, attacking the Government's response to the crisis.
Throw in those suggestions that a new government would have to retain the key Fine Gael Ministers and the Taoiseach in their roles, and Fianna Fáil's concerns become even more heightened.
While there was a renewed push from the Green Party in recent days to form a national unity government there is still no detectable appetite from either Fine Gael or Fianna Fáil at the highest levels for such a move.
It seems a majority in those parties are instead thinking about a government ideally containing themselves along with the Greens and some Independent TDs, which would bring its total number of seats close to 90.
That would provide a Dáil majority of ten.
There is a view that the next programme for government would be a short one, running to less than 20 pages perhaps with the majority of it focused on the economic recovery measures needed in the aftermath of Covid-19.
Fine Gael seems particularly anxious that the Greens would be involved even if the odds of that happening look remote at this juncture.
---
Listen to the latest episode of Your Politics podcast:
We need your consent to load this rte-player contentWe use rte-player to manage extra content that can set cookies on your device and collect data about your activity. Please review their details and accept them to load the content.Manage Preferences
---
There would be a shared view in those parties that a change of government involves major change, up to 60 positions in total, and that it is something which should happen just once in the period ahead.
Sinn Féin did soften its line somewhat when the party said on Friday that any serious proposal on a national government should be looked at.
But that may well be a case of the party being able to say it made every effort to get into government rather than a serious attempt to generate momentum for a unity coalition.
That sense of the collective political approach starting to fray this weekend was further evident when Sinn Féin called for a more urgent and decisive response from the government to the Covid-19 pandemic.
In the midst of the health and economic storm that is brewing parties will be mindful that eagerly angling to gain power will not play well with a worried public.
But there will come a point, either weeks or months from now, where a new government will have to be formed.
Remarkably, it's the party that suffered the greatest losses in the general election that is best placed to dictate the timing of this event and crucially the composition of the next government too.
Should the task become too great however, the possibility of parties beginning to think about seeking a new mandate from the electorate to reflect the changed world, cannot be discounted either.