Negotiating teams from Fine Gael and Fianna Fáil are due to start "in-depth, detailed talks", the two parties have said.
Both parties have issued statements saying that party leaders Leo Varadkar and Micheál Martin held "constructive discussions" over the last two days about policy issues and the current political situation.
The two parties will also continue discussions with the Green Party.
The two identical statements said that both Mr Varadkar and Mr Martin are "acutely aware of the enormous challenges facing the country", particularly with the onset of Covid-19.
It added that both parties will enter the talks as equal partners.
Leo Varadkar will seek the approval of the Fine Gael Parliamentary Party, at a meeting of the group next week, for formal talks with Fianna Fail, on a programme of government, to commence.
Mr Varadkar has written to the Fine Gael Parliamentary Party outlining further details regarding future talks with Fianna Fáil.
The letter, issued to members this evening, notes his intention to allow more time to Sinn Féin and Fianna Fáil to form a government.
However, he said "the public health emergency posed by Covid-19 marks a dramatic change in context".
The Taoiseach said "decisions and choices" in the coming months require a government with a working majority in the Dáil and Seanad.
Turning to discussions with Fianna Fáil leader, Mr Varadkar said they agreed that any government formed involving the parties would have to be based on "an agreed policy platform that builds on and protects the progress made by the last two governments".
He also said they would need to respond to the demand for "real change" that people voted for in the General Election and he said there would be an equal partnership of similar strength between two parties.
"We agreed that we would engage with other parties willing to serve alongside us so they can implement many of their policies and ambitions for Ireland."
He concluded by saying that he will seek the approval of the parliamentary party next week before any formal talks on a programme for government commence and should a decision be made to enter government, it would be put to a Special Delegate Conference.
Ó Cuiv proposes national government
Fianna Fáil TD for Galway West, Éamon Ó Cuív, has called for the formation of a national government, involving all the main political parties.
Deputy Ó Cuív said that such an administration was needed to deal with the threat facing the country, as a result of the spread of coronavirus.
He contends that there is not time to develop a wide-ranging policy platform between parties at present, and says the emphasis should instead be on devising a cross party, short-term agreement, to enable an "immediate laser-like focus", to tackle the spread of Covid-19.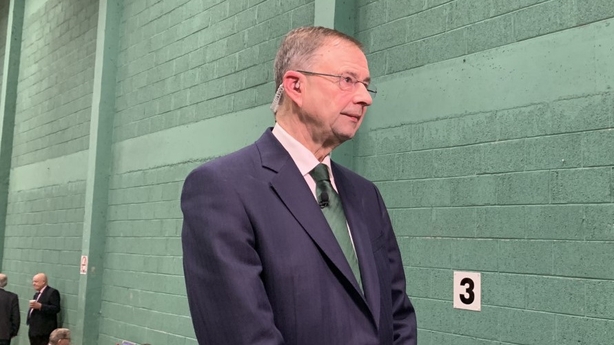 In a series of tweets, the former minister said a radical and effective approach was needed to deal with the current crisis.
Deputy Ó Cuív said that unprecedented measures may be required in the coming weeks and these will need buy-in from the main political parties and the public at large.
Calling for close cooperation with the Northern Assembly, he said an all-island approach to containment and delaying the virus was essential.
Mr Ó Cuív said politicians need to build consensus and de-politicise the crisis.
He added that Fianna Fáil members would have to approve or reject any proposed coalition and if an Ard Fheis could not be held, alternative arrangements would have to be put in place.
He also repeated his view that many in his own party had deep reservations about a coalition with Fine Gael, as it would not represent the change sought by Fianna Fáil members ahead of last month's election.
Additional reporting Pat McGrath