Minister for Communications, Climate Action and Environment Richard Bruton has said he is "absolutely confident" that the no-confidence motion in the Minister for Housing, Planning and Local Government Eoghan Murphy will be defeated in the Dáil tomorrow night.
However, he added that if Opposition parties want to have a Christmas election then they should "bring it on".
The Social Democrats announced last week that it will table the motion in Minister Murphy tomorrow.
"Bring it on!" - Minister @RichardbrutonTD says @FineGael has no fear of a Christmas election - but he is "absolutely confident" the no confidence motion in Housimg Minister @MurphyEoghan will be defeated tomorrow night

— Paul Cunningham (@RTENewsPaulC) December 2, 2019
Minister Bruton said Mr Murphy was "delivering 25% per annum increase in housing supply - both in social housing and private housing".
"Now that is an exceptional achievement coming the base that he had to work off."
He argued that the no-confidence motion was "political opportunism by one of the parties in the Dail", but he had "no problem facing the people in a General Election" if the Opposition won out.
Mr Bruton said: "Bring it on, I say. If people want a General Election before Christmas - I have no problem with that."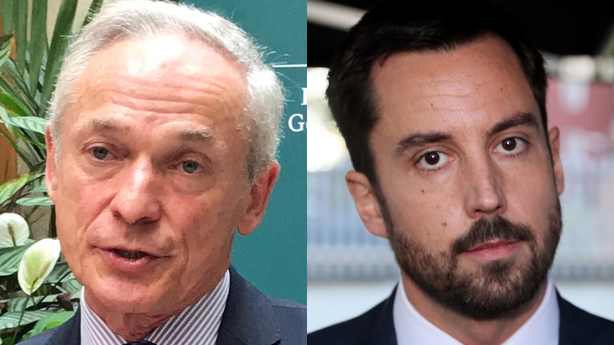 Asked if his confidence was based on an agreement between Fine Gael and Independent TDs Michael Lowry and Noel Grealish, Mr Bruton replied: "That's a matter for individuals to decide.
"We are a minority government. From week to week, we depend on the decision of the people."
The former Fine Gael, now Independent TD for Louth, Peter Fitzpatrick, has already said he will vote no confidence in the Housing Minister in the Dáil tomorrow night.
Deputy Fitzpatrick told RTÉ News that he was voting against the Government because "billions" had been spent on housing but there did not seem to be any "result" from it.
Another Independent TD Denis Naughten said he has yet to decide on whether he will support the vote, or not.
He told RTÉ News: "I've no decision made on what way I'll vote on the confidence motion. I'm talking with supporters and local councillors and I'll be guided by them".