The four Fianna Fáil TDs at the centre of the Dáil voting controversy have apologised in the house.
Lisa Chambers, Timmy Dooley, Niall Collins and Barry Cowen each apologised in turn.
They made personal statements this afternoon following the publication of a report into the matter this morning.
Ms Chambers said that she made a "genuine mistake" by inadvertently sitting in the wrong seat in the chamber and pressing the button in error.
The Mayo TD said nobody asked her to do this and when she noticed the mistake she moved to her own seat.
She said she did not alert the clerk as the motion in question was defeated by a large margin.
Clare TD Timmy Dooley said he accepts that last Thursday he fell short of the responsibility that rests on him.
He said he accepts and regrets that his conduct has led to this report, saying if he had been present for the voting block in question none of this would have happened.
Mr Dooley added that he will co-operate with any statutory process by the Oireachtas Committee on Members' Interests.
Mr Collins, who voted for Mr Dooley last week, said he wished to "sincerely apologise" for his role in what had happened.
The Limerick TD said he fully accepts he should not have voted for Mr Dooley.
He also said he would "fully engage" with the Members' Interests Committee and offered his deep regret.
Mr Cowen also apologised for his "carelessness", saying he should have sat in his own seat and cast his own vote.
The inquiry into the issue found that Fianna Fáil frontbench TD Niall Collins was of the belief that party colleague Timmy Dooley would return to the chamber when voting on his behalf.
The report has recommended no disciplinary action but that a wider review of the voting system is needed.
We need your consent to load this rte-player contentWe use rte-player to manage extra content that can set cookies on your device and collect data about your activity. Please review their details and accept them to load the content.Manage Preferences
Ceann Comhairle Seán Ó Fearghaíl told the Dáil that the controversy has further eroded confidence in how our national parliament conducts its business.
He said the facts as laid out in the report are stark and unpalatable and under no circumstances can they be allowed to happen again.
Mr Ó Fearghaíl said the issues that arose were the result of political failures and were not of a technical nature.
He said the report has now been submitted to the Committee on Procedure.
'I left everyone in a difficult position' - Dooley
Mr Dooley told the inquiry he had said to Mr Collins that he would see him during the vote last Thursday, but first he had to leave the chamber to take a call.
"I left and couldn't come back. I left everyone in a difficult position," Mr Dooley said.
He added that video footage of him pointing at seats was done to indicate that he would see Mr Collins during the votes.
When questioned if he asked Mr Collins to vote for him, Mr Dooley told the inquiry: "No, I am clear on that fact."
He said that he did not give Mr Collins any reason to press his button. "He assumed I was in the house. I've done it in the past," Mr Dooley said.
Mr Collins told the inquiry that Mr Dooley did not ask him to vote on his behalf. He said that he was under the mistaken belief that Mr Dooley was in the chamber but he did not look around to check.
Mr Collins said he would not cast a vote knowing or believing that someone was outside the chamber because that would reflect badly on him.
When asked what lessons he had learned, he replied: "Sit in your own seat. If someone else is not there, don't vote."
Regarding his initial conversation with Mr Dooley, where the Clare TD points to the voting machine, the inquiry wanted to know what Niall Collins understood this to mean.
He replied: "I've no idea ... I was looking at his face and not his hands."
During the regular weekly votes, Mr Collins voted six times for his absent colleague Mr Dooley.
Ms Chambers mistakenly voted once for Fianna Fail deputy party leader Dara Calleary, but failed to have the voting record corrected immediately afterwards.
She told the inquiry that she had not until last Thursday made the mistake of voting for someone else in the Dáil.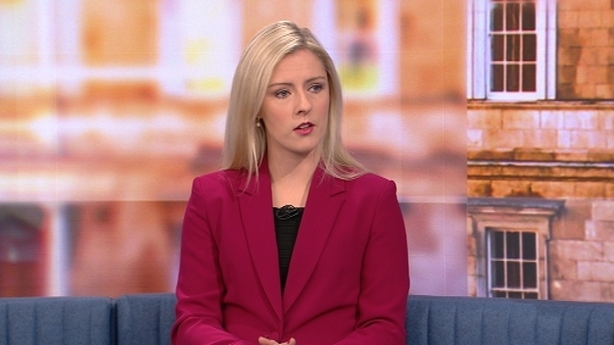 "I never made this mistake before, what a day to do it," she told the clerk of the Dáil.
Asked why she did not inform the teller about voting twice, she said: "I left it as it was a big loss the vote in question. It is too casual altogether."

The controversy surrounding events last Thursday prompted the Ceann Comhairle to order an urgent report into the matter.
TDs are required by the constitution to be present in the Dáil when voting.
However, there does not appear to be any obvious sanctions for those found to have acted outside this provision under the rules of Leinster House.
On the wider issue of voting in the Dáil the Ceann Comhairle said any recommendations on changes to the current electronic voting system will be given immediate attention.
Fianna Fáil also referred video footage to Seán Ó Fearghaíl over instances where it claims that some Fine Gael ministers are not in the chamber for a Dáil vote.
Speaking in the Dáil this afternoon, Minister of State Sean Kyne said the controversy had undermined public confidence in the political system.
He said the Fianna Fáil deputies involved have done a great disservice to the mandate they have been given by their constituents and colleagues.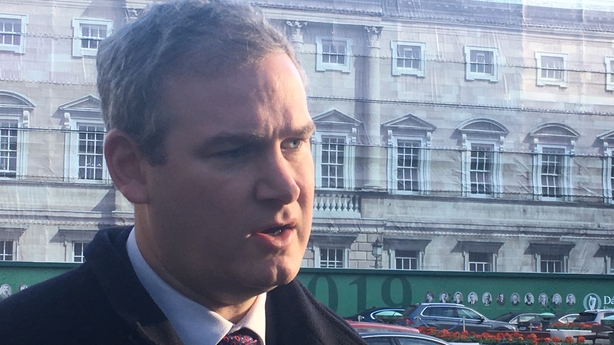 Mr Kyne said that voting for colleagues who are in the Dáil chamber is one thing, which TDs could agree is commonplace across the house.
However, he said it was not best practice and should not continue.
He added that voting for absent colleagues is "completely and utterly different", saying it is "entirely wrong" and brings the house into disrepute.
Mr Kyne described the actions of the Fianna Fáil TDs involved as "wrong, cavalier and arrogant".
Fianna Fáil leader Micheál Martin has welcomed the report which he described as "detailed and comprehensive".
He said that serious issues of public concern have been raised and must be addressed.
Mr Martin said that he took early action in relation to Mr Dooley and Mr Collins - by asking them to stand down temporarily from the frontbench - and this sanction remains in place.
He said there are three broad issues involved: general practices during voting, a specific incident last week, and what changes they need to make.