The political parties have been holding their annual think-ins this week ahead of what could be a tumultuous autumn.
The discussions and debates were held against the backdrop of the upcoming October budget, a possible no-deal Brexit and the prospect of a May 2020 election as suggested by the Taoiseach.
Our political staff have been assessing where the parties stand as they prepare for next week's return to Dáil Éireann.
Fine Gael
By Paul Cunningham
Budget 2020
In the week that Minister for Finance Paschal Donohoe announced there would be no tax cuts due to Brexit, Fine Gael wanted to ensure that the message went out that Budget 2020 would not signal a return austerity.
Instead, it was billed the €3 billion budget - restoring and increasing public service pay; big outlays on public infrastructure; and more again for Brexit preparations.
Cabinet members were also keen to suggest that lessons from recent spending overruns, like at the National Children's Hospital, had been learned.
May general election
The Taoiseach decided to galvanise the parliamentary party by declaring his preference for a May 2020 election. (This was an echo of a similar expressed preference in August 2018.)
Mr Varadkar argued that a Brexit deal should have been achieved by May 2020 or the Government would have, as he termed it, guided the country through the worst impacts of a no deal outcome.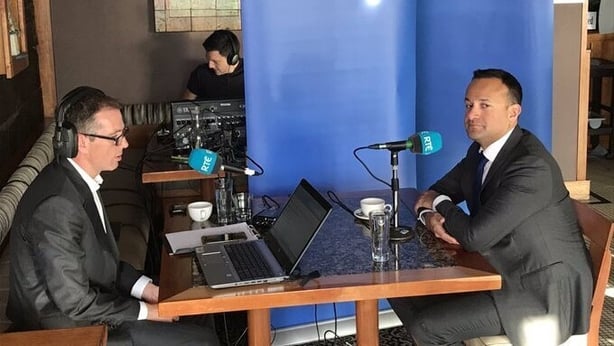 The date would also avoid clashes with things like the March EU leaders summit as well as ministerial duties on St Patrick's Day.
The downside of declaring a #GE20 preference, however, was that he was continuously pressed by the media about the issue. Fianna Fáil also clearly enjoyed telling the Taoiseach he should focus his attention on the important things like Brexit.
Critiques
The party which most regularly targeted was, no surprise, Fianna Fáil. Analysis was produced by deputy Peter Burke, a chartered accountant, which suggested that Fine Gael's confidence-and-supply partner had promised €4.35bn spending in six months.
Fine Gael claimed that this proved Fianna Fáil's economic policy was 'fantasy'. Sinn Féin also got a kicking from Mr Varadkar for calling for a Brexit border poll - this was derided as "bad timing... [which] risks making a bad situation worse. It's the very opposite of leadership."
The Greens were also hit - maybe reflecting a concern that rising Green Party support could mean that it takes urban seats being targeted by Fine Gael in the next General Election.
The Green Party
Green Trojan Horse
A political barb by the Taoiseach while in east Cork was met with consternation, if not a little glee by Green Party members gathering in Cork city.
Mr Varadkar had suggested that if the electorate voted green, they would put Fianna Fáil into government.
The Greens dismissed the 'Trojan Horse' charge - particularly given Fine Gael accepted Fianna Fáil's support to stay in power since 2016.
And Mr Varadkar also stated that if Fianna Fáil secured more seats than Fine Gael in the next General Election - then he would be prepared to give confidence-and-supply to Micheál Martin subject to certain conditions.
All Action
There was a clear desire to re-enter the political fray at Leinster House - Green party members were given details about a Private Members BiIl on climate justice scheduled for next week.
Equally, there was a clear appetite to campaign in the upcoming Dáil by-elections and prepare for the inevitable General Election.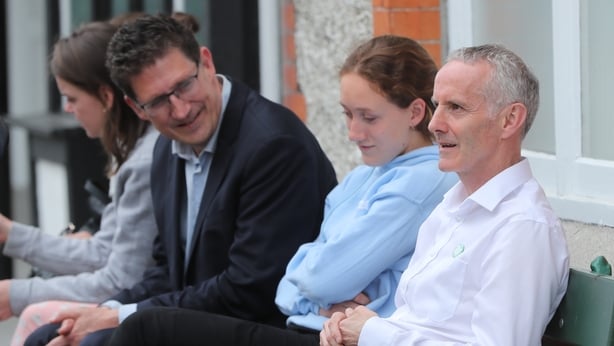 The party knows it will be scrutinised closely to see if the good results in the Local and European elections will continue or if the so-called 'green-wave' has already receded.
The Rural Vote
The Green Party is keenly aware of the perception that it is an "urban" party. It hopes the recent election of Blaithin Gallagher to the post of Executive Committee Chair will change things.
Gallagher stood as the party candidate in north Leitrim and the party is hopeful it can expand its membership on foot of recent recruitment successes.
But despite the euphoria over recent election campaigns - securing Dáil seats in rural Ireland remains a significant challenge.
Sinn Féin
By Joe Mag Raollaigh
Coming into this new Dáil term, Sinn Féin knows it faces its own challenges. At the party away day on Wednesday, Mary Lou McDonald acknowledged as much when she told journalists she wants to set out Sinn Féin as a party of "solutions"?.
The new emphasis follows the electoral rout the party experienced in the local and European elections last May, when it lost two MEPs and the number of elected councillors fell from 159 to 81.?
They won't want any repeat of that next May. With three of their 21 TDs set to retire at the end of this Dáil term they already have plenty to do. ?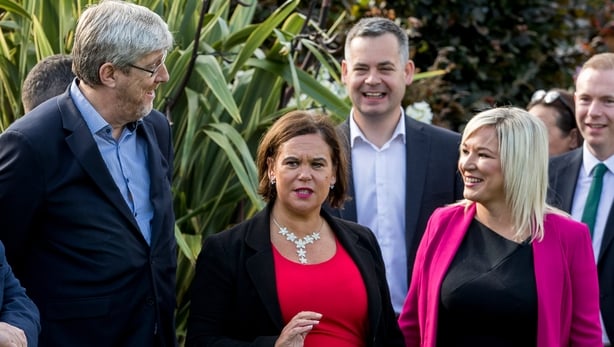 The party gathering was held in Ravensdale, Co Louth, which is perched on the border with the Six Counties.
The location was apt given the fact that Brexit, a unity referendum, and the upcoming budget are all?party priorities. ?
Of those issues, Brexit is the most pressing.?Ms McDonald has said the re-emerging notion of a Northern Ireland only backstop is "the least worst option" but she also warned that neither Unionists or the Assembly can have a veto over any such arrangement.?
Fianna Fáil
By Micheál Lehane
Amid the uncertainty posed by Brexit, Fianna Fáil does not want an election before Christmas and favours looking at the issue sometime next spring.
There was even a hint from the Fianna Fáil Leader in Gorey that efforts might be made to strike an agreement with Fine Gael on the timing of the next election.
However, Micheál Martin was later quite reticent when pressed further on that point, and he ruled it out for the moment.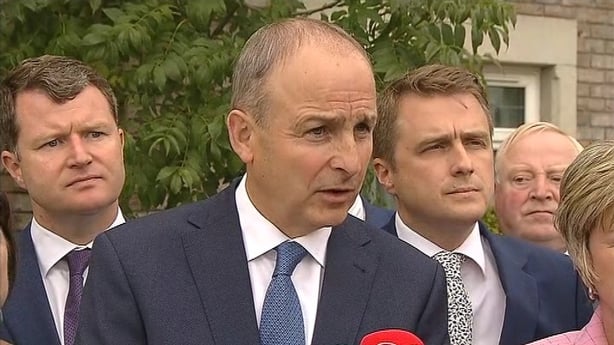 The political attacks launched at these party gatherings can be of the most stinging variety.
Minister for Health Simon Harris was the target for Fianna Fáil this week. Micheál Martin described him as a poor and ineffective minister.
He claimed several times too that the health budget figures for the last three years were fraudulent. There was a swift riposte from Harris who said it was "galling" to take lectures from the Fianna Fáil leader, whom he accused of failing to stop illegal nursing home charges when he sat in the office of health minister over a decade ago.
The journey down the county for these gatherings is primarily about cultivating team spirit, but that's not easy to achieve when you are putting election tickets together. So it proved in Wexford when Lisa McDonald found out that she would be running in the next election with two more male colleagues.
Her response was caustic. The former senator said the Fianna Fáil parliamentary party was akin to an "out of shape soccer team" which "does not understand women".
Labour
Ready for government
You didn't have to have canine hearing to detect the sound of many within Labour whispering about the possibility of returning to government after the next election.
The public utterances may be a little coy right now but thoughts are definitely turning in this direction.?In fact the party set down some its red lines on this particular topic.
They are centred on health services, housing and bargaining rights for workers.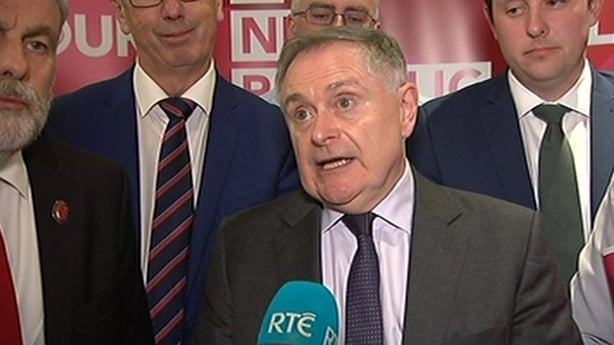 Plenty of preferences
Labour confirmed that it won't enter the next election as part of a pact with any other party. But it will urge its voters to give preferences further down the ballot paper to other "progressive" parties and independents. This is likely to mean the Green Party and the Social Democrats.
Recent history
Brendan Howlin tried earnestly to keep the focus on the party's most recent policy documents, but it is Labour's record in the last government that many observers wanted to talk about.
Tax hikes and spending cuts then have not faded from the memory. The more recent election figures indicate that many voters, who backed the party in 2011, still want Labour to atone for its actions when it held power.
This perhaps remains the party's greatest challenge facing into the next general election.
Social Democrats
By Edel McAllister
The Social Democrats say they're hopeful of seven to eight seats in the next general election, which would make them an attractive coalition partner.
As their party members gathered at the Rediscovery Centre in Ballymun in north Dublin, co-leader Roisin Shortall said they were not ruling out coalition with any party at this stage, but she did reject a pre-election vote pact with other centre-left parties such as Labour, the Greens or Sinn Féin.
"We have good working relationships ... we will continue those. But there's no question of us entering any kind of alliance or vote transfer pact."
She also said they would approach any discussions on government formation based on issues, rather than parties.
"It is about what the next government is focused on and is prepared to deliver. So from our point of view it is much more about what, rather than whom," Ms Shortall said.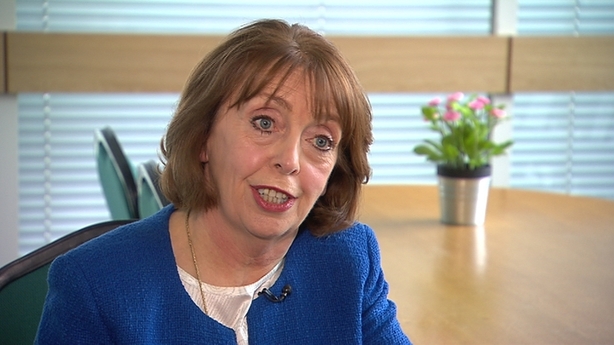 The Social Democrats also called on the Government to prioritise the protection of public services and living standards against Brexit.
Co-leader Catherine Murphy said the potential impact of Brexit meant that the Government had to be "all the more careful not to make expensive mistakes".
Ms Murphy said issues such as broadband, the Children's Hospital, the public services card and housing would have been enough to cause a general election in other circumstances.
Solidarity People Before Profit
The 2016 election saw People Before Profit and Solidarity gain six seats in an election dominated by heated debate on water charges.
The February 2016 election took place four months before the UK's referendum to leave the EU which few predicted would succeed.
As their six TDs gathered for their pre-Dáil session in Buswells Hotel in Dublin, Dun Laoghaire TD Richard Boyd Barrett stressed the need for the left to join forces again, as they did in the movement to oppose water charges.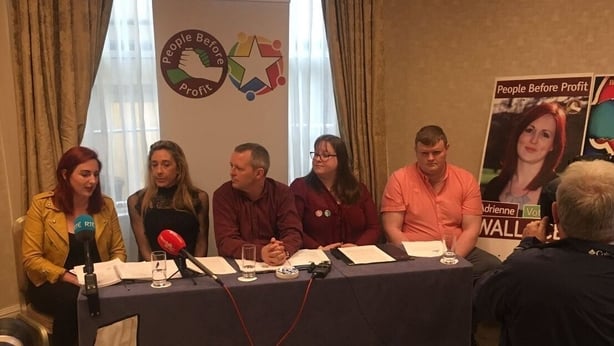 This time around, the alliance of TDs warned against allowing working people to become the "whipping boys" for a no-deal Brexit which could see fresh austerity measures.
"The news that 10,000 jobs could be lost in the tourism and hospitality industry within three months of a no-deal Brexit should act as an alarm bell for the trade union movement," Solidarity Cork TD Mick Barry said during the party's post think-in media conference.
People Before Profit had written to several parties and unions last month seeking support for an alliance of the left ahead of a general election.
"We want a debate on the left, as we face into a general election, about whether we are actually going to build an alternative to the Fianna Fáil, Fine Gael dominated politics in this country," Mr Boyd Barrett said.
"We think everybody on the left needs to set out clearly what their position is on that. We'd like to see a genuine left alternative rather than the left ending up propping up Fianna Fáil and Fine Gael governments."
People Before Profit is hoping for gains in constituencies such as Dublin Bay South, Carlow-Kilkenny and Sligo-Leitrim.?
The alliance said that "housing, climate action and workers' rights" would be their priorities in the upcoming Dáil term.