The opening day of the European Parliament's five-year term was disrupted by a number of protests, with pro-Brexit MEPs turning their backs when the EU's anthem 'Ode to Joy' was played.
Other MEPs refused to stand and Liberal Democrat MEPs wore t-shirts with "B*****ks to Brexit" logos.
Sinn Féin MEP Matt Carthy said the credibility of the European Parliament risks being undermined because three Catalan separatists have not been able to take up their seats.
Mr Carthy was the first speaker to take the floor in the opening session of the new parliament, which is sitting in Strasbourg this week.
Flanked by MEPs Luke 'Ming' Flanagan, Clare Daly and Mick Wallace, Mr Carthy said some elected MEPs are being "denied access" to the house.
"This house need to stand up for democracy, needs to stand up for human rights," he said.
"If this house does not value the votes of the people of Catalonia then the credibility of this house itself will be undermined," he said to applause.
Mr Carthy was speaking as crowds gathered outside the parliament building to protest against the decision not to permit Carles Puigdemont and two other leaders of the Catalan independence movement to take up their seats.
It followed a decision by Spanish authorities that they could not become MEPs because they failed to follow national laws requiring a personal pledge to comply with the Spanish Constitution.
Sinn Fein's @mattcarthy is the first MEP to speak from the floor of the first sitting of new European Parliament, calls for recognition of three Catalan MEPs #euparl #EPplenary pic.twitter.com/yVNIGQUfz1

— Mary Regan (@MaryERegan) July 2, 2019
Mr Flanagan was seen holding a sign up commenting on the deaths of migrants in the Mediterranean, while Mr Wallace and Ms Daly wore t-shirts with a picture of Julian Assange.
Mr Wallace said that it is "very undemocratic" that the three Catalonian MEPs have not been allowed to enter the parliament.
Speaking on RTÉ's Drivetime, he said that if people are elected they should be entitled to take their seats.
He said the Catalan politicians represent a sizeable number of people in the Spanish region.
Mr Wallace also said that he and Ms Daly took the opportunity to "highlight the plight of Julian Assange" as he worries that Mr Assange may end up "rotting in a US prison".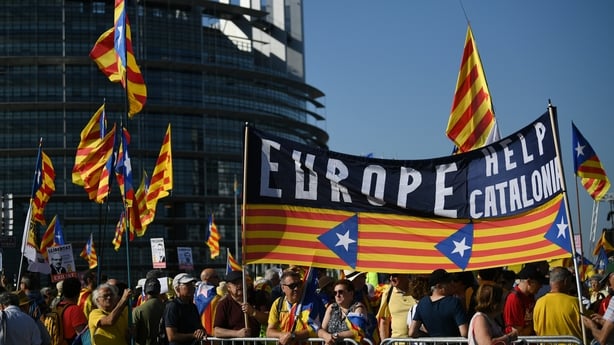 In theory, the new parliament should have only 705 seats if Brexit were taken into account.
When Brexit happens, 27 of the British seats are to be redistributed to other countries and another 46 set aside for future EU enlargements.
The opening session was also marked by a protest by Catalan separatists outside the parliament in support of three of their own who are blocked by Madrid from taking office.
As MEP delegations arrived to the chamber, at least 4,000 demonstrators waved the Catalan flag in front of the European Parliament.
The main task of this first session will be to elect a new parliament president - or speaker - one of the European top jobs.
The choice of the successor to Italy's Antonio Tajani had been due to take place today, but was postponed until tomorrow to allow time for the 28 EU leaders meeting in Brussels to agree on a full slate of European posts.
Additional Reporting AFP