The European Union has close to 17 million so-called "mobile citizens" - those who have moved from one EU country to another.
In 2017, nearly 4% of all EU citizens of working age were living in another member state other than that of their citizenship, according to Eurostat, the statistical office of the EU.
Romanians and Lithuanians are among the most mobile groups in Europe - with large numbers from Croatia, Portugal, Latvia and Bulgaria also living in other EU states.
Ireland's biggest group of such citizens is from Poland.
According to the European Journalism Data Network, each of the five largest countries in the EU hosts at least one million citizens from other member states, and in countries like Ireland, Belgium and Austria, EU foreigners represent 8-9% of potential voters for the European elections.
But in 2014, just 8% of these mobile EU citizens made use of their right to vote in their EU state of residence. Despite this they were registered in comparatively high numbers in Ireland - at over 22% in the last European elections.
So why the greater participation in Ireland?
Rares-Mihai Nicula, a member of the Romanian Diaspora Council, says fellow Romanians will be voting in relatively high numbers and are getting increasingly politically engaged here.
But he says that along with the European elections, Romania is holding a referendum challenging the ruling Social Democratic Party's (PSD) record on corruption, which means that many Romanians are closely watching developments in their country of origin at the moment.
He says this means they are more likely to vote for Romanian rather than Irish MEPs.
"I think the Romanian community has become more active in civic engagement and especially political participation," says Mr Nicula.
"But with regards to the European Elections, this year is going to be a particular study case.
"Because right now people in Romania and the Romanian diaspora as well seem to be bent on ousting the old political elite that has been ruling Romania for the last 30 years. There seems to be a lot of engagement and activism in that sense."
And Romanians won't have to travel over 3,000km to cast their vote.
There will be opportunities to vote at five locations around the Republic of Ireland: the Romanian Embassy on Waterloo Road in Dublin, at Mulhuddart Community Centre in Dublin 15, at University College Cork in Cork, the Ardilaun Hotel, Taylors Hill in Galway, and at the Limerick Strand Hotel on Ennis Road.
The Romanian diaspora is estimated to be close to 3.5m people all across the world, with the greatest majority being in Europe.
"Freedom of movement helped a lot," says Mr Nicula with many Romanians moving to Ireland to seek better wages and living standards. He says others have moved away from a political system that they have found to be quite "psychologically oppressive".
He says: "You kind of get sick of it and you say right, I'm just going to leave altogether and make my fortune, make my life in another country".
The Romanian Embassy in Ireland says it has consulted widely with the diaspora here and in other countries to make sure they can exercise their right to vote this month, with 441 polling stations organised abroad for the European Parliament elections.
In 2014 there was only one polling station available at the Romanian Embassy in Dublin but it is anticipated that turn out will be much higher this time around.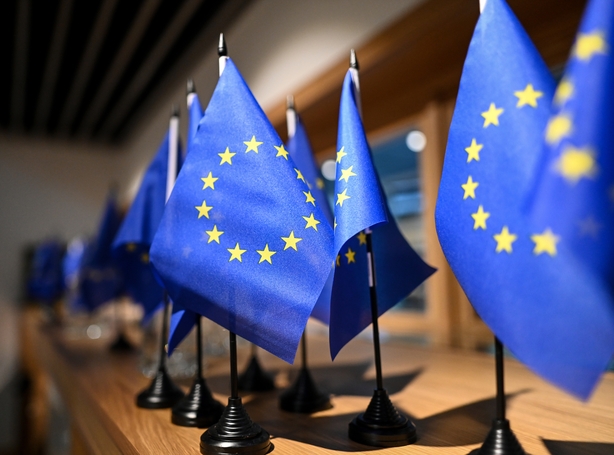 Mr Nicula says the problem last time around was that there were not enough places to vote but there has now been a greater push for civic engagement.
"Our narrative is we are here to stay, we are here to get involved so we are urging people to register and to exercise their right to vote as well because we think we're not only guests in a country but we would like to contribute positively, economically, politically and culturally and so on."
The 2016 census shows that the biggest groups of EU citizens from outside of Ireland living here were from Poland (122,515) Lithuania (36,552), Romania (29,186) and Latvia (19,933).
The European Parliament says that each EU voter can only vote once for their preferred MEP whether that is in their home country or in their country of residence.
The European Commission has provided an overview of how EU citizens living abroad can vote by nationality.