The current term of this European Parliament was drawing to a close. Staffers and journalists already wheeling their luggage down the curved corridors and out of the round, glass Louise Weisse building.
I was making my way out of the press room to the press cafe when I was stopped in my tracks to look at a screen showing one of the final acts of this parliament's term.
Mid-speech and seemingly out of nowhere, a Slovenian MEP took a harmonica out of his pocket and began to play Ode to Joy - the European anthem. Without exception, the MEPs in the almost-full chamber, rose to their feet and clapped along.
It was a moment that had a typical end-of-term feel about it. A bit of levity on the last day of school. For this was not just the last day before the Easter holidays - something greatly celebrated not just in the city of Strasbourg but in the parliament building itself where mini chocolate eggs were on offer at almost all the official desks you encounter as a journalist (and there are many).
This was also the last hour of the last day of this parliament's term.
There was something more to the action of Lojze Peterle - who served as Slovenian Prime Minister in the early 90s and is now stepping down after 15 years as an MEP. There was a sense of the practitioners and the proponents standing up for - both literally and metaphorically - what is described as the European Project.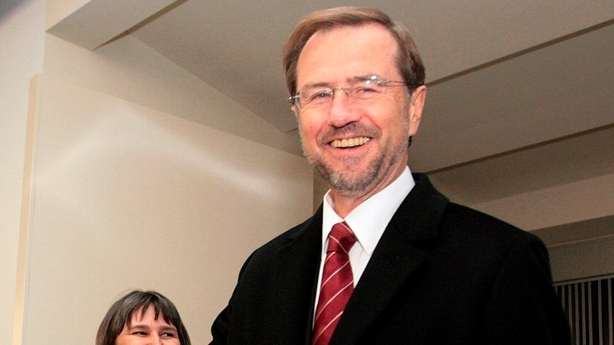 Mr Peterle's tune came after a short but loaded message: "It is our responsibility to keep Europe together. Let's rebuild Notre Dame and happy Easter!" he said before taking the harmonica to his lips.
So much has changed since his group of parliamentarians first assembled five years ago. Not just a decision in a referendum by one country to leave, but the rise of Eurosceptic parties in a number of member states and an unprecedented wave of immigration. The music and the reaction to it revealed a deep sense that there is a lot at stake in the European elections taking place next month.
Brexit has done something to this "project" that is wider than just one member's efforts to leave. The disharmony and divisions it has created were on display this week. EU Council President, Donald Tusk, celebrated the fact that national leaders have decided to extend Brexit until October. He said he still dreams of Brexit being reversed.
His words angered the European Parliament's Brexit co-ordinator, Guy Verhofstad, who said that as a result of the leaders' decision, Britain and Brexit would "poison" the European Parliament elections.
Similarly, Manfred Weber, a candidate to become the next EU Commission President, said that UK MEPs should not have an influence about the future of the EU.
The uncertainty over whether the UK will in fact take part and if so, how long they will be here for and what influence they might have loomed large over the last sitting.
It is not the only uncertainty. Few question the fact that this election will see a rise in populist anti-European or Eurosceptic members whose numbers will be greater when the new parliament convenes in July.
When I visited Strasbourg in February this was as huge talking point. Now that sense seems to have abated somewhat. The narrative that has taken hold that populists are whipping up a storm as anti-migration sentiment is causing a big lurch to the right is overblown, according to some experienced MEPs.
But while a huge number of voters are undecided (100 million swing voters, according to recent research by the European Council for Foreign Relations - a pro-EU think tank), a third of seats are predicted to be taken by Eurosceptic parties.
For the most part, these parties are no longer in favour of actually leaving the EU. Brexit, ironically has turned them away from that notion and besides, it would hardly make sense strategically when sentiment in favour of EU membership is at an all-time high.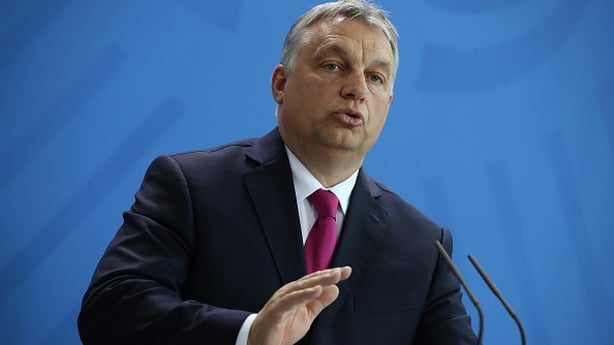 Immediately after Britain's vote in 2018, Marine Le Pen of France's National Rally was brandishing Frexit posters. She is no longer talking about that. Similarly with nationalist politicians like Viktor Orban of Hungary (above) and Italy's deputy prime minister, Matteo Silvini. They are no longer talking about an exit.
But what has replaced their desire to leave could be far more consequential. And that is their plan to change the EU from within, what might be described as reform by some but is feared as disruption by others.
While this group is unlikely to take control of parliament - and a lot will depend on whether they can manage to act as a coherent voting bloc - their numbers are likely to be boosted to allow them have a greater role in shaping the debate and the future direction of the EU.
Emotion is not a word you would usually associate with what often appears as the austere and serious European Parliament debate. But as Mr Peterle's music rang out around the debating chamber called the hemi-cycle, the heavy mood could be sensed around the huge complex.
Everyone here was aware that there something tugging at the fabric of what holds it together. The coming months will tell whether or not it leads to an unraveling.