The European Cosmetics Industry has phased out up to 97% of plastic microbeads used in personal care products and is on track for a 100% reduction by 2020.
That's according to Siobhan Dean, Director of the Irish Cosmetic, Detergent and Allied Products Association.
She was speaking at an Oireachtas Joint Committee on Housing, Planning, and Local Government today, which was discussing the Government's bill to ban microbeads.
They are tiny pieces of plastic found in shower gels, face-scrubs and toothpaste - which do not biodegrade and persist for hundreds of years in the environment. 
Ms Dean told the Committee that the sector is taking the microplastics issue "very seriously" although she said it is not a key contributor to the problem.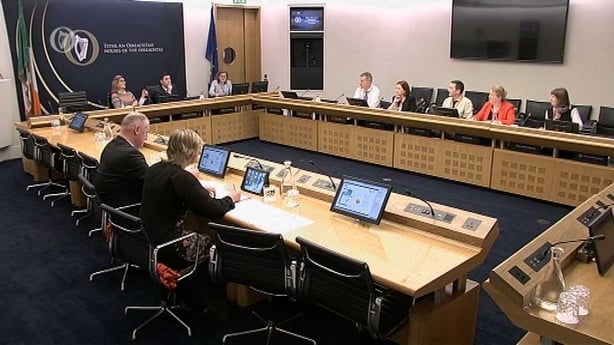 She said: "Results of 2018 data collected by Cosmetics Europe show that between 2012 - 2017 the European cosmetics industry phased out as much as 97.6 % of plastic microbeads used for exfoliating and cleansing purposes in rinse-off cosmetics and personal care products. The European industry is on track to achieve 100% phase-out of plastic microbeads by 2020." 
The Green Party and the Labour Party had proposed legislation to ban the use of microbeads in the past. 
The Government's bill defines microbeads as plastic products that were between 1 nanometre and 5mm in size.
Studies have discovered that microbeads are being ingested by fish in Ireland's coastal and marine environments, although the majority have been secondary micro plastics. 
Dr Roisin Nash, of Galway Mayo Institute of Technology, told the Committee researchers have studied different types of fish and recorded a low level of micro-plastics in their intestinal tracts.
She said: "We have researchers who have examined the intestinal tracts of several pelagic fish including the Dublin Bay prawn, from numerous fishing grounds around the south-west coast.
"The blue mussel is regularly consumed in Ireland, while the common prawn is largely exported, and they both recorded low levels of micro-plastics in their intestinal tracts."
Dr Kevin Lynch, Head of Geography at NUI Galway, told the Committee that he supported the Bill because he said he was concerned at the evidence showing that there are microplastics in the food chain. 
He said the research carried out here in Ireland was backed up by international research. 
"It's confirmed right across the globe at the moment - in Norway the same species have seen micro plastics in them.
"So from that we can extrapolate we can say that this is a real problem and rather than wait for really extensive research just in an Irish context invoking the precautionary principle and acting now and try to prevent additional primary plastics entering the environment." 
EU regulation is this area is planned but Ireland is among several countries including the UK and the US to go ahead with its own legislation.
John Chave from the Cosmetics Europe said: "Ireland isn't the first country in the EU to initiate legislation on microbeads, the UK has legislation, France has legislation, Sweden has legislation, Italy is just implementing legislation, Denmark is planning legislation.
"This presents a little bit of a problem because if you have different legislation in different member states then you potentially have an issue with the EU single market. So there is a strong case on single market grounds for a European measure."  
He said that if Ireland's legislation was found to be in conflict with the European legislation then the European legislation would take precedence.
Mr Chave said it would be around 2021 before the EU legislation is finalised and the Irish legislation would then be subject to that.
---
Explainer: What are microbeads?
What are microbeads and what are they used for? 
Every day, millions of people around the world wash their skin and brush their teeth with products containing tiny pieces of plastic.
These plastic particles are know as microbeads and are used as exfoliating agents in personal care products  including shower gels, face washes and toothpaste. 
For example, in shower gels these tiny plastic pieces - which tend to be less than 5mm in size - are designed to remove dry cells from the surface of the skin.
It is estimated up to 51 trillion microbeads are currently in our oceans, while a single shower can flush away an estimated 100,000 microbeads.
Marine experts say they are contributing to the growing quantity of plastic debris in the ocean and are entering the food chain. 
What impact do microbeads have on the environment?
Microbeads are a major environmental concern because they are too small to be captured in sewage treatment when washed down the drain. 
The fear is that these plastic particles are eaten by fish and other creatures, building up in the food chain and are eventually consumed by humans.
Research carried out by NUIG scientists found that almost three-quarters of deep-water fish surveyed in some of the most remote parts of the Atlantic Ocean had ingested plastic particles.
What is Ireland doing to address the problem of microbeads? 
Growing concern over the impact of these tiny plastic beads on marine life has convinced the Government to act.
EU regulation is this area is planned but Ireland has decided to follow in the footsteps of the UK and France and introduce its own legislation that will ban their use.
Microbeads are set to be banned under a new Government-backed bill which looks at restricting the manufacture, import, export or sale of certain products containing microbeads.
If Ireland's legislation is found to be in conflict with the European legislation then the European legislation will take precedence.
What steps can households take to minimise their use?
Experts say it won't be easy to solve the problem of microbeads entering waterways.
However, consumers can take steps to minimise their use by using products that are free from microbeads or using biodegradable alternatives.