Over 90 women parliamentarians from around the world, as well as members of Irish civil society groups, women in sport and in business have gathered at Dublin Castle for the first International Congress of Women's Caucuses.
Almost 50 countries are represented by over 200 delegates who are discussing supporting women's participation in politics around the world, as well as developing legislation and initiatives on issues affecting women worldwide.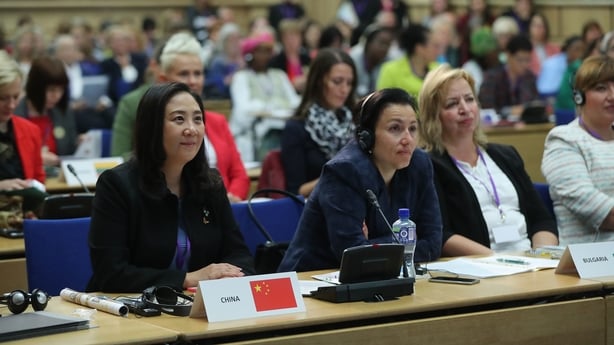 Chairperson of the Oireachtas Women's Caucus, Green Party deputy leader Catherine Martin, welcomed delegates, noting that while much has been achieved in the past 100 years, women are still vulnerable to issues like sexual violence and harassment. 
The keynote speaker, former British Labour Party deputy leader Harriet Harman, commended women for how far they have come in such a short time, noting the expectation that men and women should now be on equal terms, in all walks of life.
Those sentiments were echoed by Taoiseach Leo Varadkar who also addressed the Conference.
He pointed out that the Government is apologising for many things that happened in the past and received applause when he questioned if more women were involved in politics back then, whether the Government would be apologising to the same extent today.
Mr Varadkar told delegates that many aspects of the Irish Constitution are "sexist and backward". 
In relation to women in the home - the referendum on which has been postponed - he noted that some people are opposed to taking it out of the Constitution because they view it as symbolic. 
Mr Varadkar said the Government supports a referendum on Article 41.2 without diminishing the role of carers in society. 
While he acknowledged the importance of carers, he expressed caution over the role of women being "tied up" with the issue of caring.
He noted the lack of political consensus on the matter, which was why the referendum was being postponed "for the time being".
Ms Harman, meanwhile, said that Labour's next leader must be a woman.
"In my party, we regard ourselves as the party for women, yet in 100 years we have never had a woman leader, it appears only men are able to rule the Labour Party," she said.
"Next time, we have to have a woman.
"Don't get me wrong, we have many brilliant men, and I encourage their ambition, I tell them: 'You are an asset, I want to encourage you to aspire because one day, you could be deputy leader'."
The meeting will culminate this evening with the Dublin Castle Declaration, which will be "an expression of intent" to work towards the establishment of a Women's Caucus in every parliament by 2020.
It will also seek to create a network of women's caucuses that will meet on a regular basis to further the aims of the Congress.