Taoiseach Leo Varadkar has confirmed that an invite to US President Donald Trump to visit Ireland extended by his predecessor Enda Kenny still stands.
He was speaking in Washington D.C as part of a US trip for St Patrick's Day.
"The invitation that Taoiseach Enda Kenny made to Donald Trump (last year) stands. ...Donald Trump has invited me to Washington DC.
"He has invited me to his house and I think it is just normal hospitality that when someone invites you their house and their country that you reciprocate the invitation."
He added: "I'm not into golf so I won't be playing golf with him if he comes to Doonbeg but perhaps it will be an opportunity for him to potentially visit some of the Irish companies that invest in the US."
.@campaignforleo says the invitation to @realDonaldTrump to visit Ireland still stands pic.twitter.com/jBWhPoMQes

— RTÉ News (@rtenews) March 14, 2018
People Before Profit TD Richard Boyd Barrett has said he is "appalled" by the Taoiseach's invitation.
"Donald Trump is promoting racist, sexist and warmongering policies that represent a danger to the entire world," he added.
"He is literally threatening the future of the planet with his decision to withdraw America from the Paris Climate Agreement.
"If Trump does come to Dublin he will be met with mass demonstrations. I am certain the majority of people in this country do not like what they hear and what they see from Trump and his brand of obnoxious and dangerous politics are not welcome here," he said.
Separately, Sinn Féin said the Taoiseach should tell the US Vice President of his objections to conversion therapy when they meet tomorrow.
Senator Fintan Warfield described Mike Pence as one of the most powerful advocates for the therapy in the world.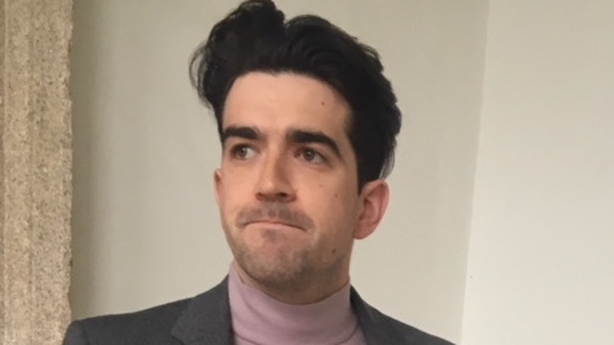 Conversion therapy is described as any practice that aims to change a person's sexual orientation or gender identity.

Senator Warfield said Leo Varadkar should make it clear to Mr Pence that Ireland values and will protect the contribution of all people to the diversity of the country.
Sinn Féin today published a bill that would make conversion therapy illegal here.
The bill, which is also supported by some Independent politicians and Fianna Fáil, is expected to be tabled in the Seanad before the summer.
Senator Warfield said the practice is being provided by some churches both here and in Northern Ireland.
He said the proposed legislation was about protecting the LGBT community and removing legacy issues arising from when homosexuality was viewed as being part of the "diagnostic manual".
The European Parliament has recently called for a ban on conversion therapy in all member states.
Additional reporting Mícheál Lehane