At least 5,000 additional mortgage holders may have been affected by the tracker mortgage scandal, financial consultant Padraic Kissane has told the Oireachtas finance committee.
Mr Kissane, who has highlighted the issue for the last nine years, has said that the additional 5,000 - on top of the 33,700 already identified by the Central Bank - are in First Active, EBS Homeowners and KBC Bank Ireland, with some staff mortgages in Bank of Ireland and AIB.
In his opening statement to the committee, Mr Kissane, said that there are large cohorts of affected mortgage holders in each bank who have not yet had their issues addressed and been returned to the cheaper European Central Bank tracker mortgage rate.
"It raises the question, are the relevant lenders sorry for these customers or apologetic for their actions or are these lenders glad, that to date, each has not been forced to fully correct the position in relation to these accounts?" he said.
He also drew attention to the issue of "churning of loans" which he said he is coming across on a regular basis.
Mr Kissane explained, "This has occurred in different volumes across all lenders."
He gave the example of one woman who took a loan from PTSB for €550,00 interest only for the full term of the loan through a broker.
She then went for a top up loan of €80,000 but went directly to a branch of PTSB and ended up with a new loan of €630,000 interest only, but only for three years. She lost not only her competitive tracker rate but also crucially the basis the main loan was agreed on.
"The branch gained a "new" lending figure of €630,000 when all that needed to change was a top-up facility of €80,000."
"That is just one example of how churning can affect customers when the drive for new lending was at its highest and this occurred across all lenders."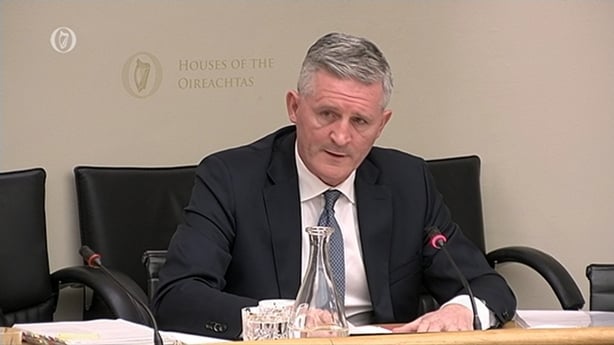 Mr Kissane told the committee of a bank branch manager who told him in 2007: "I have to get €7m out that door each week and they don't care how I do it".
On the issue of the appeal process for mortgage holders, he said, "I hold grave concerns, however, in relation to the issue of data access requests as some pertinent documents seem to be withdrawn by banks.
"It is utterly unfair and wrong that a process that requires high level of proof to substantiate an appeal, is restricted because banks are not making paperwork or evidence available to support a position."
He added: "The appeals process is difficult for people to complete simply because the customers who most need to bring appeals are the ones most affected by what has occurred.
"Travelling back over that period of time is not easy."
On additional mortgage holders affected by the controversy, Mr Kissane said: "There could be at least another 5,000 cases outstanding and while 'Tracker Fatigue' could become a factor it is vitally important for all those families who as yet are deemed not impacted, by the banks I might add.
"If the bank truly mean the sincere apologies and the need to put customers first is real and desired then resolve these outstanding matters which will send the clearest signal yet that attitudes and the culture within banks has changed for the better."
He concluded his opening statement by saying, "'Sorry' is just not good enough for what has happened."
A proposal from Fine Gael Senator Kieran O'Donnell for the committee to invite First Active and EBS in to answer questions about the tracker mortgage was agreed by the members.