The Dáil has debated an amendment to the standing order surrounding the Dáil prayer at the start of each session.
The proposal would see a 30-second moment of reflection after the prayer.
Introducing the debate, Minister of State Marcella Corcoran Kennedy said it had been a topic of discussion for some time.
She said the Committee of Procedure discussed the matter in March and suggested amending the order to have a prayer and a silent reflection.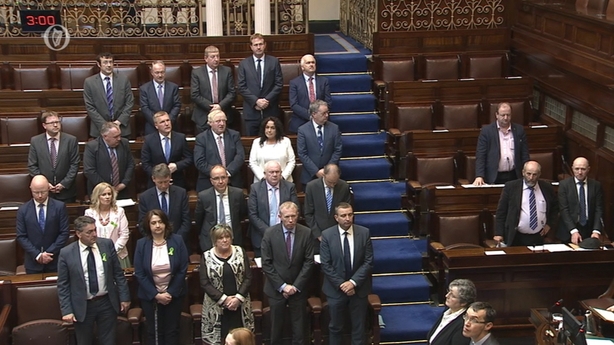 The minister pointed out that the chamber reflects the population as a whole and it was not surprising that it has become a topic of discussion.
Fianna Fáil's Mary Butler and Anne Rabbitte both said they would like to see the prayer retained and welcomed the introduction of silent reflection time. Both noted that it was a tradition in the Dáil.
Sinn Féin's Aengus Ó Snodaigh said the tradition was only in existence as a legacy from the British parliament.
Rather than having a prayer, Mr Ó Snodaigh called for a moment's silence so everyone could reflect on their religion or none.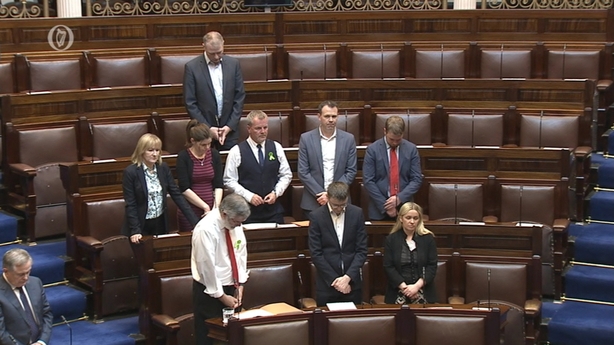 He pointed out that in Japan there was a 20-minute moment of silence to reflect. Although he qualified that statement saying he was not expecting people to stand for 20 minutes, he did think people need "time out".
Solidarity TD Ruth Coppinger described the proposal as baffling.
She said that at a time when the rest of society was demanding a separation of church and State, the Dáil was imposing the amendment.
Ms Coppinger suggested a room for people to go to in order to reflect because she said it was a private matter and the Dáil is a civic place.
"Hello, this is 2017", People Before Profit's Bríd Smith told the chamber. She said a separation of church and State was necessary.
Ms Smith said the country had moved on and requested that the House move with people and the times.
Independent4Change TD Joan Collins said she had not been elected for her words and actions to be represented by Jesus Christ.
She said she was an atheist and stays outside the chamber if the prayers are being said.
Ms Collins said it was inappropriate that elected representatives be put in the position.
Mattie McGrath of the Rural Independent Group said the prayer was of specific heritage to the country which the vast majority of people did not find offensive.
He said the Dáil's democratic structures should not be hostile to the process.
Mr McGrath said it was a majority parliament and if the majority decided they did not want it, he would accept that.