They have been the subject of many pre-holiday conversations, but now the cloud and clothesline graphics in Terminal 1 at Dublin Airport are no more.
The designs, which featured a selection of Irish phrases and facts, were installed along the walkway to the departure gates in 2016.
However, they have now been replaced with a series of images highlighting moments from the airport's history, from Beatlemania to Katie Taylor's Olympic gold, as part of a refresh of Terminal 1.
The Media Relations Manager with daa, which operates the airport, said that "while the old graphics were popular with passengers" it was time for a refresh.
Yesterday there were clouds. When you next Get Back to Dublin Airport you'll find, on the Long & Winding Road to Pier 1 in T1, our knockout new heritage collection awaits, including iconic images of The Beatles, Katie Taylor, Jackie's Army & a little bit of Flying history. pic.twitter.com/hqQ12ZX4HF

— Dublin Airport (@DublinAirport) March 8, 2023
"The new pictures highlight a number of keynote events from Dublin Airport's 83 year history that we think passengers will enjoy seeing again, including the arrival of The Beatles in 1963 ahead of what were their only ever gigs in Ireland, the homecoming of Ireland's footballers following the Italia 90 World Cup and most recently Katie Taylor's return to Dublin after winning Gold at the 2012 Olympics," Graeme McQueen said.
He added that the new pictures have been installed on both sides of the SkyBridge walkway, so all arriving and departing passengers in Terminal 1 will get to see them.
"The installation of these new graphics is part of a wider series of changes we're making in Terminal 1 to make it nicer for passengers," he added.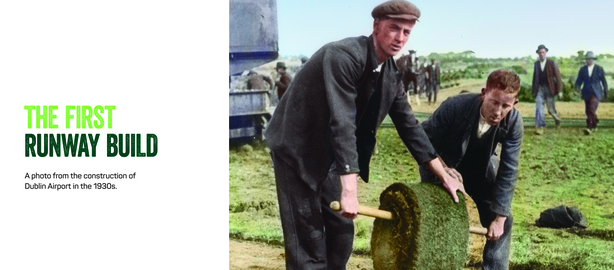 Mr McQueen said that the change will also make the walkway brighter, as the old cloud graphics blocked a lot of natural light from coming into the terminal.