"Trasna na dTonnta, Dul Siar Dul Siar", is a combination of words seared into the mind of the average Irish person. It is, of course, the title of a song most people learned in the Gaeltacht.
It means "Across the Waves", so it is an apt title for a campaign which aims to unite Irish speakers across the world - via social media - in an online cyber-Gaeltacht.
Users of social media are invited to tweet or post as Gaeilge, using the hashtag #TrasnaNadTonnta.
In 2019, six million users took part in the campaign, in 102 different countries.
Trasna Na dTonnta is in its fifth year. It is an initiative of the Ireland Canada University Foundation, which is funded by the Department of Arts, Heritage, Regional, Rural and Gaeltacht Affairs.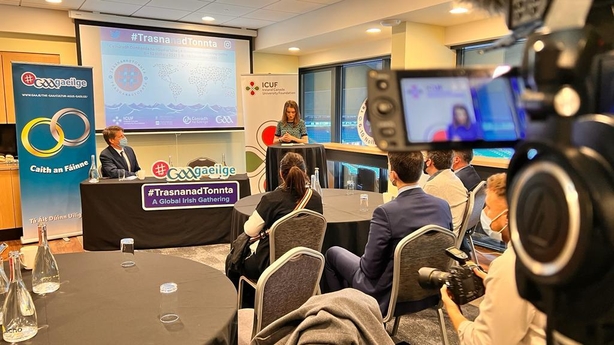 Launching the campaign today in Croke Park, Minister of State for Gaeltacht Affairs and Sport Jack Chambers said: "The aim is to incentivise the Irish language among the diaspora abroad and to strengthen Irish culture internationally."
A series of live events will take place online via Zoom throughout the week of the campaign, including a Sean-nós singing class, Irish conversation classes, a yoga session in Irish, a mindfulness session in Irish and a traditional Irish music session.