Twin sisters who have been kept apart by the Covid-19 pandemic are celebrating their 90th birthdays in style.
Kathleen Galligan and Margaret Gilna (née Hanley) are travelling by train from Dublin to Galway, where they will take a short holiday together.
The sisters, originally from Ballaghadereen in Co Roscommon, "have been best buddies all their lives", according to family members who waved them off at Heuston Station.
The pair got married on the same day - 15 April 1958 - 63 years ago. They also got engaged on the same day.
Before they boarded the train this lunchtime, the sisters explained their unique bond.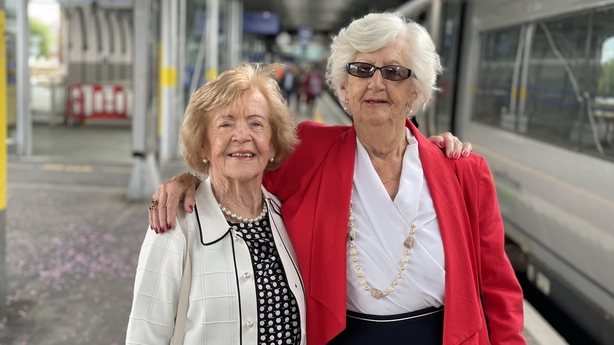 Kathleen said: "We are so very close. We text or ring each other every day, sometimes twice a day. When I heard our families were sending us on this trip, I was so excited. I couldn't believe it."
Margaret added: "I think what she thinks, and she thinks what I think. Not being able to see each other during the pandemic has been so hard. But I am so thrilled to be going on this trip with her. And we are both so well and healthy to be able to enjoy it."
The twins, who both live in Dublin, will be staying at the Park House Hotel in Galway.
When asked how they plan to celebrate this evening, Kathleen said: "I can't tell you that! Only my twin knows! But we will enjoy every minute."
Margaret added: "We will have a great time. Tomorrow we will have breakfast in bed and go for a walk around Galway. We won't get much sleep - we will be talking and reminiscing all the time!"