Christmas Day is approaching, and the Covid-19 restrictions have been relaxed.
The changes mean people can travel outside of their own county and up to three households can meet up until after St Stephen's Day.
As the country has been under restrictions - including weeks of Level 5 restrictions - since mid-October, people will be keen to meet up with friends and family members over the festive period.
However, they are also being reminded that the coronavirus is still present in our society and so it is important to take care.
Speaking in the Dáil, Taoiseach Micheál Martin said: "People will want to meet their grandparents and their parents. To enable us to do that safely, all of our behaviour from now on matters. Every contact matters." 
Here are some suggestions to ensure that if you are visiting people over the Christmas period, you can do so as safely as possible.
---
Do the basics
Among the most important things to do, regardless of who you are meeting or where you are meeting them, is to stick to the basic health advice.
Wash or sanitise your hands regularly. Practice social distancing. Cover coughs and sneezes and avoid touching your eyes, nose and mouth.
If you are out and about, wear a face covering - including in outdoor areas that are busy, such as crowded shopping streets.
You can read more about how to do your Christmas shopping safely here.
---
Open windows and doors
The coronavirus spreads easiest indoors, particularly in places where there is poor ventilation.
Opening windows, even slightly, to allow air in to the room will help. Naturally this will lower the temperature indoors, so wear extra layers to stay warm.
According to the HSE, you should think of the virus like smoke - if a window or door is not open, the virus cannot leave a room. The longer you spend in that room, the more chance you might inhale the virus, if it is in the air.
You can also use an extractor fan to keep air flowing throughout the visit.
---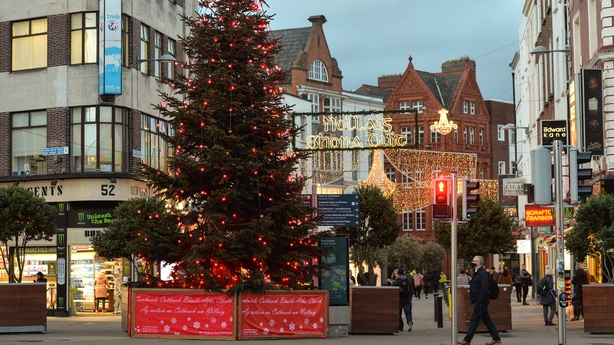 Limit your contacts
While people are allowed meet up from this Friday, it is recommended that we all limit our contacts in the lead-up to Christmas.
It can take up to two weeks for symptoms of Covid-19 to show, and people can spread the virus without having symptoms.
The HSE has warned that it is possible that people could get the virus in the weeks before Christmas and unknowingly spread it to people you spend Christmas Day with.
The lower the number of people you meet up with, the less risk you have of getting and spreading the virus with.
It also lowers the risk that you will be diagnosed with Covid-19 and as a result unable to spend the day with your loved ones.
---
There are also some Dos and Don't for Christmas Day:
Do ask everyone to use hand sanitiser when they arrive and to wash their hands regularly over the day
Do keep windows and doors open where possible - even opening a window a small amount will make a difference

Do use extractor fans, air purifiers or fans if you have them

Do keep your distance from people you do not live with, if possible

Do allow extra space at the dinner table

Do seat people from the same household together

Do wear a face covering when cooking and serving food

Do limit the number of people in the kitchen

Do socialise outdoors, if possible

Don't spend time with other people if you have symptoms of Covid-19 or have been told you are a close contact

Don't hug, kiss or shake hands

Don't share items such as knives, forks and glassware

Don't share food

Don't line up for food like a buffet - serve people while they are seated style set ups

Don't sing

Don't spend too much time in the one room
---
Visiting people at higher risk of Covid-19
If you are visiting people who are at a higher risk of Covid-19, you need to take extra precautions.
One of the first precautions to take is to make sure that the person you are visiting is comfortable with you doing so.
Once that is confirmed, all of the basic health advice recommendations should be followed, as well as several other ones.
For example, everyone should wear a face covering throughout the visit, which should only take place for a short time.
---
More information relating to Covid-19 and how to have a safe Christmas is available from the HSE website