The small group of students approached me as I dashed through the lobby of Luttrellstown Community College. We had been to the school to film Third Years receiving their Junior Certificate results, and the RTÉ satellite van was sitting outside waiting for me in the yard.
"We are rappers," one of the students told me. "Can you tell us how we can get to perform on TV?"
It was around 12.20pm. Back in RTÉ a news editor was awaiting my report for the One O'Clock TV news. I was under pressure. But these earnest young faces were compelling.
"OK, if you write me a rap now, about your Junior Cert results, I will put you on TV," I told them.
They looked at me in panic. "No no, we didn't mean now!" they protested. "We meant a TV show, to perform, or something like that."
But if they really wanted to appear on TV I told them, this was their chance. I gave them three minutes.
With faces blanched and features rigid with nerves, two of the boys gathered into a huddle and got to work. A few minutes later they were back.
"I'm burnin' up the paper, call it incineration, I'm talkin' bout my Junior Cycle, yeah my tribulation," one boy, with bleached blonde hair rapped, as his friend kept time and bemused classmates looked on.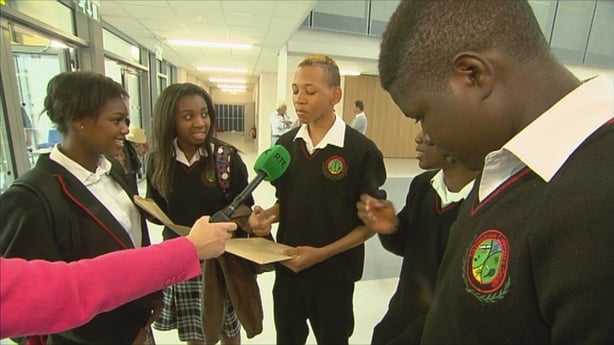 I was thrilled. As a journalist you are always on the look-out for the thing you can't plan, the true occurrence that tells its own story. This was one such moment.
As this grave teen delivered his smooth rap, I knew he was providing our viewers with a glimpse of a fresh creative energy that was emerging from the midst of the new and burgeoning multi-ethnic communities of places like Dublin 15.
That was in 2013. In recent years I kept meaning to go back, to trace my anonymous rapper, and this summer I finally rooted out the report from the RTÉ library and set about tracking him down.
"Jean Luc Uddoh," the principal of Luttrellstown Community College texted me, "Very good student while he was with us".
But there was no Jean Luc Uddoh on Google.
A couple of days later, working at home from my kitchen table, I tried again. It was one of those aimless searches, using terms like 'hip hop' and 'Dublin'. I didn't expect to find anything. I didn't actually think there was anything to find.
But when an image of hip hop artist JyellowL appeared on my screen there was little doubting that this was he.
JyellowL is a successful Irish hip hop artist. A so-called 'conscious rapper', with lyrics that reflect on big international issues such as racism and migration. Last year he played all the major Irish music festivals including Longitude, Electric Picnic, and Forbidden Fruit.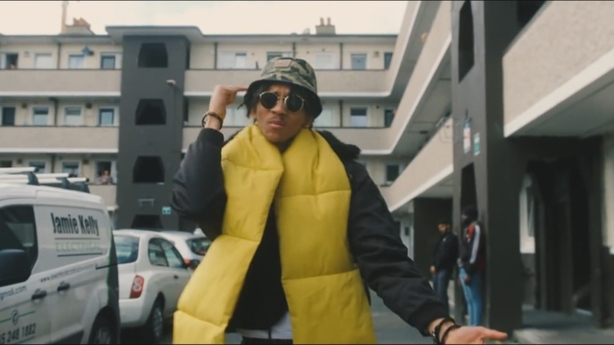 JyellowL was also one of the organisers of last June's Black Lives Matter rally which saw thousands of mostly young Irish march from O'Connell Street to the US embassy in one of many protests internationally, sparked by the US police killing of George Floyd.
But I didn't know that until after I contacted him on Facebook.
"At the time I very nervous. I was like 'whoa there is so much pressure. If it doesn't go well everyone is going to think I am not cool any more'."
"Yes that's me! Wow that is crazy!! I remember thinking that was my big break!" he wrote.
Days later we chatted on the phone, and then I met up with Jean-Luc and his mother Gloria at the family home in Kildare.
Jean-Luc slides down in his chair and buries his face in embarrassment as he watches the footage of himself as that 15-year-old teen, rapping with his Luttrellstown classmates.
"Jesus that's the cringiest thing I have ever seen. What was I thinking?" he exclaims. But he knows what he was thinking.
"At the time I very nervous. I was like 'whoa there is so much pressure. If it doesn't go well everyone is going to think I am not cool any more'."
Back in 2013 Jean-Luc was not long in Ireland. He had travelled from Nigeria a little over a year earlier to join his mother here. He was rapping, but only very privately he says, for family and friends.
"I was doing my best to fit in and not be so different. I wanted to fit in and stand out at the same time. I don't know how those two things can mutually exist but yeah I was doing my best."
Doing his best included relaxing his hair and bleaching it, and mispronouncing his surname to try and make it sound less African, "so I wouldn't be the butt of anyone's jokes".
"Half my hair actually fell off the day before (the Junior Cert results) because I was relaxing it to get it straight. I left it in for too long and it fell off."
"That's why it looks so terrible," he laughs.
"I've always wanted to educate myself, to find a way to contribute to solving those issues and to help make a change."
Although Jean-Luc dreamed even then of a career in music, he had his mother to reckon with first.
"I don't know if you have much experience of Nigerian mums," he jokes. You don't mess with them it seems.
"Education is super important. From their point of view you leave your place of origin to give your children better opportunities and education is the way to secure that future."
"My mum and I had an agreement; she wasn't going to support my music until I committed to going to college."
Gloria nods as he speaks. From a family of educators, she herself began her working life as a teacher in Nigeria. Now she works in banking.
"Knowledge is so powerful. When you are educated people listen to you," she says.
"And whether you like it or not," she says, referring to her children and the struggle to be accepted here, "you need to be one or two steps above your regular peers here".
It is clear from both of them that this Nigerian mum was leaving nothing to chance. So college it was, and last year Jean-Luc graduated from UCD with a degree in politics and international relations. Referring to his pact with his mother he laughs and says "now I'm a free man".
Jean-Luc's music and his outlook on life are all bound up together.
The 2014 killing of Eric Garner by police in the US, as well as the Syrian refugee crisis inspired the early songs that brought him his initial success; songs like Cold in the Summer, and Life Right Now.
"I've always wanted to educate myself, to find a way to contribute to solving those issues and to help make a change."
The calling of a protest under the Black Lives Matter banner came naturally to him, but he had no idea of how strongly that call would resonate with young people across the capital.
Jean-Luc and friends had called the protest on social media just three days earlier.
"We weren't expecting people to come out in such crazy numbers!" he says. "I felt so inspired by that."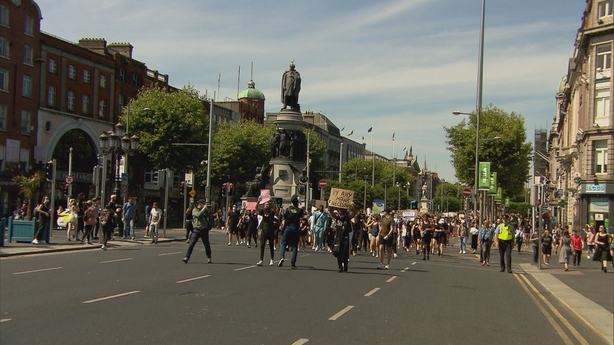 Referring to black culture and music in particular he says "we are all united in times when everything is blissful and everyone is heavily involved in black culture at that time. So we should be equally involved and unified in times that are more difficult and less glamorous".
"The whole point of the protest was standing in solidarity with our brothers and sisters from the states and the UK and every other part of the world where people have been victims of racial injustice and police brutality," he says.
So what would that 15-year-old boy, who was struggling so hard to fit in, make of the man that he has become?
"Oh I don't think he would even believe it," Jean Luc says. "His mind would be blown."
"But I think he would be immensely proud," he adds.
And if he was to meet his 15-year-old self what would his advice be?
"Accept your difference and be proud of it," he says.
"Feel empowered by it instead of feeling alienated. You don't have to be ashamed of yourself." But he acknowledges that this is easier said than done.
"Every facet of your personality is what makes you unique. Your heritage is nothing to be ashamed of; if anything it should be worn as a badge of honour.
"Especially where we are from, a very proud African heritage, from Edo state, Benin. I'm very proud of that now and I just wish I had had the same confidence then."
Jean-Luc is just 22 years of age now. Although already a successful hip hop artist he is still just at the very start of his career. Like so many artists, the global pandemic has put a stop to much of his plans. An international tour supporting US rapper Nelly was just about to begin when the first lockdown came in March. It was cancelled of course.
But JyellowL has continued writing and recording and his latest album, 2020 Division, is due for release later this month.
That shy teen from Luttrellstown Community College has come a long way.