Members of the INTO LGBT+ Teachers' Group have written open letters about negative experiences they've encountered in school staff rooms.
A teacher talks about being gay as part of campaign promoting LGBT+ inclusive staff rooms pic.twitter.com/dO4cyRJVZk

— RTÉ News (@rtenews) October 17, 2018
Hilary Egan, a substitute primary school teacher from Co Kerry, is one of several members to have written a letter.
She says people in senior staff positions "had a real concern for me as a gay teacher that I might not get a job in my local county or in my local area if it was known that I was openly gay", she says.
The INTO LGBT+ Teachers' Group says its members "have communicated to us that, on occasion, they feel unsure and uneasy in staff rooms and sometimes even unwelcome and isolated".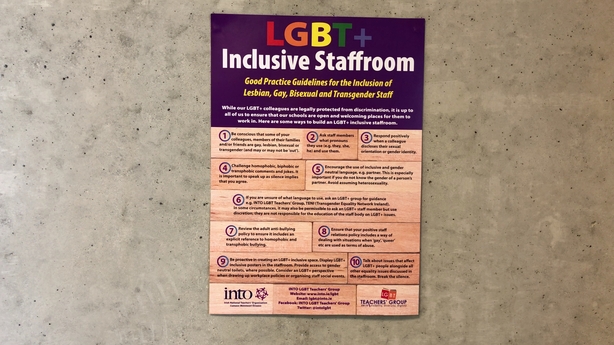 Recently the group sent an 'LGBT+ Inclusive Staff Room' poster to every primary school in Ireland.
The poster refers to best-practice guidelines for ensuring schools and their staff rooms are inclusive toward their LGBT+ teachers.
"This poster is a show of support so that I'm not left with the fear on my own because it is a very lonely place to be a gay person in rural Ireland. It's a very lonely place to be the only gay in the staff room," Hilary says.