There have been many stories of acts of kindness, magical moments and communities coming together during the severe weather.
Here is a tiny sample; four heartwarming stories.
---
Snow for everyone
The snow came indoors for Holly at Our Lady's Children Hospital Crumlin.
Holly has spent the last 11 months in hospital waiting on a heart transplant.
The team in ICU didn't want Holly to miss out, so they brought the snow to her.
Holly's parents, Jessica and Jamie, said they wanted to say a special thank you to the ICU team.
This has to be the most special snowman ever! Little Holly got to play with some snow while in ICU at Our Lady's Crumlin ❤️ pic.twitter.com/icECofMtwn

— HeartChildrenIreland (@HciCalendar) March 2, 2018
---
New-found friends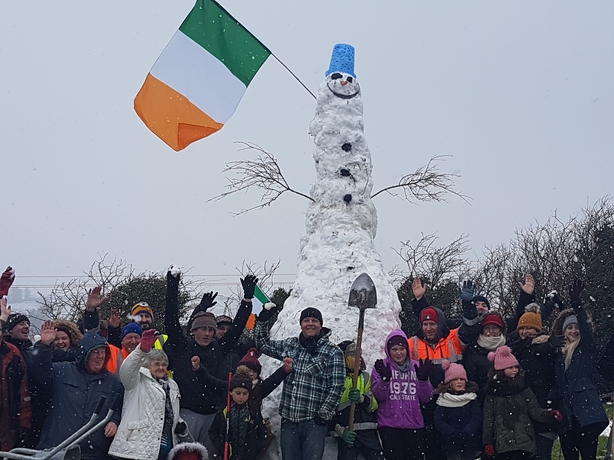 Vincent O'Mahony and Brian Connolly put a call out on Facebook for manpower to build a "super tall" snowman, saying it might help with cabin fever.
More than 20 people, young and old, turned up for the Skibbereen event.
Ten shovels, six buckets, two wheelbarrows and a tractor were involved in the building of this snowman. After three hours, the team must have been too tired to pick an original name. They choose 'Emma'.
Emma has started to melt now, but perhaps the new-found group of friends can work on other community projects in the future.
---
'I've never seen snow'
It was a magical moment for these two friends in Limerick who saw snow for the first time in their lives this week.
The snowy scenes were a once in a lifetime spectacle.
Snowy scenes were a once in a lifetime spectacle for these friends in Limerick pic.twitter.com/WTIpGDLwaL

— RTÉ News (@rtenews) March 2, 2018
---
Dig-out from locals
Throughout the country, we have seen 4x4s, diggers and tractors transporting people through parts that might have otherwise proved ''impassable''.
This is just one example.
In Co Wicklow, an ambulance jeep got stuck on the main road from Ashford to Roundwood while transporting a patient home.
But locals were on hand to dig in and help with the dig-out.
Wicklow: Locals dug out an ambulance jeep that got stuck while trying to transport a patient home pic.twitter.com/h3ac5AQEu8

— RTÉ News (@rtenews) March 2, 2018