After months of talks and a major last-minute hitch, the European Commission has finally announced that "sufficient progress" has been made in the first phase of Brexit negotiations and work can now begin on the all-important future trade deal.
Phase 1 of the negotiations dealt with three priority issues: The border, citizens' rights and the financial settlement.
Here is how we got to today's announcement:
---
1 December
European Council President Donald Tusk warns British Prime Minister Theresa May she must satisfy Irish demands that there will be no "hard border" on the island of Ireland if negotiations are to move forward and on to trading arrangements.
---
3 December
Speculation that a deal is imminent mounts as Mrs May prepares to meet key EU figures Jean-Claude Juncker and Mr Tusk for crunch talks in Brussels.
---
4 December
Mr Juncker speaks on the phone to Taoiseach Leo Varadkar minutes before meeting Mrs May, amid reports of a major compromise to ensure there is no hard border.
Mr Tusk fuels hopes of a deal when he says the two sides are "getting closer" after talks with Mr Varadkar.
Tell me why I like Mondays! Encouraged after my phone call with Taoiseach @campaignforleo on progress on #Brexit issue of Ireland. Getting closer to sufficient progress at December #EUCO.

— Donald Tusk (@eucopresident) December 4, 2017
Those hopes are dashed when the Democratic Unionist Party refuses to accept proposals which would have aligned regulations north and south, and shifted Northern Ireland's customs border to the Irish Sea.
Mrs May and Mr Juncker end their meeting by confirming no deal has been done but insisting sufficient progress would be made in time for the 14 December summit of the European Council.
European Commission President Jean-Claude Juncker said it was not possible to reach agreement on Brexit negotiations today pic.twitter.com/8IVbxn6OhJ

— RTÉ News (@rtenews) December 4, 2017
Mr Varadkar says he is "surprised and disappointed" no deal has been secured yet.
Taoiseach Leo Varadkar said he is 'surprised and disappointment' with the British government over the failure to reach agreement in Brexit talks pic.twitter.com/aBTjmSMouJ

— RTÉ News (@rtenews) December 4, 2017
---
5 December
The British Prime Minister hits the phones as pressure mounts on her to break the logjam. But in a possible sign of how intractable the issue has become she does not speak to DUP leader Arlene Foster.
The Taoiseach tells the Dáil that "the ball is in" Mrs May's court in terms of resolving the border issue.
---
6 December
Mrs May holds telephone talks with Mrs Foster.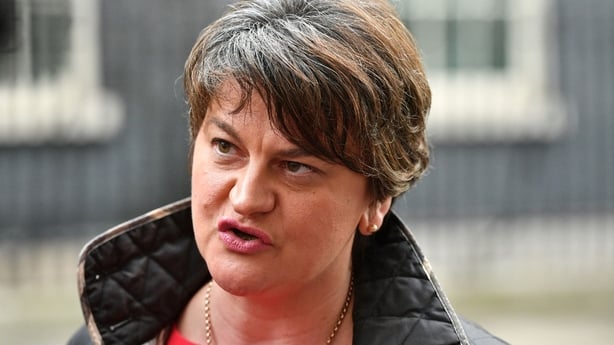 At Prime Minister's Questions, she pledges to protect the "constitutional integrity" of the UK.
With the clock ticking, the Taoiseach warns that Mrs May could have to wait until the New Year for a green light to start talks on future trade arrangements unless sufficient progress is made.
In a phone call, Mrs May tells Mr Varadkar she is "working hard to find a specific solution to the unique circumstances in Northern Ireland" and is committed to "moving together to achieve a positive result on this".
---
7 December
Frantic behind-the-scenes talks continue throughout the day.
First signs of a breakthrough come at about 5pm with the announcement that Mr Tusk will make a statement on Brexit early on Friday morning.
But a UK government source seeks to play down expectations, declaring: "We're not there yet."
Mr Juncker calls Mr Varadkar and then Mrs May as his spokesman says an early morning meeting with the British Prime Minister is "possible".
---
8 December
Talks continue throughout the night.
At 5am, Downing Street confirms that the British Prime Minister and David Davis are travelling to Brussels to meet Mr Juncker and EU chief Brexit negotiator Michel Barnier.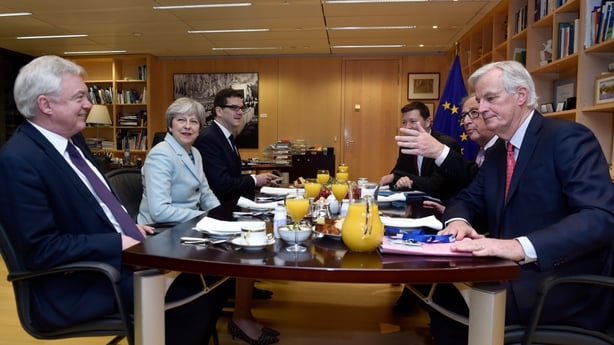 Mrs May arrives in Brussels shortly before 6am and talks with Mr Juncker begin immediately.
Within minutes, Mr Juncker's head of cabinet Martin Selmayr signals that a deal has been done as he tweets a photograph of white smoke gushing from the chimney of the Sistine Chapel - the traditional way of alerting the world that a new Pope has been chosen.
December 8, 2017
Confirmation comes at 6.40am in a European Commission press release announcing that "sufficient progress" has been made in the first phase of Brexit talks.
Minutes later Mr Juncker and Mrs May appear together at a press conference to herald the deal.
This was a difficult negotiation for the EU and the UK - @JunckerEU #Brexit pic.twitter.com/7RdBdMwHbo

— RTÉ News (@rtenews) December 8, 2017
The British Prime Minister says the agreement means the rights of three million EU citizens in the UK will be "enshrined in UK law and enforced by British courts", and there will be "no hard border" on the island of Ireland.
Committed that there should be no barriers North-South or East-West -
@theresa_may #Brexit pic.twitter.com/GmTDyq6ZDm

— RTÉ News (@rtenews) December 8, 2017
Just after 8am, the Taoiseach holds a press conference in Dublin and declares the Brexit deal has "achieved all we set out to achieve".
We've reached a satisfactory conclusion on the issues related to Ireland @campaignforleo #Brexit pic.twitter.com/keLSep5e2D

— RTÉ News (@rtenews) December 8, 2017
Mr Varadkar says today is "a very significant day" - the parameters have been agreed "and they are good".
He said following long and intense negotiations they had reached a satisfactory conclusion to phase one of talks. He added: "This is not the end, it is the end of the beginning."